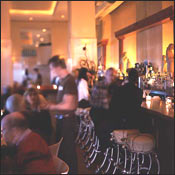 Though it's been touted as the next up-and-coming Zip Code longer than David Schwimmer has waited for a breakout film, Hell's Kitchen has managed to charmingly resist urban propriety. But with the rest of midtown so saturated with coffee bars and Rite Aids, it was inevitable that pockets of heat were finally going to flare up in Hell. The cityscapes of Eighth and Ninth Avenues have undergone a drastic makeover; every third storefront along both routes is now either a neon-framed diner or a candlelit bistro. Yet not all of this neighborhood has been set equally aglow: Over on Tenth Avenue, there's less foot traffic than at a Kinko's in Kabul. Winter or summer, in dusk or darkness, this is still one bleak thoroughfare, made even more resistant to refinement by Tenth's harsh, inescapable centerpiece: that block-long, fluorescent-flooded Hess gas station.
How strange, foolhardy, and gutsy that across the street, in the glare of the chilliest blue-white light the neighborhood has to offer, 44 & X – Hell's Kitchen is attempting something no other restaurant in this area is aiming for: to be both a local hangout and a visitor's destination. That it comes as close as it does to balancing its dual intentions is impressive, though it's not always apparent how much of its success is due to design, or luck, or the enticements of chef John Tesar's kitchen.
Because at times, 44 & X seems curiously at odds with its objective. The long rectangular room doesn't contain a single element – neither the columns behind the bar nor the paneled recesses in the un-soundproofed ceiling nor the showerlike tiled cylinder in the center of the room – that is admirable on its own. But their lack of harmoniousness yields an ungainly charm, familiar and easy to settle into. (Larger parties often settle in a little too easily: In certain areas, sound ricochets around the room like a BB in a VW Beetle.)
Unlike at many places that aim to please those close to home, service isn't over-the-shoulder casual. Waiters are jazzed, abrim with information or recommendations. But they'd hear and remember more if they'd hold still a beat longer. Of course, service would matter less if 44 & X had the sole goal of being the dependable down-the-block spot for meat loaf and burgers.
John Tesar's menu does include a superior burger with about the best fries that have ever seen the light of night or day. And despite other critics' dismay over the banality of comfort food, Tesar's turkey-and-wild-mushroom meat loaf makes me very happy. Even so, it's hard to choose them over his heady stew of portobello mushrooms and creamy polenta with a sprightly white-grape salad, or his spicy confit of duck, lushly surrounded by fig-and-dark-plum chutney.
A terrine of roasted beets, goat cheese, and Gala apples is mislabeled – it's a pleasant stacked salad. But the taco filled with tender, sweet lobster in charred-tomato salsa, the bisque of fall squash with maple crème fraîche, and the shellfish pan roast, thick with leeks and chanterelles, are well worth the extra few minutes it takes to walk from here to whatever play, musical, or multiplex you're hitting around Times Square.
It gets better. Tesar's entrées are his strength. A match-any-steak-house seared fillet gets an unforeseen spark from tart tomato jam and a port-wine reduction. The buttermilk fried chicken will make any Texas boy homesick. I doubt if any seafood house this close to the Winter Garden can match his casserole of Maine lobster airily wafting in the scent of vanilla, or duplicate the velvety coconut-milk red curry that spirits the barbecued salmon toward a fresh new taste. And the ancho-chili-rubbed pork is one rosy, jalapeño-brightened delight.
As a dessert lover, I applaud the attackable apple crisp and banana-and-white-chocolate bread pudding. Pumpkin crème brûlée is like Meg Ryan's haircut in Kate and Leopold – unsalvageable. The napoleon of dark chocolate mousse with Mexican-chocolate ice cream and crisp chocolate wafer is almost too much for anyone but the most devoted chocoholic.
Given its objectives, it may be unavoidable that 44 & X will suffer from a bit of schizophrenia. However, smoothing out the edges is a goal well worth striving for. Why merely settle for offering us the opportunity to eat so well on a street so gloomy? Why not go all the way and provide an experience as unexpected as hell freezing over?
44 & X – Hell's Kitchen
622 Tenth Avenue, at 44th Street; 212-977-1170.
Monday through Wednesday, 5:30 p.m. to midnight; Thursday through Saturday, till 12:30 a.m.; Sunday, till 11 p.m. Appetizers, $8 to $15; entrées, $11 to $27. A.E., M.C., V.