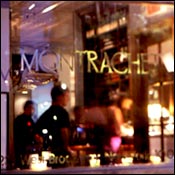 I know what you think: the coolest part about this job is the expense account. But you're wrong. Okay, fine, roll your eyes and snarl "yeah, right." But to quote the French – and risk being labeled "intercontinental," our thesaurically challenged president's recent term for Europeans – what really gives this gig its je ne sais quoi is not the bottomless barbecue pits or all the latex I employ in my hideously disfiguring but shamanically effective disguises. It's the rush of discovery: finding that place that exceeds hopes, unexpectedly delivers when there are no expectations, or – almost as vitalizing – rekindles affection for the familiar place too hurriedly discarded in this city's never-satiated quest for the next best course.
When it opened in 1985, Drew Nieporent's Montrachet was greeted with the kind of glee reserved for the blonde senior who's not only class president but prom queen, head cheerleader, and valedictorian. It was Bryan Miller of the New York Times' first three-star anointing of a new chef, the once-charming though still gifted David Bouley. The restaurant's deliberately dissonant décor – three intimate salons under an exposed sprinkler system – struck an affectingly urban romantic chord in a neighborhood jump-started by the clubhouse energy of Odeon. And its three-course prix fixe dinner was about $16.
I'm eternally humbled by and grateful for Drew Nieporent's food-dispensing and selflessness after the World Trade Center tragedy. That said, he's going to like this next paragraph as much as I'd welcome being seated at a dinner party between Lynn Cheney and Jennifer Tilly – which is to say not at all. You know the prom queen who shows up at the reunion fifteen years later with the same hairdo? If ever a restaurant needed a Trading Spaces–style makeover, it's Montrachet. The eighties-era turquoise walls gotta go. The recessed halogens bizarrely spotlight the air-conditioning ducts. The monotonously sad brown wallpaper and uncompelling art at eye level lead one to believe there is nothing new here. There is one praiseworthy constant, however: the absence of music. All one hears is the sound of conversation and the clinking of flatware on utilitarian white dishes.
But what chef Harold Moore has placed on Montrachet's familiar plates is so frequently compelling, one could claim his food obliterates the irritatingly dated trappings. Though you could just as easily make the case that the gutsy luxuriance of his sweetbreads showered in chorizo and piquillo peppers demands to be appreciated in a worthier setting. Mr. Nieporent, don't you agree that Moore's embracingly warm oysters in champagne sauce with a devilishly generous glob of caviar is too glamorous a dish to be in proximity to flat turquoise paint? Uniformly perfect discs of rare beef are vibrantly enlivened by shiso and soy. Dense artisanal pasta has a fittingly brawny vegetal sauce of chard, tomato confit, asparagus, and fava beans. Sweet-pea risotto tastes garden fresh, brightly studded with tender lobster chunks. And, somehow, Moore's foie gras comes off terribly butch, even when surrounded by kumquats.
The formidable strength and range extend to entrées, like broad ribbons of pappardelle weaving round sumptuously braised shards of rabbit flecked with olive, herbs, and bacon. His duck's sweetness is amplified by roasted rhubarb; snapper's nuttiness is made prominent by a ginger-soy nage. Slow-cooked salmon has always been popular but predictable. No longer: It takes to the herb-infused sorrel sauce studded with morels. Sirloin is the lone bland slab, in a shallot sauce with no verve. Better to enjoy Colorado lamb enveloped in the perfume of spring garlic, or, best of all, an herb-stuffed roast chicken for two. The French don't regard chicken as elegant dining fare. Ah, those intercontinentals!
Serviceable as they are, the crème brûlée and warm chocolate cake should go the way of that wallpaper, but two desserts – okay, three – complete Moore's triumph over design adversity. Rhubarb-and-red-fruit crisp is barely sweet, like a child's smile to a stranger, while banana-walnut strudel in caramelized rum sauce is completely lush, like a drunk's smile to everybody. As for the third, a velvety rice pudding with orange zest gets me as close as I will ever come to savoring this particular delicacy.
With so many of his places having suffered financially due to their proximity to the disaster site, it might be arrogant to ask Nieporent to cough up the dough for new upholstery and some dimmers. But fork it over, sir, and I'll bet – sure as my president will not rest until Texan is the international language – more and more folks will return to forking it over at Montrachet. In fact, since Drew's done so much for New York, why don't we start doing so now as a gesture of good faith.
Montrachet has a prix fixe that's only $30.02, which, considering inflation, makes it more cost-effective than that share you passed up in Quogue. But Montrachet is way downtown, and both its entrée choices are pastas. Compass – up in the West Seventies – has a prix fixe that beats it by two cents and offers unstinting portions of hanger steak, calf's liver, or herb-crusted cod as main courses (it also has a full menu). Chilled corn soup is an agreeable first course. Both desserts – basil cake and lemongrass panna cotta – are more arch than the Rock's eyebrows.
But in its ungainly, overproduced way, Compass (stillborn as Marika) is striving and refining its menu. Plus, everyone there is trying harder to please than a towel boy at an orgy. You West Siders can't possibly get into Ouest every night, and since it's such a low-risk price, you could stumble on a real find here. Then maybe you'll believe me when I tell you that what I love about my job is more the pleasure of discovery than the free food – especially since I'm not picking up your tab.
Montrachet 239 West Broadway (212-219-2777); lunch, Friday, noon to 2 p.m.; dinner, Monday to Saturday, 5:30 to 10:30 p.m. Appetizers, $12 to $19; entrées, $25 to $30. All major credit cards.
Compass 208 West 70th Street (212-875-8600); Sunday to Thursday, 5 to 11 p.m., Friday and Saturday, 5 p.m. to midnight. Appetizers, $9 to $14; entrées, $18 to $28. All major credit cards.