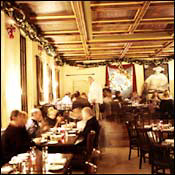 There are certain traits some of my more portly, rusticated friends look for in a restaurant. These rapaciously hungry gentlemen (most of them are gentlemen) appreciate a streamlined simplicity in décor, for instance. They like shiny wood tabletops in lieu of tablecloths, and fleets of sturdy, reinforced chairs. They take pleasure in tall ceilings, which conjure images of banquets and feasting, and waiters with aprons wrapped around their bellies. They're always happy to see short ribs on the menu (although calf's liver is better), and the phrase "potato pancake" is music to their ears. If the chef of a particular establishment happens to be hefty like themselves, that's good, and if they can see him during the course of their meal perambulating among his satisfied customers and gesticulating wildly at his kitchen minions, that's even better.
No wonder, then, that these gentlemen have been congregating at the new West Village Italian restaurant Gonzo like walruses on a rock. Short ribs are on the menu, and so is calf's liver, artfully prepared in the Venetian style with caramelized onions, bits of pancetta, and a drop of brandy. The house potato cake has onions and pancetta on it, too, and is decked with a fried egg and a sprinkling of Parmesan. The room's ceilings are tall and painted with intricate Renaissance designs to resemble a Florentine dining hall. The chef, Vincent Scotto, is a gregarious, visible gentleman known for his healthy appetite, his volcanic temperament, and his bountiful imagination when it comes to making good, hearty things to eat.
You could make a feast out of Scotto's many superior varieties of grilled pizzas—try the fresh arugula with shavings of prosciutto—or the Venetian finger platters called cicchetti, containing things like eggplant caponata or sardines smothered in onions and pine nuts. For a more traditional meal, however, begin with the onion salad, composed of grilled onions stacked with chunks of oil-soaked bruschetta, or a bowl of Tuscan farinato soup (made with cornmeal, cabbage, and sausage), followed by one of several pastas. The best of these, in my opinion, are the venison ragù and the orecchiette (folded with kale, butternut squash, and hidden crunchy squares of pancetta), although the fatsos at my table couldn't keep their snouts out of the penne gratin, which the chef douses with a lethal mixture of Parmesan, more pancetta, and spoonfuls of cream.
After these first waves of grub recede at Gonzo, the relentlessly bountiful entrées appear, none of which costs over $20. There are braised lamb shanks touched with mint (strangely bland), short ribs (which looked better than they tasted), and a deliciously meaty, tender variety of rabbit stew. My slab of pork tasted fine once I cut all the fat off it, and the massive, perfectly charred Tuscan rib steak caused all the piggy men to tap their forks with glee. Ditto the quail, which Scotto wraps in bacon and fills with a stuffing made from ground chicken, rosemary, and apples. The brick-flattened, crispy-skinned chicken was prepared with a lighter touch (flavored with lemon and sage) and so was the delicious red snapper, served as a fillet, with basil oil and a subtle dusting of ground porcini mushrooms.
The service at Gonzo is not always so subtle, however. The tiny submarine-style kitchen bellows smoke on occasion, and on at least one of my visits, the presentation seemed slapdash and a little rushed. It helps when Mr. Scotto is on the premises (he wasn't, that night), barking commands like a football coach, trundling among the tables in his voluminous chef's whites. Just the sight of him makes you want to plow into the desserts, which, like most things at Gonzo, are designed for maximum effect. There's a tasteful brown-sugar cheesecake shaped like a tart, and a flaky apple crostata shaped like a small manhole cover. Most imposing of all, however, is the towering praline-ice-cream sandwich. You could use a jackhammer to deconstruct this grandiose confection, although whacking it five or six times with your spoon will also do.
Gonzo
140 W. 13th St.; 212-645-4606
Tuesday through Saturday noon to 1 a.m., Sunday to 11 p.m. Appetizers $4.50 to $12; entrées $15 to $17.50. V., M.C., A.E.