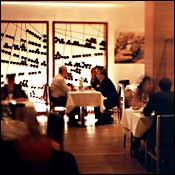 When I asked one of my loquacious waiters at Barbalùc what a Barbalùc was, he gave an uncharacteristically cautious reply. It was a little imp, he thought, or maybe a kind of metaphor for the joys of good wine. He went away and came back again, bearing a menu. "There's a little story about it here," he said. "It will explain."
The waiter was right, it turns out, although in the end it didn't matter. Barbalùc is one of those restaurants where the literal translation of things is less important than image, artifice, and the general illusion of having a good time. The stated theme of this moneyed, Upper East Side establishment is Friuli, the rustic region in the northeastern armpit of Italy. To this end, there are photographs on the wall of old Friulian ruins and picturesque Friulian peasants fingering ripe Friulian grapes. The restaurant's real target audience is high-gloss European diners, the kind of people who travel in a long, uninterrupted conga line from Cipriani to Le Cirque and then back again. There is a smoky, well-appointed bar upstairs and a clamorous, narrow dining room down below. The wine rack is constructed from angular steel rods, like a spider web, and the bathrooms are covered with azure tiles, as in a bathhouse on the Côte d'Azur. "This isn't Friulian," exclaimed my Friulian dinner guest, who had just jetted in from Trieste. "Let's call it 'international.' "
He could have said more or less the same thing about the food at Barbalùc, which is overpriced and generally undistinguished. The Friulians at my table thought the classic polenta con frico (coarse polenta with fried melted cheese) seemed authentic enough, although my pasta e fagioli bore an unhappy resemblance to a mess of Mexican refried beans. The duck in my un-Friulian warm-duck salad was overdone, the veal tortellini in the $19 bowl of tortellini in brodo were mealy, and a supposedly Friulian delicacy called ravioli di branzino—ravioli stuffed with Mediterranean sea bass, then decked with sardines—smelled like it had recently been hauled from some turbid Venetian lagoon.
The larger entrées at Barbalùc aren't quite this bad, but they aren't very inspired, either. The potato gnocchi tasted suitably homemade and gummy, although the Friulians at the table thought their tagliatelle (covered in a dry ragù) were too thick. The pricey seafood entrées—the cheapest being a damp piece of red snapper for $26—seemed to rely more on bulk than on freshness, so stick with the chicken, which is covered in a semi-flavorful tomato-and-marjoram sauce, or the steaming-hot, savory lamb stew served with a comforting pile of mashed potatoes.
The desserts at Barbalùc have their comforting, even elegant, aspects, too. There is a light though nicely soggy version of tirami sù, served in a cocktail snifter. There's a glistening, sinfully rich dome of Valrhona-chocolate mousse set atop a hazelnut cookie, and a vanilla-flavored panna cotta–like substance that tastes quite fine provided you avoid the bizarre sidecar of asparagus foam. Best of all, though, is a little square tortino made of cornmeal. It's embedded with berries and served with a wispy spoonful of semifreddo. It has the sweet chewiness of a good corn muffin and the lightness of a good madeleine. Take a bite, close your eyes, and listen to the sounds of antic Italian cocktail chatter floating down from the bar upstairs. You could be in some far-off land—if not Friuli, then Cipriani, or possibly even Le Cirque.
For reasons difficult to fathom, Brasserie 360, the new restaurant located in the ancient two-story eating space on the corner of Third Avenue and 60th Street, has been conceived as a French brasserie and a proper Japanese sushi bar in one. Pseudo-French brasseries are a dime a dozen in this town, of course, but great sushi-yas are hard to find. But the sushi chef at Brasserie 360 happens to be Kazuo Yoshida, formerly of Jewel Bako, where he developed a following among downtown sushi addicts, myself included. So on my first visit, I dutifully bellied up to the upstairs sushi bar, ordered a shiny portion of botan shrimp, and prepared to ignore the contents of the standard brasserie menu filled with the same old tired frites and frisée salads.
It turns out, however, that you can't go wrong at Brasserie 360. The restaurant's other chef, Luc Dendievel, whose downtown credentials include the old Belgian establishment Waterloo, is as accomplished as Yoshida and possibly more so. My first meal began with the botan shrimp, continued with a sizzling cassolette of sweetbreads, and concluded with a single, generously portioned short rib, braised to perfect tenderness in a red-wine-and-brandy sauce. My father, who is to sushi bars what a canary is to coal mines, greatly enjoyed his opening salvo of raw fish (silver-spotted sardines, amber-jack, a modest $8 piece of chu-toro) before getting waylaid by an elegant crépinette of braised pig's feet. The meat had been deboned, defatted, and served in a pool of black-truffle sauce. "It's like pig's-foot hamburger," he said, glancing uncertainly at the diligent sushi chefs, "only much better."
You could say the same about the chicken croquettes, which are like long, gourmet chicken fingers, stuffed with rich deposits of mushroom and potato, or the steak au poivre, which comes with a pod of thick, crispy frites. Yoshida's sushi is uniformly artful and fresh, and if you want an adventure, order the oddly tasty fusion roll of sun-dried tomatoes, basil, and mozzarella cheese. There are crème brûlées and little apple beignets for dessert, but the most emblematic dish of all is the rice pudding. It's made with thick grains of sushi rice and served in a bowl with two warm croquettes filled with mango sauce. The chopsticks are laid across the bowl, but don't try to eat with them. They're really slim, crunchy tuiles, constructed, like much of this bizarrely successful restaurant, in the classic French style.
Barbalùc
135 East 65th Street; 212-774-1999.



Brasserie 360
200 East 60th Street; 212-688-8688.


Barbalùc
135 East 65th Street (212-774-1999).
Lunch, Monday through Sunday 11:30 a.m. to 3 p.m.; dinner, Tuesday through Saturday 5:30 to 11 p.m., Sunday and Monday till 10 p.m. Appetizers, $11 to $17; entrées, $24 to $29. All major credit cards.
Brasserie 360
200 East 60th Street (212-688-8688).
Lunch, Monday through Friday 11:45 a.m. to 4:30 p.m.; dinner, Sunday through Thursday 5:30 to 11 p.m., Friday and Saturday till midnight. Appetizers, $7 to $16; entrées, $19 to $29. All major credit cards.