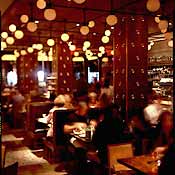 It's probably fitting that Rocco DiSpirito's much-hyped new restaurant is opening up on 22nd Street off the corner of Broadway. The street has grown crowded with restaurant awnings in recent years (Bolo, Tamarind, Kitchen 22, and Beppe, to name a few) and is now the downtown dining world's equivalent of a theatrical strip. This latest production from DiSpirito—his partner is Jeffrey Chodorow, owner of DiSpirito's other recent middlebrow venture, Tuscan—occupies a space that has seen numerous openings and closings before. It was called Commune not very long ago, and my wife claims to have dim, unfavorable memories of an old dating joint once there called Rascal's. Now comes Rocco's on 22nd Street, which, unlike those doomed restaurants (not to mention every restaurant in the history of the world), is the subject of its own reality-TV series. The show, called The Restaurant, follows the photogenic chef, his staff, even the semi-photogenic diners through the trauma and hassle of opening a new restaurant in the big city. It's airing Sunday evenings, the publicists would like you to know, on NBC.
The cameras are mercifully gone now, but the residue of staginess and contrived kitsch remains. There is the impossibly rotund maître d' figure at the door, who seems to have been plucked directly from a Sopranos casting call. There are the antic waiters wearing colorful soccer jerseys, and the foosball game that patrons can play while they wait for their platters of pasta to arrive. Operatic tenor voices blast vigorously from the sound system, and there's an eye-catching glass-bead mural of old Napoli itself, spread against the back wall. The floors are covered in polished terrazzo, and the walls seem to have been plastered with a purposefully cheesy sixties-era Formica laminate reminiscent of DiSpirito's old family home. If that's not enough, there's even Mama DiSpirito herself, perambulating among the guests in her white chef's jacket, kissing babies (she kissed my baby), spreading her own homespun version of good cheer.
In the tradition of "home-style" Italian restaurants, the menu—printed daily on pink sheets of paper, complete with news from the DiSpirito clan—is as busy as a phone book. I counted 67 items, not including side dishes and desserts, and even though I made three visits, my fellow diners and I barely made a dent in it. The first wave of food came from the "fritti" section, and contained pleasingly crinkly fried baby artichokes, nondescript strips of calamari, and a pair of fat, tasty zucchini flowers stuffed with mozzarella and herbs. Next were the "al forno" items, which included a plate of dried-out clams oreganata, a stuffed artichoke drowned in water, and Uncle Joe DiSpirito's sausage and peppers, which seemed to have been left in the oven for about an hour too long. On the other hand, Mama DiSpirito's meatballs were tasty, as always (you'll find the same version at Tuscan), and so were the plates of broiled quail drizzled in red-wine sauce, and the crisply baked shrimps flavored with lemon.
"By the time dessert rolled around, my tablemates wore the stunned, pole-axed look of children who'd stayed too long at an amusement park."
I suppose we'll have to watch the reality series to know the extent of chef DiSpirito's involvement with the actual preparation of these dishes. For whatever reason, however, the crudos are a little perfunctory (nice bits of mackerel, fishy-tasting tuna, thick pieces of fluke dripped in capers and oil) considering the chef's genius with fish. The pastas, which are rumored to be under Mama's iron-fisted control, are a little disappointing, too. The lemony taste of my fettuccine al limone was overwhelmed with cream, and the walnut pesto (splattered over penne) looked oddly chalky, like old dish soap. The gnocchi Alfredo is perfectly good, but if you don't snarf it down within 30 seconds, the dish congeals into a cheesy, toothpasty mass. The same is true of the polenta—it's larded with butter and cheese—although most of my fellow diners made polite noises about the linguine with clam sauce (chocked with salty nuggets of pancetta) as well as a second serving of Mama's meatballs, stacked, this time, on a mound of thin, expertly cooked spaghetti, with spoonfuls of sweet tomato ragù.
In accordance with current fashion, there are also copious platters of salumi, and three serviceable parmigiana dishes (veal, chicken, eggplant) that you can order separately or heaped together in a kind of parmigiana lover's equivalent of the meat lover's pizza at Pizza Hut. Among entrées, the duck and the short ribs are drenched in sweet, compulsively edible sauces: cherries on the former, red wine on the latter. My favorite fish dish was the modest $19 portion of trout stuffed with shallots and parsley; my least favorite was the freakishly large, blowtorched shrimp (three for $32), served head on, with their sad, shaggy whiskers still intact. In the "carne" category, DiSpirito's version of rabbit cacciatore seemed appropriately earthy—it's smothered in olives, tomatoes, and onions—although $28 was too much to pay for the bland, ordinary strip steak pizzaiola, also smothered in more olives, tomatoes, and onions. My greasy lamb chops were rescued by a nice pesto-style sauce made of walnuts and crushed anchovies, among other items, and the most successful (and reasonably priced) entrée of all was the simple chicken, baked under a brick to a kind of crackly tenderness, then buried in sweet onions and bundles of rosemary.
By the time the desserts rolled around, most of my tablemates wore the stunned, pole-axed look of children who'd stayed too long at an amusement park. Possibly it was the mountains of overpriced, occasionally slapdash food; possibly it was the decibels in the room, which rose, as the evening wore on, to clamorous levels. If you have the fortitude, however, there's solace in the restaurant's selection of quite decent desserts. There are different varieties of gelato heaped in festive cones of cut glass, and powdered zeppole (light and fluffy one day I tried them, leaden the next) served in authentically greasy paper bags. There is a fiendishly rich item called a "chocolate cassata," consisting of ladyfingers built around a creamy chocolate-mousse center; there's a gourmet-quality slice of raspberry-jam tart topped with vanilla gelato. Best of all, though, are the poached cherries. They're served with toasted slices of butter cake, called pandoros, which crumble nicely into a melting scoop of gelato flavored with ricotta. Mama DiSpirito happened to be wandering by our table when I was sampling this dish. She gave me a big smile, and I smiled back, grinning manically, I later realized, like a clown in a circus show.
Rocco's on 22nd Street, 12 East 22nd Street (212-353-0500). Monday through Saturday, 5:30 to 11 p.m. Appetizers, $7 to $12; entrées, $14 to $32. All major credit cards.