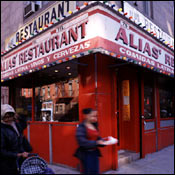 Restaurants can transform neighborhoods, but a neighborhood can make a mark on its restaurants, too. Just consider the ongoing epicurean evolution of Clinton Street – until recently, an insular Latin American rice-and-beans scene. But then, two and a half years ago, in a rehabbed Chirping Chicken at No. 71, Wylie Dufresne started stuffing avocados with salmon and coating black sea bass with edamame, and suddenly, the hungry hordes descended, putting Clinton on the culinary map (even if some of the earliest pilgrims couldn't find it).
Since then, the owners of 71 Clinton Fresh Food have tripled their presence on the block, first with the coolly casual aKa Cafe and now with the new Alias Restaurant (not to be confused with the old Alias, the Latino kitchen it replaced just over a month ago). But the smartest thing this winning team has done – besides hiring Dufresne, who departed 71 last December to start working on his own spot, scheduled to open this fall at No. 50 – has been to integrate its businesses into the community instead of trying to drastically change its character. The sidewalk sign outside aKa still reads KUPERSMITHS, the name of an old dress shop, and the Christmasy bulbs on Alias's façade still advertise the gut-busting comidas latina that have vanished from the premises (but not, as one can see at the bustling, Dominican-flavored Cibao across the street, from the neighborhood).
In food and mood, Alias is more 71 Clinton than aKa – casually sophisticated with imaginative, moderately priced plates and top-notch service. And the 40-seat room recalls 71's boxy, banquette-lined quarters, with a four-stool bar and a subtle stripe motif that unifies the floor, walls, and ceiling.
Chef Scott Ehrlich, a veteran of 71 and also the chef at aKa, hits a nice Lower East Side note right away with his "pickled plate," a twenty-first-century update of the puckery Jewish-deli tabletop staple: parsley-and-dill-sprinkled and olive-oil-drizzled carrots, salsify, turnips, radishes, sunchokes, and Brussels sprouts arranged around a pickled egg. But some delicatessen homages work better than others – the house-cured sable poses no immediate threat to nearby Russ & Daughters. Better to get right to the meat of the matter, with three lamb spareribs caramelized to a crunch, their richness tempered by a cider-spiked jus. Crispy duck confit is equally hearty, more so when you factor in black-eyed peas for a soul-food spin. Skate is mashed into cakes, a satisfyingly mushy variant of a Jewish grandmother's salmon croquettes, served with creamy avocado "aïoli" and a basil-leaf salad with a horseradish bite.
After such zesty appetizers, the sautéed trout is a bit of a letdown, if only because the menu prepares us for a "hot mustard seed vinaigrette" that is too subtle for our post-pickle-plate palates to detect. But seared pork loin with braised pork cheek is an intricate construction of succulent, properly pink tenderloin, deeply flavorful pork cheek, sauerkraut, and a pile of sauce-sopping pappardelle-shaped egg noodles.
Sliced hanger steak (bravely sans frites) in Dijon-laced jus is flawless – nicely charred at the edges and exceptionally tender, served with a rosemary "shish-ka-bob" and puffy Yorkshire pudding. Even if you're not a Brit, you won't miss the fries. And whether or not you're a vegetarian, you won't miss the steak if you order the "chicken-fried" portobello, the token vegetarian entrée. Golden, crispy-crusted, and splayed over a mound of chunky, skin-on smashed potatoes, the mushroom reminds us how good veggies can be when they don't try so hard to be good for us.
All of the whites and most of the reds on the short but eclectic wine list are available by the glass, which makes it easy to experiment with the suggested food and wine pairings (another echo of 71 Clinton). A quirky pair of doughnuts – one large deep-fried ring smeared with blackberry jelly, one small doughnut hole filled with bay-leaf-infused cream – is a fitting finale. Homespun, and the very antithesis of cookie-cutter. Not unlike Alias itself.
Alias Restaurant 76 Clinton Street (212-505-5011); Dinner, Monday through Thursday, 6 to 11 p.m., Friday and Saturday, to 11:30 p.m. Appetizers, $4 to $9; entrées, $14 to $18. All major credit cards.