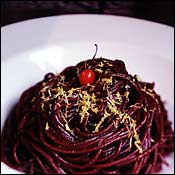 There are a handful of roving chefs whom the Underground Gourmet would follow anywhere, from kitchen to kitchen, forks poised and mouths watering. Sara Jenkins is one of them. Whatever culinary expertise she didn't inherit from her Mediterranean-food-scholar mother, Nancy Harmon Jenkins, or absorb growing up in Tuscany, she gleaned in the far-flung restaurants where she's worked. We loved her seasonally inspired cooking at Patio Dining last spring and were thrilled to rediscover her at 50 Carmine, the nondescript Village trattoria that recently sprang up on a street—and in a city—already inundated with them.
What distinguishes this joint certainly isn't the endlessly looping Kind of Blue soundtrack, the exposed-brick and plastered walls, or the butcher-paper-clad tablecloths. It's Jenkins's often original, sometimes startling, and never anonymous style—some of the best Italian food you'll find in New York.
She likes bold, earthy flavors and offbeat presentations. She'll serve a roasted free-range chicken leg with the foot still attached, or a Concord-grape tart full of seeds (for the crunch). And she won't shy away from spiking a dish with more than a hint of chili peppers. To eat well is to shop well, the Italians say, and "market-driven" is a phrase that aptly characterizes her cooking and applies to specials like smoked trout with lemony greens. Jenkins might not smoke the fish herself, but she's found the best supplier around. If she has access to perfect artichokes, she serves a perfect crisped-leaf example of the classic carciofi alla giudia. If not, not.
Salad greens are fresh and flavorful, strewn with pomegranate seeds and crispy shallots for a delectable sweet-and-savory effect, or deftly slicked with anchovy dressing animated by hot peppers. Warm farro is tinged an unlikely pink from baby beets sautéed with Brussels sprouts and turnips.
"We fantasize about eating her inspired pastas in a Babbo-like tasting-menu ecstasy."
You could easily make a spectacular meal of the antipasti and secondi, but that would be missing the primo piatto point: Jenkins's pastas are so inspired we fantasize about eating them consecutively in a Babbo-like pasta-tasting-menu ecstasy. She purées cavolo nero, a greenish-black kale, for a sauce that clings to gritty artisanal bucatini, and tops the dish with crunchy sautéed bread crumbs (a signature touch). Pappardelle fragrant with a rosemary-tinged wild-boar ragù; chestnut agnolotti in a sumptuous brown-butter-and-sage sauce; and lasagnette served in individual Le Creuset pans are consummate classics. What the menu describes as "pasta curls with many cheeses" is an understatement: The short pasta wallows in a mesmerizingly rich sauce. Deliciously pungent as it is, it pales conceptually beside spaghettini al vino rosso, perfectly al dente noodles stained a deep eggplant purple from being slowly stirred and simmered, like risotto, in wine. The potent punch is offset by a bright shock of hot chilies, crushed garlic cloves, and lemon zest. It's gutsy, original, and irresistible.
Entrées are almost as—and sometimes equally—satisfying. Short ribs, de rigueur in even the most unrustic of restaurants these days, are ineluctably rich and deeply flavored, stewed in red wine, speckled with hot peppercorns and garlic cloves, and served with polenta. Remarkably crisp skate wings fan out over a bed of smashed fingerlings. Roasted fennel and orange give seared duck breast a pleasing, almost Asian, aspect, the citrusy sauce soaked up by earthy farro. And succulent slow-braised rabbit is accompanied by Umbrian chickpeas—a flat, nutty, irregularly shaped variety—that almost steal the show.
Proficient waiters help navigate the all-Italian wine list, and wines by the glass arrive in mini-carafes, a genteel flourish. Jenkins makes dessert, too, and a corner of the bar is devoted to displaying them—a tempting still life that softens the room's hard edges as much as the bowl of quinces and apples by the door. Moist tangerine-olive-oil cake is her mother's winning recipe; a rustic galette is short on sugar, big on natural fruit flavor. Chocolate-ganache tart imparts a sneaky chili-pepper heat, a not-so-subtle reminder that at 50 Carmine, something as elemental and exalted as flavor can never be taken for granted.
50 Carmine, 50 Carmine Street (212-206-9134). Dinner, 6 p.m. to 11:30 p.m. Monday through Saturday. Appetizers, $6 to $10. Entrées, $12 to $24. AE only.