Could this be the year that the studios take back the Oscars? The majors have gone to war with spendthrift abandon and appear to be in their strongest position since 1991 to keep all five Best Picture nominations out of the hands of the upstart independents who've been stealing the show. "On the Oscar show, the clips will show nothing but battle scenes," says Variety's Oscar analyst, Pete Hammond. Few indie films boast enough cultural clout to turn back the studio's armies; they may have to settle for a few acting and technical nods.
One reason the Academy of Motion Picture Arts and Sciences decided that in 2004 and 2005 the Oscars telecast would take place in late February—three weeks earlier than usual—was to put a crimp in the promotional blitz created by the Golden Globes, the Screen Actors Guild Awards, and the British Academy Awards, to name a few. Take away the last month of hoopla, the thinking went, and maybe the 5,800 Academy members would return to voting their consciences.
Then Motion Picture Association of America president Jack Valenti's hastily considered screener ban, intended as an anti-piracy measure, further limited exposure opportunities for smaller pictures. The ban was eventually amended so that videocassettes could be sent to Academy voters. But fewer Academy members are receiving them: Only those who signed up for watermarked studio cassettes are eligible, and 1,100 Oscar voters still haven't sent in their signed agreements, mainly because they're unwilling to risk expulsion from the Academy should one of their tapes fall into the hands of pirates and be traced back to them.
The withdrawal of screeners that used to go to critics also plays to the studios' advantage. The Hollywood Foreign Press Association's 90 members are scrambling to see movies before the December 15 Golden Globe–nomination deadline. Every day they face competing screenings: Will it be The Last Samurai followed by a Tom Cruise press conference, or The Fog of War, Errol Morris's Vietnam documentary? The studios have the cash to commandeer theaters, arrange for stars and directors to attend screenings, and run endless glossy trade ads and double-truck quote ads in New York and L.A. newspapers. Most indies' pockets just aren't that deep.
The Los Angeles film critics tried forcing Valenti to relent on screeners for critics; Valenti remained firm, and the L.A. critics ended up canceling their awards. The result? The New York film critics, who vote on December 15, will have much more impact on this year's Oscar race, if they choose to boost the fortunes of such off-center favorites as 21 Grams, American Splendor, or Lost in Translation.
kh?±\ the pressure is great enough that the firewall against screeners outside the Academy is being breached. French producer Michele Halberstadt took matters into her own hands and sent cassettes of Monsieur Ibrahim, featuring a comeback performance by Omar Sharif, directly to the Screen Actors Guild, which shipped them to its members. (Executives at distributor Sony Pictures Classics insist they had nothing to do with the subterfuge.) Not to be outmaneuvered, Miramax chief Harvey Weinstein promptly announced that he would send out screeners, even if it meant being fired by his boss, Disney chairman Michael Eisner. And last week, the Independent Feature Project and a group of independent producers filed a $25 million suit against the MPAA for anti-competitive practices. The no-screeners decree has turned into a debacle—just as the Oscar race is beginning to heat up.
BATTLE OF THE COSTUME EPICS: This year, Miramax is devoting its considerable moxie to Oscar-winner Anthony Minghella's Civil War drama, Cold Mountain. (For the purposes of this discussion, an $80 million war movie qualifies as a studio film.) According to one journalist who had seen the film at press time, Cold Mountain is "epic, violent, sexy, with great performances by Jude Law, Renée Zellweger, and Brendan Gleeson." A Best Picture shoo-in.
Another obvious choice is Twentieth Century Fox's Master and Commander: The Far Side of the World, a $150 million seafaring adventure complete with authentically thunderous warship battles. The Patrick O'Brian adaptation won four-star raves for master auteur Peter Weir and master thespian Russell Crowe, both working at the height of their powers. (Financial partners Universal and Miramax are also rooting for this one.)
Warner Bros. admits spending $125 million on The Last Samurai, from director Ed Zwick (Glory). A disillusioned Civil War hero (Tom Cruise) is recruited to modernize Japan's army and confronts rebels led by a great samurai warrior (Ken Watanabe). This entertaining culture-clash adventure needs critical support to go all the way to a Best Picture slot.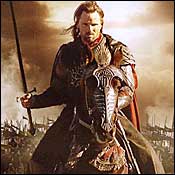 Still unscreened, New Line Cinema's The Return of the King, the final installment of the Lord of the Rings trilogy, is getting strong early buzz as the best of the three, which cost a total of $300 million. Director Peter Jackson, denied a directing nomination last year, says he has supplied more intimate scenes along with the epic battles this time. If that is true, The Return of the King could be hard to beat (unless it starts to feel like old hat).
And there's Seabiscuit, a summer hit. Universal and DreamWorks are flogging the Depression-era racehorse drama, spending big on early trade ads. But many fans of the Laura Hillenbrand best seller were underwhelmed by writer–director Gary Ross's film, which may lack the necessary gravitas for a Best Picture berth.
GRIM AND GRIMMER: At least one brilliantly acted downer typically makes the Oscar short list. The leader in this category is Warner Bros.' Mystic River, Brian Helgeland's operatic adaptation of Dennis Lehane's Boston-set mystery novel, directed by Clint Eastwood. Actors, the Academy's largest and most powerful branch, are bound to recognize a cast led by Sean Penn, Tim Robbins, and Kevin Bacon.
Two other options will probably suffer from lack of exposure: Alejandro Iñárritu's quite similar 21 Grams is packed with equally fine performances. But despite the backing of Universal's Focus Features (which released last year's Oscar-winning The Pianist), the structurally ambitious 21 Grams is unlikely to be as universally seen. Fox Searchlight is spending heavily to push In America, from Irish writer-director Jim Sheridan (My Left Foot, In the Name of the Father), the popular five-time Oscar nominee. But the moving, well-acted immigration story may also not be seen by enough people to reach critical mass.
Ron Howard has used his post-Oscar clout to make his toughest, grittiest movie to date, The Missing. While many critics are high on the Western, it may prove too unremittingly hard-boiled for commercial acceptance. The actors should reward Cate Blanchett, though, for her second tour de force of the year, after Veronica Guerin, which has faded from view.
THE DISTAFF SIDE: On the heartwarming side are Tim Burton's Big Fish, a strange but undeniably moving fairy tale. Albert Finney should score an acting nomination, but the movie will need a big push from critics.
A strong commercial vehicle for Julia Roberts, Mike Newell's Mona Lisa Smile may prove too stridently feminist to win over the largely male Academy voters.
SLOW AND SLOWER: Indies Focus and Lions Gate each have a languidly paced, lyrically directed film with minimal dialogue: Lost in Translation and Girl With a Pearl Earring, respectively. Both films have a shot at dislodging one of the studio big guns. Lauded by reviewers and art-house audiences alike, Lost in Translation's failure to cross over to mainstream audiences may repeat itself within the Academy. And Girl With a Pearl Earring, from British feature-rookie Peter Webber, is the kind of stately period art film Oscar adores.
Nevertheless, the studios really do have the goods this year. They borrowed a page from the Miramax playbook and spent lavishly on gorgeous, well-acted, highbrow epics. The big-studio front-runners will be tough for any indie to catch.
Handicapping Oscar
February's awards should go well for the studios.
BEST PICTURE

SURE SHOTS:
Cold Mountain (Miramax)
The Last Samurai (Warner Bros.)
Lord of the Rings: The Return of the King (New Line Cinema)
Master and Commander: The Far Side of the World (Twentieth Century Fox)
Mystic River (Warner Bros.)

LONG SHOTS:
Big Fish (Columbia)
Girl With a Pearl Earring (Lions Gate)
In America (Fox Searchlight)
Lost in Translation (Focus)
The Missing (Columbia/Revolution/Imagine)
BEST DIRECTOR
SURE SHOTS:
Clint Eastwood (Mystic River)
Peter Jackson (Lord of the Rings)
Anthony Minghella (Cold Mountain)
Peter Weir (Master and Commander)
Edward Zwick (The Last Samurai)

LONG SHOTS:
Denys Arcand (Barbarian Invasions)
Tim Burton (Big Fish)
Sofia Coppola (Lost in Translation)
Ron Howard (The Missing)
Peter Webber (Girl With a Pearl Earring)
BEST ACTOR
SURE SHOTS:
Russell Crowe (Master and Commander)
Ben Kingsley (House of Sand and Fog)
Jude Law (Cold Mountain)
Bill Murray (Lost in Translation)
Sean Penn (Mystic River)

LONG SHOTS:
Jeff Bridges (Seabiscuit)
Tom Cruise (The Last Samurai)
Johnny Depp (Pirates of the Caribbean)
Viggo Mortensen (Lord of the Rings)
Jack Nicholson (Something's Gotta Give)
BEST ACTRESS
SURE SHOTS:
Cate Blanchett (The Missing)
Diane Keaton (Something's Gotta Give)
Nicole Kidman (Cold Mountain)
Charlize Theron (Monster)
Naomi Watts (21 Grams)

LONG SHOTS:
Jennifer Connelly (House of Sand and Fog)
Scarlett Johansson (Girl With a Pearl Earring)
BEST SUPPORTING ACTOR
SURE SHOTS:
Paul Bettany (Master and Commander)
Benicio Del Toro (21 Grams)
Albert Finney (Big Fish)
Tim Robbins (Mystic River)
Ken Watanabe (The Last Samurai)

LONG SHOTS:
Chris Cooper (Seabiscuit)
Brendan Gleeson (Cold Mountain)
Djimon Hounsou (In America)
William H. Macy (Seabiscuit)
Ian McKellen (Lord of the Rings)
Wentworth Miller (The Human Stain)
Peter Sarsgaard (Shattered Glass)
Omar Sharif (Monsieur Ibrahim)
BEST SUPPORTING ACTRESS
SURE SHOTS:
Shohreh Aghdashloo (House of Sand and Fog)
Patricia Clarkson (Pieces of April)
Marcia Gay Harden (Mystic River)
Scarlett Johansson (Lost in Translation)
Renée Zellweger (Cold Mountain)

LONG SHOTS:
Keisha Castle-Hughes (Whale Rider)
Hope Davis (American Splendor)
Kirsten Dunst (Mona Lisa Smile)
Maggie Gyllenhaal (Mona Lisa Smile)
Holly Hunter (thirteen)
Jessica Lange (Big Fish)
Melissa Leo (21 Grams)
Samantha Morton (In America)
Emma Thompson (Love Actually)