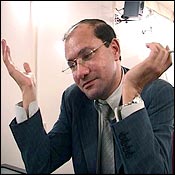 Dawn of the Dead Skip this retread and head to Shaun of the Dead instead. R; $29.98.
Grand Theft Parsons MTV star Johnny Knoxville made a jackass of himself trying to play serious as Gram Parsons (though we expect better of him when he impersonates a retarded man in The Ringer). PG-13; $25.98.
21 Jump Street: The Complete First Season Oh, Johnny Depp. NR; $39.98.
That '70s Show: Season One Oh, Topher Grace. NR; $49.98.
The O.C.: The Complete First Season Oh, never mind. NR; $69.98.
White Chicks The Wayans brothers wear whiteface and dresses, but forget to accessorize their funky new outfits with funny new jokes. PG-13; $28.95.
Farmingville A smart, sophisticated documentary about how Long Island became a battleground in the national clash over migrant labor. NR; $26.95.
Our Pick
In a year of knee-jerk documentaries and slapdash propaganda, Jehane Noujaim's Al-Jazeera documentary Control Room and George Butler's John Kerry bio Going Upriver were two of the best films this side of Michael Moore. Not as outrageously outraged as Fahrenheit 9/11 nor as conspiratorial, both films betray their own biases while crafting compelling stories. Yes, Noujaim's documentary downplays Al-Jazeera's flaws, but it also captures the cocky flavor of the news network—and the aw-shucks naïveté of CentCom's red-state press reps. And yes, Going Upriver lionizes the soldier and activist John Kerry, but it painstakingly, if perhaps too respectfully, depicts his political evolution with unprecedented access. Carefully composed, with none of the amateur-hour hackery of most of this year's political docs, both Control Room and Going Upriver will last long beyond this election year. Of course, that doesn't mean you can't argue with them—it just means that they're worth your breath. Going Upriver: The Long War of John Kerry, R; $19.98. Control Room, NR; $26.98.