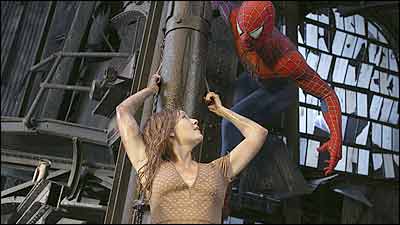 Hero Watch Zhang Yimou's new film, House of Flying Daggers, then this, and drive yourself crazy debating which is better. PG-13; $29.99.
Bobby Jones: Stroke of Genius Starring Jim Caviezel, this godawful golf biopic is somehow more worshipful than The Passion of the Christ. PG; $26.98.
My Flesh and Blood Jonathan Karsh's improbably unsentimental documentary tracks a single mother who raises eleven children with extraordinary health problems. It should have been the year's most manipulative and maudlin documentary; instead, it's one of the best. NR; $26.95.
Lost in Space: Season Two, Volume Two Weirdos, stranded in a strange, barren landscape. NR; $39.98. Northern Exposure: the second season Ditto. NR; $59.98.
The Fantastic Films of Ray Harryhausen—Legendary Science Fiction Series Five films capture the cute monsters and wobbly spaceships of the B-movie animator: It Came From Beneath the Sea, Earth vs. the Flying Saucers, 20 Million Miles to Earth, Mysterious Island, H. G. Wells' First Men in the Moon. NR: $57.95.
Our Pick
Sam Raimi's brash action sequel Spider-Man 2 was an adrenalized romp of riotous webslinging, chafing spandex, twirling robotic arms, and—most bizarre—a rattling el train that hurtled straight through Manhattan. Luckily, the hyper DVD package—an ADD-friendly festival of pop-up trivia, earnest interviews, and fanboy raving—is just as giddily absurd. The trivia's terrific: That el train, it turns out, was filmed in Chicago. And though Peter Parker attends Columbia in the film, he went to Empire State University (based on NYU) in the comics. Speaking of trains, skip the band Train's nauseating music video—but dwell on the smart making-of features, including one on the zooming, swerving Spydercam that enables the film's whirligig vertigo. PG-13; $29.96.