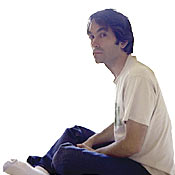 The same week Dukes of Hazzard arrives in theaters, Phil Morrison's smart Sundance and Cannes hit Junebug will offer a radically different version of the South. A North Carolina native, Morrison moved to New York at 17 to attend NYU and got sucked into the indie-rock scene, shooting videos for Yo La Tengo and Sonic Youth. His film debut tracks a southerner (Alessandro Nivola) who's moved to the city, then clashes with his family when he returns home with his gallerista wife to acquire the artwork of a local outsider artist.
In Junebug, the idea of selling the rural South is front and center—and it's also what you're doing with your film.
Yeah. I thought it was important to really be rigorous about not ending up with something that would just stroke myself or the audience. So often, I feel like a movie is a good experience for people because they're flattered by it—they think, Wow, I am great.
And with Dukes of Hazzard pushing southern-fried kitsch, it seems like a timely theme.
Well, nostalgia and strung-together kooky characters are pretty de rigueur for southern movies and books.
That, and incest …
Yeah: The South hasn't been portrayed, et cetera, by Hollywood … And so on. And that sentence that I don't want to finish is true. But that's not the tricky part.
What is?
That people from the South who make art are absolutely complicit. It's a way of romanticizing yourself. Like the Oxford American: I have complicated feelings about that. I like some of it—but so much of it is so cute that it just drives me crazy. On the other hand, there was an article in it about William Edmondson, an outsider-art stone carver. It was about the relationship between sophisticates and him—there was just a show about him in Harlem—and that really influenced the movie. Seems like everyone's always rediscovering the South, and selling it.
Yeah, there's that absolute belief that folk tradition needs to be preserved, and I don't disagree. But it becomes so complicated when the connoisseurs become the practitioners of that tradition. For the most part, it's this sort of defensive striving that seems to highlight what is idiosyncratic and uncommon. Our movie is more about what is common.
Your next project doesn't sound too common.
Yeah, I'm doing this film project with Kim Gordon from Sonic Youth and Tony Oursler, the artist. Kim and a group will perform music live between these two scrims with projections.
Sounds good.
It's fun. I mean, I saw a Sonic Youth show at CBGB right when I moved here. They were projecting Richard Kern films behind them—brutal! Penises being punctured with huge needles! I was into it, but it was my first week in New York and it was crazy.
So now that you're a proper New Yorker, will you be filming penises too?
Well, Michael Pitt's going to be in it—and I'm sure plenty of people would love to see his again. But no, that's a thrill we won't be providing.
Junebug
Sony Pictures Classics, August 3