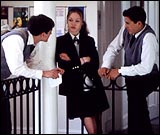 Set in a co-ed private school in Charleston, South Carolina, O is anupdated retelling of Shakespeare's Othello that blends the Bard – and a little soupçon of Verdi – with Southern Gothic. It's a doomy dirge of a movie, in which the protagonists, or at least the actors who play them, aren't equipped to handle their outsize passions. To some extent, this incongruity works in the film's favor: After all, how could mere teenagers – how could anyone – stand up to such vehemence? The truetest of any rendering of Othello is how horribly beautiful that vehemence is shown to be. In the play, the characters are beautiful because they're poetic incarnations of rage and lust and bravado; in a great performance of Othello, such as the 1965 filmed stage production starring Laurence Olivier with Maggie Smith as Desdemona, we can't tear our eyes away from the emotional (and physical) carnage because the awful, unfolding spectacle is just too mesmerizing. Recasting Othello in a prep-school setting is no great stretch, but in order to pull it off you need actors with true lyrical force. O, with one exception, lacks them.
That exception is Josh Hartnett's Hugo, the Iago of the piece, whose lush, scary sullenness looks like it belongs on a WANTED poster. Hugo is intensely jealous of his friend and teammate Odin (Mekhi Phifer), the prep school's star basketball player, who is also the only black guy in the entire school (and maybe even in the entire state, judging from the way people talk about him). Hugo's father(Martin Sheen, who hasn't sweat this much in a movie since Apocalypse Now) is the team's coach, and he values Odin as another, better son. To the credit of the film's director, Tim Blake Nelson, and screenwriter, Brad Kaaya, this father-son conflict is not used exclusively to explain away Iago's malevolence. A whole checklist of other possibilities crop up: homoerotic attachment, drug-induced paranoia, racism, and just plain depravity. Desi (Julia Stiles), the Desdemona character and the dean's daughter, is at the center of the firestorm, but she's not much more than a winsome chickie. (And that name: Couldn't they just have called her Mona?) Odin isn't all that exciting, either; he's fairly blank whether he's preening or exploding. The ordinariness of these two flattens the movie's conceit. It's as if the filmmakers are telling us: "You, too, can make Shakespearean drama out of your average lives." O is just too carefully pruned to hold much passion. It needs to be more disreputable; it needs, if I may be forgiven forsaying so, a bit more James Toback in its soul. And the script could use more elegant counterparts to Shakespeare's dialogue. Odin's "They don't know who they're fucking with" just doesn't cut it.
O was completed about two years ago, but in the wake of the violence at Columbine High School in April 1999 – the film was being edited when the news broke – it was held up by its distributor, Dimension, a branch of Miramax; eventually, the domestic rights to this political hot potato were sold to Lions Gate. But O is in along line of movies, most of them schlocky or self-important, about high-school violence, and despite its notoriety, the film isn't telling us anything especially new. To pretend otherwise is to inflate the significance of this film's timing, which, after all, was accidental. O isn't really about the Zeitgeist; it's about Othello – barely.
The Swedish comedy Together is proof that you needn't have lived through the seventies to understand them. Writer-director Lukas Moodysson, who previously made Show Me Love, was only 6 years old when this film takes place, in 1975. It's about the goings-on inside a leftist commune, and the shocks of recognition are nonstop for anyone who did live through all that. Moodysson captures exactly the preening narcissism and gumption of these frazzled would-be revolutionaries trying to wriggle out of their bourgeois straitjackets. (The amazing cast includes Lisa Lindgren and Michael Nyqvist.) Open relationships give way to the same old jealousies; vegetarianism can't stand up to a plate of hot dogs; Pippi Longstocking is denounced as "materialistic." And yet Moodysson sees an exalted silliness in his people: At least they're trying to find new ways to be happy, even though they often end up making everybody around them miserable.
The jaunty humaneness of this film is reminiscent of Alain Tanner's Jonah Who Will Be 25 in the Year 2000, which likewise both burlesqued and embraced its characters. And it does something I've never seen in a movie of this type before: It shows the full effect of what it's like to be a child in a radical commune. It's one thing for an adult to cast off bourgeois "oppression," but what about the kid who hasn't yet learned enough about the middle class to be oppressed by it? The decision, after much debate, to bring a TV into the commune is a great victory for the children, and there are other victories, too – like those hot dogs. The kids regard the couplings and violent separations of their parents with a mute, preternatural understanding; they're just hoping to ride out the storm until the adults come to their senses. And when they do, the reunion with their children is as magical as any fairy tale. Together has a marvelous tossed-off quality, but it's also getting at something profound. It expresses a longing for connection that is far too deep to be called nostalgia.
In brief:
Griffin Dunne's mockumentary Lisa Picard Is Famous isn't up to Christopher Guest's forays into similar terrain, but it has its share of wiggy, dead-on scenes. Nat DeWolf and Laura Kirk, who also wrote the script, play Tate Kelly and Lisa Picard, best friends and marginally noticed New York actors. Lisa has a sporty, cast-iron smile and a hectic desperateness; Tate, who stages an Off-Off Broadway one-man show about homophobia, winds up with an improbable success that splits the friendship. Since DeWolf and Kirk, at least up until now, are themselves marginally noticed New York actors, their film has the trappings of psychodrama. Fortunately, it never dips into bathos. These two actors should be noticed. They've crafted the most ingenious résumé of the year.
O
Directed by Tim Blake Nelson; starring Julia Stiles, Josh Hartnett, and Mekhi Phifer.
Together
Written and directed by Lukas Moodysson; starring Lisa Lindgren and Michael Nyqvist.
Lisa Picard Is Famous
Directed by Griffin Dunne; starring Nat DeWolf and Laura Kirk.