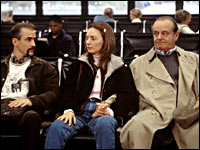 As Warren Schmidt, the recently retired actuary for an Omaha insurance company in Alexander Payne's About Schmidt, Jack Nicholson has the big blank look of someone whose head is swelled with nothingness. Alienation would be too highfalutin a term for his condition. What he suffers from is closer to a lifelong case of the blahs. When Warren's wife of 42 years (June Squibb) suddenly keels over, he isn't so much distraught as perplexed. Along with himself, he lets their squeaky-clean home go to seed and makes pit stops at the local supermarket in the supersize Winnebago he and his wife planned to drive cross-country. He eventually goes it alone on a kind of personal odyssey, ending up in Denver, where he tries to derail the impending marriage of his estranged daughter Jeannie (the always fine Hope Davis) to Randall Hertzel (Dermot Mulroney), a doting nincompoop. Warren believes himself to be a failure, and by rescuing Jeannie, who doesn't in the least want to be rescued, he hopes to finally do some good.
Jack Nicholson is not being "Jack" in this film, and for some people, that's reason enough to croon Oscar carols. But his work here, in its own impacted way, is just as outlandish as in his trademark performances. Nicholson is a master at playing to an audience, and he gives Warren the rigid composure of a straitlaced man who, deep down, exudes a faint daffiness. We keep searching his face for the little tics and quivers that tell us something is pulsing beneath the blandness. Warren is supposed to be reclaiming lost opportunities, he's supposed to be at a crossroads; but what we see, perhaps intentionally, is a man who never had much to lose. He explains that he dampened his early Fortune 500 ambitions for the sake of his family, but the excuse rings hollow.
Contrary to the current hype, it's no great novelty for Nicholson to get through a movie without aerobicizing his eyebrows. In films like The Border and The Pledge, he was harrowingly honest and direct. Such qualities are not typically all that we want from Nicholson—he's too much the satyr for that—but at least in those films he allowed us a clear and pitiless view into his characters. In About Schmidt, Nicholson is giving a tricky little prank of a performance about a hollow man who fills himself up with emotion. But neither he nor the filmmakers seem terribly interested in catharsis. Nicholson keeps himself reined in throughout, coasting on his jowls and paunch and wayward wisps of hair to show us the man's liberating dishevelment. Payne and his writing partner Jim Taylor are also responsible for the Omaha-based social comedies Citizen Ruth and Election, and About Schmidt shares with them a sly sneeriness: These filmmakers have a feeling for the isolation of blasted lives, but they also can't resist putting them down.
Before Warren hits the road, he watches a TV pitch and, on a whim, signs on as a foster parent to a 6-year-old Tanzanian orphan named Ndugu, mailing him $22 a month along with heartfelt letters about his own deepest concerns. Excerpts from these letters periodically fill the soundtrack, and they serve as a running commentary on Warren's upsets. It's an ingenious way for Payne and Taylor to let us in on Warren's interior life, such as it is, but it's also an easy dramatic device—and it conveniently sets up a four-hankie finale.
Warren is closed off yet flatly expressive in ways that are supposed to be emblematic of Midwesterners; he's a mopey Everyman. By contrast, Jeannie and Randall Hertzel and Randall's loud and dysfunctional family, headed up by his sexpot mother (a triumphantly lewd Kathy Bates), are startlingly up-front. Payne stages a rowdy dinner scene at the Hertzels, and later a wedding, that could practically be lifted from a National Lampoon movie. These scenes will not exactly reinforce the filmmakers' reputations as biting social satirists. Payne grew up in Nebraska, but on the basis of his films, it would be incorrect to say he feels great affection for his roots; he wants us to know he's not a rube like the people he puts on display. A director like Jonathan Demme, in Melvin and Howard, could celebrate small-time rural American malcontents and dreamers without feeling the need to cartoonize them. It's the difference between artistry and knowingness. About Schmidt doesn't bring us deeply into the lives of its people because it's too busy trying to feel superior to them.
You would think that with all the hollywood people undergoing psychotherapy, somebody could make a good comedy featuring psychotherapists. Analyze That compounds the problems of its predecessor, Analyze This, while duplicating almost none of its humor. Once again, Billy Crystal is playing Ben Sobel, the analyst in need of an analyst, and Robert De Niro is Mafia don Paul Vitti, who is released from Sing Sing into Ben's custody. Crystal is being the straight man to De Niro and, at times, we might as well be watching Abbott and Costello. Throughout his career, Crystal has gone slack whenever he isn't the star comic; it isn't just that he's a bad actor in these situations—he's a non-actor. De Niro, on the other hand, reveling in his newfound gooniness from Analyze This, goes off the deep end. While it can be fun to see him do slapstick in short doses, he doesn't seem terribly comfortable milking us for guffaws—although I did enjoy his wacked-out rendition of "I Feel Pretty" from West Side Story. Maybe what he should really be doing is musical comedy.
Alexander Sokurov's 87-minute Russian Ark was filmed in one continuous shot utilizing a high-definition Steadicam, and moves through 33 locations at the Hermitage in St. Petersburg—the czar's former winter palace and now, of course, one of the world's great museums. The director (unseen) and a nineteenth-century French diplomat (Sergey Dreiden) glide through the corridors of power as they time-travel across 300 years of Russian splendor and upheaval. It's a hyper-aestheticized meditation on the meaning of history, visually astonishing, dramatically stilted. No masterpiece, but quite a feat (and quite effete).
About Schmidt
Directed by Alexander Payne; starring Jack Nicholson, Hope Davis, Dermot Mulroney.
Analyze That
Directed by Harold Ramis; starring Robert DeNiro, Billy Crystal, Lisa Kudrow.
Russian Ark
Directed by Alexander Sokurov.