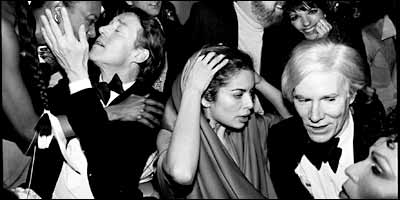 Some Like It Hot: New Year's Eve at Studio 54 with Halston, Bianca Jagger, Andy Warhol, and Liza Minelli.
Photo credit: Robin Platzer/Twin Images
MAX'S KANSAS CITY
Peak year: 1969
You might see Andy, but probably not. For sure you saw Mickey Ruskin.
THE CONTINENTAL BATHS
Peak year: 1971
Steve Ostrow's place to get all pruney listening to Bette and Barry.
HIPPOPOTAMUS
Peak year: 1972
Where the uptown disco crowd listened to "Rock the Boat."
THE LOFT
Peak year: 1973
David Mancuso's masterpiece, the greatest of the early underground discos.
PLATO'S RETREAT
Peak years: 1976–78
Larry Levinson's swinging dungeon. The sex was overrated; the dancing wasn't.
CBGB
Peak years: 1976–79 In all its grungy glory, the single best center of any scene.
STUDIO 54
Peak years: 1977–79
Steve Rubell and Ian Schrager's star-studded, coke-fueled disco palace, a cultural landmark with laughing gas.
MUDD CLUB
Peak year: 1979
If Steve Mass let you sit upstairs, you were royal, in a vaguely cruddy way.
DANCETERIA
Peak year: 1982
A three-tiered emporium of fabulously loud insignificance.
PARADISE GARAGE
Peak year: 1982
Was Larry Levan the greatest spinner in history? Anyone who was there thinks so.
AREA
Peak year: 1985
Changing monthly themes (Sex, Faith, Body Oddities) made it feel like every night was Halloween.
LIMELIGHT
Peak year: 1987
The church setting always made you feel like you'd be spanked when you got home.
PYRAMID CLUB
Peak year: 1989
When Avenue A was the far east. Nirvana played "About a Girl" here, and "Polly."
PALLADIUM
Peak year: 1987
The dirigible of the downtown scene. Now an NYU dorm.