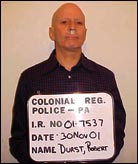 Cross-dressing real-estate heir Bobby Durst – now awaiting trial in Galveston, Texas, for the murder and dismemberment of his 71-year-old neighbor, Morris Black – may have a startling new question to answer in another death. In December 2000, his longtime friend (and former New York contributor) Susan Berman was murdered at her Los Angeles home, shortly before she was to be questioned about the disappearance nearly two decades earlier of Bobby's young wife, Kathie Durst. Last week, several newspapers reported that L.A. police were trying to obtain a handwriting sample from Durst.

New York has learned the eerie reason for that request: Shortly after Berman's body was found, an anonymous letter was delivered to the LAPD. It was addressed to BEVERLEY sic HILLS POLICE, with no further address. Inside was a handwritten note that read 1527 BENEDICT CANYON followed by a single word: CADAVER. The existence of the macabre missive came as a surprise to Durst's defense attorney, Dick DeGuerin. "This is the first I've heard of it," he told New York on Friday. He added that he had assumed the LAPD's request for writing samples concerned correspondence between Susan and Bobby.
But it's the "cadaver" note that has the LAPD's interest. Even to an amateur's eye, the writing on the letter, obtained by New York, bears a distinct similarity to Durst's handwriting in documents filed in the Black case (where Durst has already admitted to the killing but will plead self-defense). "This is the reason that I've asked to see whatever they want to compare," a very unhappy DeGuerin told New York. "If he wrote it, he wrote it. If he didn't, he didn't. He doesn't have anything to hide." One question is, why did it take the LAPD so long to get a sample of Durst's handwriting when plenty already are available in the public record? The LAPD did not return calls for comment.