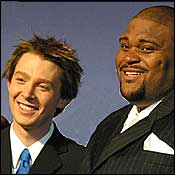 Somewhere in the jumble of bodies sprawled across the sidewalks outside the Javits Center, there is, quite possibly, a future American Idol. It's after midnight on Monday, August 25, the day of the New York auditions for the third season of the Fox-network megahit, and as I check out this rather astonishing encampment of thousands of kids on sleeping bags and inflatable mattresses—even in pup tents—I'm thinking about how elusive star quality is these days.
Nobody would have been able to pick last season's winner and runner-up out of a lineup, either. Ruben Studdard is an obese food addict whose face, in performance, is perpetually streaked by rivers of flop sweat. Clay Aiken is an underfed, flappy-eared Fievel Mousekewitz look-alike whose pants always seem like they're about to slide off his non-hips. But both can sing real pretty.
The kids here at the Javits seem so boundlessly optimistic that, honestly, it embarrasses me. They have something like abject longing in their faces. It's a vastly different sort of longing, though, from what you'd see among the encampments that form outside concert venues before, say, Justin Timberlake tickets go on sale. The desire there is to engage in group worship. The desire here is to attain group worship.
For that reason, I realize, I find myself repeatedly looking away—exercising the same sort of denial mechanism that kicks in when homeless people attempt to make eye contact. These moppets—oh, man, look at that Christina Aguilera wannabe strumming her guitar on a blanket!—are so brazenly starving for attention that it's unnerving. All this naked desire to be nakedly desired.
But, of course, American Idol amounts to much more than just the aggregated neediness of its most eager participants. As a mass phenomenon, it suggests multiple, intertwined orders of psychopathology: the culture at large gorging on hordes of fresh "talent." A populace parodying the idea of democracy by choosing exactly the entertainment it wants (and deserves). And, perhaps most pointedly, the fame factory engaging in a sort of ritualized cycle of bingeing and purging.
You were hoping, perhaps, that the whole American Idol thing would have blown over by now. If so, you were probably heartened by the poor box-office showing, earlier this summer, of the breathtakingly lame Idol movie, From Justin to Kelly (starring the first-season's runner-up and winner), and the generally lackluster ratings performance of American Juniors, the disturbing kiddie version of the show that just ended its first (and possibly only) season.
But these were mere spinoffs, attempts to leverage and milk the brand. The core product itself not only shows every sign of being unstoppable but may just permanently alter the way the music industry molds and markets talent.
Consider the stakes: 24 million votes (almost evenly split down the middle) poured in for Ruben and Clay during American Idol's second-season finale in May—which drew 34 million viewers (more than the Oscars). Clay and Ruben then went on to score Top 10 singles. In fact, Clay's "This Is the Night" held the No. 1 spot for ten weeks and went platinum in July, the first single this year to sell more than a million copies. (Platinum singles are surprisingly rare and hard-won. Pink Floyd's "Another Brick in the Wall Part II," for instance, took decades to turn platinum—it was one of only two singles certified platinum in 2001.) Clay's sales are all the more staggering when you consider that his single doesn't even have a video on MTV yet. (It's currently in postproduction; Matthew Rolston shot it in mid-July.) Ruben, meanwhile, does have a Top 10 MTV video, and his single, already certified gold, is probably just weeks away from turning platinum, too. Both singers will release full-length albums—Clay in October, Ruben in November—that are guaranteed to be among the year's uncontested blockbusters. And the "American Idols Live" tour, headlined by Ruben and Clay—and sponsored by, I'm not kidding you, Kellogg's Pop-Tarts—has packed arenas in 39 cities.
Even Rolling Stone publisher Jann Wenner—who would surely much rather be giving his buddy Mick Jagger five-star reviews than paying attention to all this American Idol nonsense—has succumbed to the marketing magic of Clay and Ruben. Over the years, Rolling Stone insiders have told me that male stars on the cover generally don't do well on the newsstand, which is why everyone from Eminem to Justin Timberlake has had to up the ante by submitting to the homoerotic topless, baby-oiled treatment. Clay and Ruben (thank God!) didn't have to take off their shirts to score their own Rolling Stone covers, in July and August, respectively, and Clay (both he and Ruben are Baptists) was even allowed to wear his own W.W.J.D. bracelet, surely a first for the magazine.
It's entirely possible, of course, that Wenner assumed it stood for What Would Jann Do? The answer, obviously, is Follow the Money.
What's most remarkable about the American Idol phenomenon is how quickly it has hijacked the recording industry. Producing legend Clive Davis is masterminding both singers' records, Clay has lined up a cast of heavy-hitters to produce tracks, and Ruben has lured artists ranging from R. Kelly to Missy Elliott to serve as collaborators.
Talent has seemingly come out of nowhere before, but "nowhere" has almost always been the record industry's farm system. Eminem, for instance, was hand-picked by an L.A. radio D.J. and carefully nurtured in the studio by rap impresario Dr. Dre before emerging, seemingly overnight, as a fully formed icon. Christina Aguilera spent years as a diva-in-training, putting in time as a Mouseketeer on The Mickey Mouse Club and recording a laboratory-tested song for a Disney movie soundtrack before breaking out with "Genie in a Bottle." Justin Timberlake was famously cast by a boy-band impresario in 'NSync—a band whose seemingly overnight success in the U.S. was actually the culmination of a phased roll-out in Europe during the mid-nineties. The bottom line is that most A-list artists require years, and millions of dollars, of investment.
Now we've got Clay and Ruben, whom nobody—not a soul in the record industry—had heard of before this spring, and they're already on track to become among the best-selling recording artists of our time.
There's a limit, of course, to how many American Idols can be churned out—and lots of people will argue that Clay and Ruben are mere flashes in the pan whose careers can't possibly endure. But to the record industry, it really doesn't matter if they quickly fade—and not only because Clay and Ruben are creating instant dynastic wealth for American Idol creator Simon Fuller (who also controls their recording careers) and his partners. (Watch for Ruben and Clay to bitterly recount the terms of their contracts on Behind the Music five or ten years from now; for instance, the singers reportedly get a mere $5,000 per stop on the Pop-Tart tour.)
Not only is American Idol a reality-TV blockbuster, but it's harnessed the reality-TV genre to show the fast-fading recording industry a new path to riches: turning poorly paid nobodies into overnight pop-cultural icons, with virtually none of the usual behind-the-scenes primping and preening. Turns out the record industry's star-making machinery becomes entirely irrelevant when you really let the market decide.
In the same way that network executives have had to get used to the idea that television—its aesthetics and its economics—has been permanently transformed by the reality-TV phenomenon, record executives are going to have to live with an infrastructure upended by the American Idol effect.
The farm system seems suddenly useless. Megastars, it turns out, can be born with hardly any help at all from the usual cabal of A&R guys, talent coordinators, publicists, and image consultants.
For now, the industry's bingeing on American Idol's spoils, but it's pretty clear what—and who—is going to end up getting purged in the end.