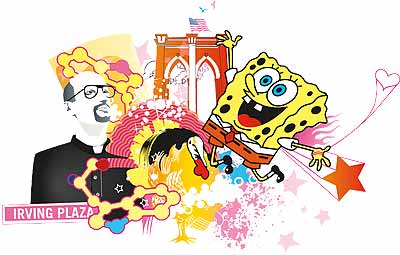 It Happens This Week
• SpongeBob SquarePants makes his Macy's parade debut (800 nylon ropes keep the unnaturally unspherical balloon from losing its shape).
• City revels in tryptophan stupor.
• Shopping woes for Bruce Ratner?
• Brooklyn clergymen to boycott Atlantic Terminal Mall.
• NYC indie-rock standbys Luna hit Irving Plaza on their farewell tour.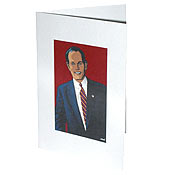 SpitzerGoes Prospectingfor Donations from People He Hasn't Prosecuted.
Barely 24 hours after Chuck Schumer announced that he was staying in D.C., invitations to a massive December 9 fund-raiser for Eliot Spitzer at the Sheraton New York appeared in power mailboxes all over the state (complete with a Warholesque portrait of the attorney general). It should help answer the question: How could a man who's made himself so electable by targeting the city's financial Establishment—brokerages, insurance companies—possibly raise big money? The list of moneymen chairing the event, expected to raise $3 million, shows which deep-pocketed industries Spitzer the fund-raiser is targeting: hedge funds (George Hall, Adam Solomon), trial lawyers (Joe Belluck), and real estate (Edward Milstein, Stephen Green). Meanwhile, Spitzer confidants say that his political operation's kicking into high gear: Rich Baum, Spitzer's chief of staff, has been tapped to manage the campaign. He'll soon join managing director Cynthia Darrison, who helped set up the luncheon, at which, an adviser says, Spitzer will finally, officially announce his candidacy for governor.
—Greg Sargent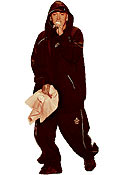 Fight thePower (Take Two)
Eminem re-edits his anti-Bush video.
After voting for the first time this year (his bodyguard dropped off his absentee ballot), Eminem's already disillusioned with the electoral process. He'd found a foe bigger than his mom a week before the election, when he released the single "Mosh." In it, he called Bush "the monster, this coward that we have empowered." And the song's satirical animated video ends with the cartoon Eminem leading a mob to … register to vote. "When MTV saw it, the top brass there decided to put it in heavy rotation and make it the No. 1 video on that week," says Ian Inaba, its director. But "because [the video] had so much popularity, we had to figure out how to keep it going," he says. So, on Election Day, Inaba had a meeting with Eminem's manager, and then label Interscope agreed to pay to make a new, insurrectionist version of the last 50 seconds of the video. "Seeing that the voting thing didn't work out so well," says Inaba, the new ending has the mob bum-rushing the Capitol during the president's State of the Union speech. Chaos ensues. "There was some back-and-forth with management over whether this was too strong," admits Inaba. After all, Dick Cheney has a heart attack in the new video. (New York Magazine's review of Eminem's new album, Encore.) —Carl Swanson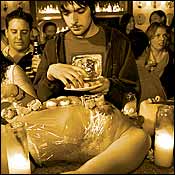 Raw on Raw
One restaurateur's failed Craigslist-enabled fantasy: Nudie sushi in Times Square.
Sushi restaurant Oh! Raku had planned to take the naked-women-as-serving-dish craze (think $700-a-head parties attended by George Clooney), heretofore largely confined to the West Coast and Japan itself, to the masses over Thanksgiving by opening "Raycee Raku" on Times Square. Owner Ray Chin put an ad on Craigslist seeking "drop-dead gorgeous types," with "no body hair," "no crooked teeth or spacing (braces ok)," "firm bodies (no waifs)," "no acne," "no striptease background," "no tattoos," "not opinionated," "not squeamish, no peta causes, no body odor." He got lots of responses, he says (the ad also mentioned "stock options"). Sadly for those seeking to skip the cranberry sauce this week, Chin had to change his plans "because of issues that arose." Health-code issues? "That's part of it." A Department of Health spokesperson says, "The code doesn't explicitly prohibit the serving of food off bare bodies, but we would consider it unsanitary and strongly discourage it." Chin's not sure when he'll open, but says sushi will now be served by models, not on them—possibly in lingerie.
—Megan Miller
Jets Tacklethe Dolanson Their Own Home Turf.
The Jets are taking the battle with Jim and Chuck Dolan, the Cablevision barons who own Madison Square Garden and oppose a new West Side stadium, to suburban Long Island. Last week, Jets-funded operatives handed out flyers at LIRR stations with a scary close-up of Jim Dolan: "Every year, $11 million that could keep transit fares down pads Cablevision's deep pockets." This is the tax bill the company skips thanks to an agreement not to move Garden teams out of town. Why the burbs? "Long Islanders already dislike Cablevision because of soaring cable rates," says a Jets spokesperson. On November 22, the pro-stadium troops launch a Long Island petition drive urging Albany to revoke MSG's tax exemption.
—Greg Sargent
The $15 MillionSailboat-Storage Loton Georgica Pond Goes on Sale.
"It'll go for at least $15 million," gushes a broker. "And if the wind doesn't blow the way she wants it to, she'll take it off the market." The property in question is 20–24 West End Road, the last vacant lot on East Hampton's Georgica Pond (just steps from Steven Spielberg). The land was bought in 1979 for $300,000 by Jerry Chester, a former TV executive who spent the seventies buying up Hamptons acreage. His wife, Marjorie, inherited it in 1995, and uses it to store her sailboat. If bidding for the 2.9 acres hits $15 million, the lot could become, per square foot, the most expensive buy ever in the area, once you build on it. But it's on heavily regulated billionaire pondfront, so there are plenty of zoning restrictions. "They aren't onerous," says Corcoran's Diane Saatchi, the broker for the property. "You can still put in a pool, a garage, and a 13,000-square-foot house."
—Jacob Bernstein
Admiral Durst Ahoy!
The green billionaire seeks to expand his fleet.
Douglas Durst is the city's greenest real-estate mogul (the toilets in his One Bryant Park will flush recycled rainwater). But his fleet of hybrid-electric New York Water Taxi catamaran ferries may soon expand to include the Hummers of the harbor if his bid to acquire some of economically foundering NY Waterway's ferries is accepted. Durst insists the 400-passenger vessels—whose titanic wakes have tossed his spunky little boats for years—can be made more eco-friendly by using cleaner-burning engines and docking at lower speeds. But the man who owns the state's largest organic farm does seem to have some eco-regrets: "Obviously they're not the boats we would build from scratch."
—Will Doig
EDITED BY CARL SWANSON