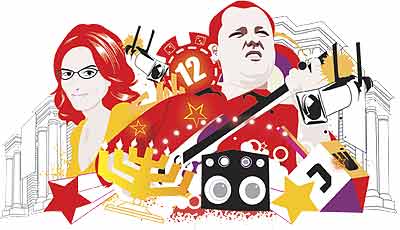 Illustration by Vault 49
It Happens This (And Next) Week
•Hanukkah ends; the twelve days of Christmas begin.
•Martin Scorsese, chronicler of NYC grit, takes on L.A. glitz with The Aviator.
• First Knicks-Nets showdown of the year in N.J.; neither lackluster team has a star to rival Nets co-owner Jay-Z.
•Goldman Sachs and Morgan Stanley announce fourth-quarter earnings; will Eliot Spitzer, the ghost of governorship future, dampen their holiday spirits?
Bernie Kerik's Brilliant Career
But how did all those overachievers get Cabinet jobs?
Bernie Kerik, 49, didn't take the usual path to a Cabinet post. Like his new boss, he was something of a late bloomer. The year the nominee for head of Homeland Security dropped out of high school, 1972, Harvard grad Tom Ridge was finishing up his law degree after earning a Bronze Star in Vietnam. In 1975, when Kerik conceived a child in Korea with a woman he never married, Donald Rumsfeld was Gerald Ford's chief of staff. Meanwhile, Condoleezza Rice was receiving a master's degree from Notre Dame at age 21. In 1993, when Kerik became Rudy Giuliani's driver, Colin Powell was finishing up his job as chairman of the Joint Chiefs of Staff. Kerik received his mail-order bachelor's degree from Empire State College in 2002, the same year the city's Conflicts of Interest board fined him $2,500 for having police officers do research on his prostitute mother for his best-seller, The Lost Son. Kerik was 46; at that age, W. was running the Texas Rangers.
Where's Martha's Big Book Deal?
Plus: Wired editor notwriting an e-book.
Why hasn't Martha Stewart's much-touted memoir sold yet? Partly it's because she's not allowed to do business from the big house (and we're not talking about Turkey Hill), so any deal probably won't be announced until she's free. But two publishing sources say there's been no rush to buy it anyway because she was asking $10 million. And there's the question of just what publishers would get for their money. "People weren't sure she was going to come clean," says one source whose company was approached. Not that that's a prerequisite. "You can't believe any of these people are actually going to tell the truth," the source adds. "But you hope at least you'll get a plausible story you can sell." Also, Martha is considered a domestic-only proposition. Says another publisher: "Hillary got $8 [million] and Bill got $11 [million], but they have enormous international appeal. Martha isn't that famous outside of America." … Neither is Wired editor Chris Anderson, but sources say he managed to sell The Long Tail to Hyperion for just over $500,000. It's a book-length version of a meditation he wrote for his own magazine about the end of the "mainstream" in culture. "Jaws hit the floor over how much they paid," says one source whose house was outbid. Watch for the Wired trend story: The tech-book boom is back!
—Jacob Bernstein
Art Hipsters Hit 30 Rock
The avant-garde's version of Democracy Plaza.
The Mammoth Armory Show of contemporary art—taking up two West Side piers—is making an effort to become less numbing this year by including fewer galleries. Abby Messitte and Elizabeth Burke of Clementine Gallery couldn't get a booth, so they're putting on a counter-Armory—right in the middle of town. They've persuaded Tishman Speyer to give over the Rockefeller Center plaza for "Art Rock Center," an alternative fair of about fifteen international galleries March 7–14 (the Armory is March 10–14). It helped that Jerry Speyer has bought work from Clementine. "The initial thought was that we would do galleries that weren't in the Armory show," says Messitte, though that might change. It's not immediately clear how the Today show's front patio, which has hosted the beloved Jeff Koons sculpture Puppy as well as the loathed "Democracy Plaza," will function as a venue for cutting-edge art. They're considering using shipping containers, but, says Messitte, "they're so claustrophobic."
—Karen Rosenberg
What's the Wrinkle Cure … for Asbestos?
Dr. Nicholas Perricone hit it big with a book, The Wrinkle Cure, and products based on the theory that various irritants cause cellular inflammation, which in turn causes the visible signs of aging. Kim Cattrall, Julia Roberts, and Kyle MacLachlan are acolytes. Turns out the doctor has his own irritants to deal with. His swank skin-care emporium, due to open on Madison Avenue and 67th Street in September, still hasn't. "It's a landmark building, what can I say?'' says Marcie Krempel, vice-president of N.V. Perricone M.D., Ltd. "There were a lot of trivial issues—signs, lighting. Whoever says anything else is being naughty." We'd heard there were asbestos problems, too. "Well, there was in the basement, but we didn't even have to remove it. We just gloved it.''
—Beth Landman
NIMBP: Not in My Back Pond!
Neighborhood preservation can be worth $20 million.
Does Courtney Ross-Holst think Georgica Pond is her own private lagoon? When she heard that Marjorie Chester wanted $15 million for a vacant three-acre plot next to her East Hampton spread, Ross-Holst, the widow of Time Warner conglomerateur Steve Ross (she was one of several billionaire suspects in the great pond-draining mystery of 2003), apparently didn't relish the prospect of some Wall Street whippersnapper's McMansion marring the landscape. So, sources say, she decided to preemptively offer about $20 million for the lot. And her view was saved.
—Jacob Bernstein
O.J.: The Musical
Well, Sweeney Todd was about a murderer, and people liked it …
With your help, the O.J. Simpson trial can be relived as a musical. The show, called Juice, got its start when writer Bebe McGarry became so fascinated with the case that she went to the courthouse every day. Hair director Tom O'Horgan did a reading of it (he says it's "a good subject, but it has to be worked on"). Now she's looking for backers. With the Jerry Springer musical coming to Broadway, how tasteless could it be? "It's about an obsessive, addictive relationship," says McGarry. To quote from the Bronco chase scene's chorus: "He's not worried / How it goes / Not hidin' / What he knows / Nothin' goin' down / Except his lady / Lyin' on the ground." It's a courtroom musical, where Christopher Darden, in a duet with Marcia Clark, advises the jury, "Don't tear baby justice apart." Reached at his L.A. law firm, Darden said, "If I believed someone would invest in such a thing, I'd have a reaction. But tell her she better not take anything from my book or I'll sue her ass."
—Kate Pickert
NYU's Coke Problem
Undergrad politicos just say no.
Some call it killer coke. Just look at the headlines in the student paper: DOES COKE KILL? and STUDENT GOV'T PASSES COKE BAN. Yes, the problem originates in Colombia. Students outraged over the murders of union organizers at Coca-Cola bottling plants there want the beverage-maker banned from campus. (Such a ban must now pass the university senate.) Already the Killer Coke Campaign has gotten Coke products banned at Bard, hoping that enough college bans will pressure Coke into investigating the Colombia situation. But a Coke rep at the student-government meeting said that two investigations cleared it of wrongdoing. And now another group—Students for Coke—has come to its defense. "It's not that we love Coke over Pepsi," says senior Mark Sternberg, who drinks Sprite (a Coke product). "We just want Coke to be treated fairly."
—Kate Pickert
Mayor MikeScares Off Thompson
Who wants to parry a billionaire?
Just how afraid are the Democrats of Michael Bloomberg? Throughout much of his tenure, our billionaire mayor often seemed to suffer from a sort of political Asperger's syndrome—and his lack of charisma showed in his low (though now rising) poll numbers. But political observers say that Comptroller Bill Thompson's decision to take himself out of the mayor's race, as New York first reported on its Website last week, shows a caution about challenging the incumbent. Thompson had been under pressure to run from Dems who argued that the former Board of Ed president, an outer-borough African-American, was their best weapon. But advisers say Thompson balked in part because he didn't want to risk getting battered by reputation-destroying Bloomberg attack ads. "You'd have that primary," one notes, "then turn around and face a $100 million incumbent." There's always 2009.
—Greg Sargent
EDITED BY CARL SWANSON