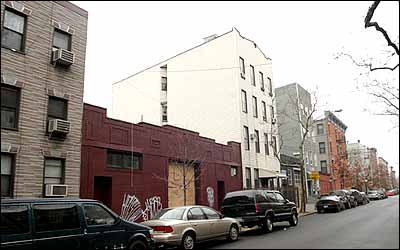 Developers are scrambling to Manhattanize Williamsburg's and Greenpoint's low-slung skyline before the city changes the local zoning laws. The new rules, which could go into effect as soon as May, will allow for high-rises by the river. But they would cap most inland buildings at four to six stories, says the Department of City Planning's Howard Slatkin. That said, he adds that a foundation alone can grandfather a new building: "You can't pull the rug out from someone who's already developing."
So architect Karl Fischer, whose firm converted an old factory into Williamsburg's luxury blockbuster, the Gretsch (home to Busta Rhymes), says he wants to be sure his 200-foot tower at 20 Bayard Street has poured concrete. Down the block, thirteen stories of condos are rising. "It's all views!" says developer Isaac Haager. And at 55 Eckford Street, a 154-foot residential tower is under way. Such projects have been dubbed "finger buildings" by locals (for what they'll be giving the neighborhood), who are fighting back. At a recent community meeting, developer Mendel Brach unveiled a scale model of a sixteen-story tower to be built on a site next to the Bedford Avenue L-train stop. The room gasped.
A mobilized opposition soon sussed out that no one had obtained the MTA's permission to build near the tunnel. A stop-work order was issued. And on January 4, the Buildings Department sent an intent-to-revoke-permits letter, citing fifteen objections. Brach's architects have ten business days to present new plans.
"It reminds me of Iraq," he says. "Are you trying to terrorize me? Just because you don't like [a project], I think this is unacceptable." But for now, the community's efforts to keep this finger from extending seem to have paid off.