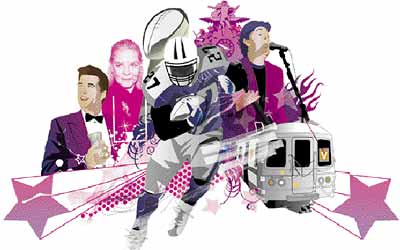 It Happens This Week
• Heady times for fans of spectacle: The Super Bowl brings out the best in ad agencies, the NFL, and halftime performer Paul McCartney
• Lauren Bacall and Alec Baldwin headline a Drama League benefit; 2,800 exhibitors descend on the Javits Center for the massive New York International Gift Fair.
• Earnest Canadian indie rockers the Arcade Fire play two shows for the less gaudily inclined.
• And the time to replace slush-damaged items is now—during the weeklong moratorium on sales tax for clothing and shoe purchases under $110.
Irv Gotti'sDirty Laundrycould lose him his business.
"They don't call it 'gangster rap' for nothing," said FBI agent Fred Snellings at the circuslike indictment of hip-hop impresario Irv "Gotti" Lorenzo, head of record label the Inc. (home to Ja Rule and Ashanti), for drug-money laundering last week. Though never known as much of a tough guy himself, Gotti is alleged to have laundered money from a friend who is, in fact, a convicted gangster—drug kingpin Kenneth "Supreme" McGriff. His friendship with McGriff may cost him his business. The Inc. (formerly Murder Inc.) began as a joint venture with Def Jam in 1999 after Lorenzo produced rapper DMX's multiplatinum debut. But according to a source at Universal Music Group (the parent company of Def Jam), a conviction for Lorenzo would be "a material breach of his employment contract with the joint venture" and would allow "Def Jam to purchase the other 50 percent of the joint venture at a discount." That's enough to make a thug cry.
—Ethan Brown
Best Dress Man
Melania's Minderkept close watch over his frock.
Unsurprisingly, Melania Knauss's cumbersome megafrock, the 50-pound, $200,000 Dior that co-starred with her at the Trump nuptials (and swaddled her on the cover of Vogue), came with its own chaperone: dry cleaner to the ruling class John Mahdessian, president of Madame Paulette on East 66th Street. He was on hand at the Episcopal Church of Bethesda-by-the-Sea in Palm Beach with one of his dress experts, who pressed out the 500 pleats—which took eight hours. When the bride finally donned the humble gown, she could hardly move around in it to check herself out. According to one spy at the church, Mahdessian found a mirror at the other side of the sanctuary on the back of a door, unscrewed all of its eight bolts, and carried it over to the princess bride so she could have a last glimpse before walking down the aisle (the sides of which had been cleared of flowers so she wouldn't knock them over).
—Beth Landman
Kinderopera!
Met's Magic Fluteto be Nutcracker-ized?
What will it take to get kids to go to the opera? The Met's considering taking a page from George Balanchine and his intro-to-ballet blockbuster The Nutcracker, with a "Nutcracker-ization" of Mozart's The Magic Flute, according to a source close to the director of the current production, Julie Taymor. The idea was for "a briefer version to run at five or six o'clock," possibly in English, the source says. "They saw it as a wonderful way to introduce new audiences to opera—The Magic Flute is an ideal vehicle to launch this kind of marketing venture." Whether this scheme happens or not, the thinking behind it could be an overture of things to come: Peter Gelb, the pop-savvy former Sony exec who's co-general-managing with Joseph Volpe this year before taking over in 2006, brought in Taymor in the first place.
—Kate Pickert
Boulud on B'way?
Chefs migrate west, again.
The Time Warner Center might seem like a self-contained retail biosphere, but the galvanizing effects of its five-star food court seem to be wafting out into its once gastronomically challenged neighborhood. Quintessential Upper East Side restaurateur Daniel Boulud is eyeing the area. "We are definitely looking at spaces on the Upper West Side, and yes, we do want Lincoln Center,'' says a spokesperson, who wouldn't confirm a specific spot. But a real-estate source says he's likely to be taking over the space in the Empire Hotel on 63rd and Broadway once occupied by flashy jazz eatery Iridium. Meanwhile, up on 69th and Columbus, Bill Telepan, who earned three stars at JUdson Grill, is taking over the old Santa Fe.
—B.L.
Uptownon Their Minds
First Clinton, now the Ciprianis.
Next up for nightlife proprietor Jason Strauss, who made his name with Hamptons club Jet East? East Harlem. The owner of Marquee has been talking to Michael Caridi, the developer of Harlem Park, the new Marriott-anchored high-rise that's going up on 125th Street, about putting in a roof lounge with a pool. Also looking into the mammoth Miami-modern building: the Ciprianis, who've been negotiating for an 800-person party space; celebrity stylist Ric Pipino, who's planning a spa, complete with hair salon and a D.J.; and Peter Glazier and Drew Nieporent, who've both had meetings about the restaurant space. "Harlem is the next Soho," insists Caridi.
—B.L.
Patti Davis'sNew Literary Frontier
A lesbian novel.
Will Patti Davis's rebellious phase ever end? She's married her yoga instructor, copped to getting high, lived with a member of the Eagles, and posed for Playboy. But Ronald Reagan's daughter still isn't done challenging family values. Sources report that the author of a novel about Nicaragua and two memoirs about her family has begun working on a novel about straight women who have a lesbian affair. A Knopf spokesman confirmed she's at work on a novel but said, "We do not as a rule characterize the story lines of works in progress."
—Jacob Bernstein
Tabloid Sitdown
Pecker lunches the Post.
How do you tame the Post? Katie Couric buttonholed its editor, Col Allan, at Trump's wedding. Star editor Bonnie Fuller and her boss, AMI CEO David Pecker, tried a lunch late last year, set up via AMI and the Post's shared flack, Howard Rubenstein, with Allan, his boss, Lachlan Murdoch, and columnist Keith Kelly. But by January, the Post was back to calling the Star's circulation "sagging." "I guess it was unsuccessful," says a Post source.
—J.B.
EDITED BY CARL SWANSON