1) Brando, age 16: (top left) A picture taken in 1940, right before he was sent to a military academy in Minnesota. He was kicked out the following year.
2) His wallet: (top center) With a list of expenditures for one day in October 2002: "Tip beggar in L.A.—$100."
3) Big(ger) Brando: (top right and belt) At the wrap party for One-Eyed Jacks (1961), the only film Brando directed, the crew presented him with a belt, accompanied by a bloated caricature: "Hope it fits!"
4) The activist: Brando, very involved in the civil-rights movement, apologizes to Martin Luther King Jr. for missing a march, citing a bleeding ulcer (a frequent health problem) and a court date (likely a child-custody battle, says Christie's popular-arts specialist Helen Bailey).
Click here to read the letter
5) From Mario Puzo: When Brando received this note from the author that said, "I think you're the only actor who can play the Godfather," he threw it away. A secretary retrieved it.
Click here to read the letter
6) Rita Moreno: A film still of Brando with Moreno, his lover—and co-star in The Night of the Following Day (1968). According to Bailey, this was the only piece of his movie memorabilia Brando kept on display in his house.
7) A fertility (ha!) statue: A gift from Val Kilmer.
8) To Marilyn: A telegram sent to Monroe—with whom Brando had an affair—during her nervous breakdown on the set of The Misfits (1961). He later wrote in his autobiography that he was sure Monroe didn't commit suicide in 1962: "I have always believed that she was murdered."
Click here to read the letter
9) From Elia Kazan: In a six-page letter signed Gadg, Kazan's nickname, the director tries to persuade Brando to be in The Arrangement (1969; Kirk Douglas ended up with the role), but mentions Warner Bros.'—and his own—misgivings: "I remembered On the Waterfront where you told me repeatedly … you were only making the picture 'because your psychoanalyst was in New York.'"
Click here to read the letter
10) Brando as artist: He was an avid caricaturist, says Bailey. "He kept little pads of paper everywhere."
11) Mutiny on the Bounty script: Brando has scribbled a flirtatious phrase he was apparently trying to learn in Tahitian: "I like me suck your …" He later married his 19-year-old Tahitian co-star, Tarita Teriipia, who gave birth to two of his eleven children.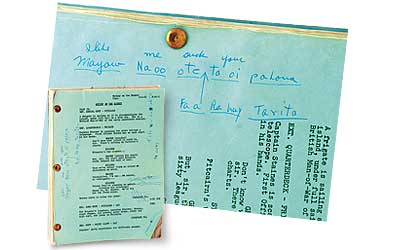 12) From Francis Ford Coppola: Sent after a monsoon shut down filming for Apocalypse Now. Coppola apologizes to Brando for being out of touch: "This movie has been a nightmare for me."
Click here to read the letter