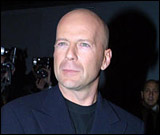 Willis Out of His Gourd?
Bruce Willis got a little punchy at Serafina's regular Wednesday-night soiree on October 10. We hear he had a few drinks and by 3 a.m. was trying to smash a pumpkin with his head. "He decided to play karate with a gigantic 100-pound pumpkin," says venue owner Vittorio Assaf. Unable to break the gourd with his noggin, he then demanded to go out on the fire escape, but the request was refused by management. At that point, Assaf claims that Willis punched the pumpkin, put his arm through it, and ran out the fire door and onto the roof—pumpkin and four friends in tow. Restaurant security eventually coaxed him down and into his limo, but not before he threw the poor pumpkin down onto the sidewalk below. "The guy behaved like a beast," Assaf says. "For someone so famous, it was indecent. Someone could have been hurt." Willis's spokesman acknowledged that Willis was there but insisted that "he did not throw the pumpkin."
Where in the World Is George Stephanopoulos?
George Stephanopoulos is so busy, even his fiancée, Alexandra Wentworth, has trouble getting in touch with him – and their wedding is next month. That's why she recently bought them a pair of Motorola two-way pagers. "Aside from using them for the usual 'I love you' stuff, sometimes I have really minute, stupid questions," Wentworth told us last week just days before their engagement party on Sunday. "You know, he's interviewing someone like exiled Afghan king Mohammad Zahir Shah, and I just want to know: Should the napkins at the wedding be white or beige?" If anything, the pagers could prove to be quite the marital aid. "They say that the best thing in a relationship is communication," Wentworth muses. "I'm just trying to be as technologically advanced about communication as possible. If these pagers don't work, then I guess it's off to couples therapy." As for the napkins – they'll be white.
An 'N Sync Kiss-and-Tell Story
Actress Emmanuelle Chriqui admits it – she was never much of a fan of 'N Sync. "They looked familiar," Chriqui tells us. "But it wasn't like I could tell you all their names." But that all changed when she landed a co-starring role in 'N Sync-ers Lance Bass (pictured) and Joey Fatone's movie debut, On the Line, a romantic comedy about a young advertising exec (Bass) who meets the girl of his dreams (Chriqui) on the Chicago subway. During the shoot, she and Bass had to lock lips in front of hundreds of extras, most of them female 'N Sync fans. "We were both so embarrassed," Chriqui remembers. "It's one thing when you're in a small enclosed room, but it's another in front of 300 people who would give me the thumbs-up sign when I looked at them. Lucky for me, he's a good kisser."
TV Journalist Ready to Report for Duty
Like many reporters, NY1's Greg Kelly has been working overtime covering the events since September 11, but his involvement could get much more personal. Kelly, son of former New York police commissioner Ray Kelly, was a Harrier jet pilot in the Marines for nine years – he flew over Iraq as part of Operation Southern Watch – and has served since the spring of 2000 in its reserves, where he holds the rank of major. "There's a significant chance I might be called to active duty," the 32-year-old bachelor tells us. "If the order comes, I'll gladly go, but not without some feelings of regret; I'm very happy here in New York."
Mother May I?
Jenifer Estess is nervous about how her mom will react to Jenifer. In the CBS TV movie about the younger Estess – the co-founder of New York's Naked Angels theater group who was diagnosed with ALS (a.k.a. Lou Gehrig's Disease) about four years ago – the elder Estess comes off at times as a somewhat less-than-loving compulsive chain-smoker. Luckily, Jane Alexander plays Estess's mother. "My mom saw Jane in The Great White Hope when she was young, and she says it was the only time that she ever gave a standing ovation," says Estess, who is played by Just Shoot Me star Laura San Giacomo. "Ultimately, I think she's going to be good about it." The movie will have its world premiere on October 16 at the annual gala benefiting Project ALS. So when will mom and daughter watch it together? "We keep putting it off," Estess says with a laugh. "What's that about?"
Plácido Gives His Regards to Broadway
Opera great Plácido Domingo is doing his part to support Broadway. On a recent Tuesday night, the tenor took in The Lion King. Four nights later, after performing in the almost four-hour-long production of Mozart's Idomeneo at the Met, he caught another Disney musical, Aida, where one of our spies reports that he signed dozens of autographs during intermission and met backstage with cast and crew for about half an hour after the show.
NIGHT MOVES Tiki Room owner Eddie Dean has recruited David Rockwell to overhaul Hush, his two-year-old club on West 19th Street. The new venue will be a supper club and lounge and should be open early next year. Unfortunately, Moomba's future isn't so bright. Michael Heller and his company, Park Avenue Entertainment, had planned to reopen the defunct hot spot this fall. But after September 11, they changed their minds. Instead, Heller will start this week promoting Thursdays at the Russian Tea Room with Samantha Ronson deejaying.
With Catherine Townsend and Aric Chen.