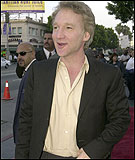 Bill Maher's Politically Incorrect Girlfriend
It would appear that Bill Maher's girlfriends can be as pushy and annoying in person as Maher is on the air. A source told us that a woman who identified herself as the talk-show host's girlfriend called the Acqua Beauty Bar on East 14th Street a few weeks ago and asked to use a gift certificate that had been made out to him after he appeared on Who Wants to Be a Millionaire? After the reservationist explained that all prizes are non-transferable, she threatened that Maher "would say very bad things about the salon" if they refused her. When asked if she was a family member, she shot back, "Well, I'm sleeping with him, is that okay?" The staff member relented and set up the young lady's appointment. During her massage and facial, the source said that the woman was very rude and demanding, and kept asking staff members if they realized who they were dealing with. Afterward she seemed about to walk off without tipping: "But when her aesthetician made eye contact with her at the counter as she was leaving, she finally dumped out ten dollars."
Ellen's Pilot Is Ready for Takeoff
Ellen DeGeneres's new CBS sitcom may be ranked 84th out of the top 100 and her hosting duties for the Emmys keep getting postponed, but don't feel bad for her just yet. Friends of the comedian tell us DeGeneres has been talking to CBS president Leslie Moonves about airing the pilot for a Carol Burnett-like variety show she made last year. "Ellen told me they're thinking about running it as a special or putting it out on video," one pal tells us. There apparently are some truly hysterical skits on the show, including one in which Ellen plays a bumbling hairdresser. "You could see the cast laughing – like you'd see on Carol Burnett," the pal reported. "They try to hide behind scenery and props because they can't stop."
A Stella Performance at the VH1 Awards
At a party following the VH1/Vogue Fashion Awards, Stella McCartney flew into a rage over the animal hides on display. The trouble started on the red carpet when McCartney – whose fashion line is backed by, irony of ironies, leather-goods empire Gucci – refused to hug Anna Wintour because she was wearing a fur stole. "Anna reached out for her," says our source. "And Stella held up her hand in front of her face, was like 'Ugh, no,' and air-kissed her from five feet away." Inside, a visibly agitated McCartney averted her eyes as she wandered through the sea of crocodile bags and fur hats on display at the silent auction. The last straw came when her pal Gwyneth Paltrow stopped to admire a mink pashmina wrap. "She ran across the room and told her loudly to put it down," the source says. "Then she literally dragged her by the arm to the bar."
Faster Pussycat: Kiehls, Kiehls
Last week, Kiehl's held its 150th-anniversary benefit at the Barney Greengrass restaurant in Los Angeles. The idea was to lure celebrities to the sales counter, since 20 percent of proceeds were donated to the September 11th Fund. But upstairs – where free samples were being offered – our source saw Mena Suvari, China Chow, and other celebs stripping the shelves faster than the staff could replenish them. When the freebies started to run out, some even raided the storage area, breaking open sealed boxes of shampoo and lotion. The worst offender was Kim Stewart, who filled three bags with more than 50 different products. The fledgling fashion designer claimed that everything in the bags was for her rock-star dad, Rod.
Russell Simmons: The Price Is Right
Russell Simmons hasn't let the World Trade Center disaster affect the asking price for his Liberty Street penthouse. Although it's only steps from ground zero, Simmons still expects $6 million for the two-story abode, which comes with roof rights. He put the place on the market in the spring, and he and his wife, Kimora Lee, and their 1-year-old daughter, Ming Lee, moved to Saddle Brook, New Jersey, in August. Although the pad sustained some damage on September 11, Simmons's rep says repairs have been made and the asking price hasn't been reduced. Sean "Puffy" Combs expressed interest in the place when Simmons first put it on the market, but reps for both men insist that talks never became serious.
With Catherine Townsend and Aric Chen.