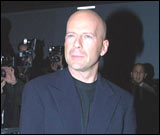 Bruce Willis: Look Who's Not Talking
Bruce Willis must have gotten up on the wrong side of the bed before his appearance last week at Planet Hollywood to promote his new WWII film, Hart's War. First, the star, flanked by six bodyguards, whined for photographers to stop taking so many pictures. ("You're hurting my eyes," he complained.) During a Q&A with a Planet Hollywood employee, Willis stonewalled with surly one-word answers. "So where were you filming?" the interviewer asked. "Prague," Willis replied. Asked what that was like, Willis rolled his eyes and moaned, "Cold." After Willis just said "Yup" when asked if he was auctioning off his uniform from the movie, the flustered interviewer ran offstage for a few seconds. Jumping back onstage, he made one last attempt to get Willis to open up: "You also play with a band, so which do you like better, acting or music?" The monosyllabic Willis answered, "Both." Later, Willis's rep tried to explain, saying that if he appeared cranky, it was probably because he was tired. Willis had been on the road for two and a half weeks promoting the movie and touring with his band, the Accelerators.
P. Diddy Spreads the Wealth
Money's tight for most folks these days, but not for Sean Combs. We've learned that Combs is spending a staggering $1 million to put on his Sean John fashion show on February 9 at Cipriani 42nd Street. The invitations alone cost $60,000 (that's 1,000 invitations at $60 apiece). Each invitation – an embroidered white linen pocket square – comes in a black felt box along with a pair of silk cuff links. A Sean John rep declined to comment on costs, but finds nothing wrong with the pricey invite: "We feel it's a beautiful invitation that reflects the collection." About 400 of Combs's nearest and dearest will be receiving separate invites to a $50,000 after-party at Lotus. In other Combs fashion news, he's set to help kick off Fashion Week by ringing the opening bell of the New York Stock Exchange on February 7 with Peter Arnold, executive director of the Council of Fashion Designers of America.
Mort Zuckerman Plays Politics
New York Daily News and U.S. News & World Report publisher Mort Zuckerman has always insisted that he doesn't endorse or fund-raise for political candidates. Of course, rules were meant to be broken – especially when you can help out an old friend. Zuckerman hosted a hush-hush, $1,000-a-ticket fund-raiser for Montana senator Max Baucus, head of the Senate Finance Committee, last week at his Fifth Avenue apartment. Over $200,000 was raised at the cocktail party, where politicos Charles Schumer, Hillary Clinton, Charles Rangel, and Jon Corzine joined NBC chairman Bob Wright, Loral chief executive Bernard Schwartz, Liz Claiborne ceo Paul Charron, Goldman Sachs vice-chairman Bob Hormatz, Quadrangle Group partners Steven Rattner and Joshua Steiner, and real-estate mogul Bill Rudin. "Mr. Zuckerman made an exception because he and Senator Baucus have had a great personal relationship for over twenty years," a rep for Zuckerman said. One partygoer reports that Zuckerman justified his endorsement by telling the crowd that it was his 4-year-old daughter, Abigail, who persuaded him to host the soirée.
Maya Angelou Voices Ode to Bush
Think of Maya Angelou and politics, and the first things that come to mind are her poetry reading at Bill Clinton's first presidential inauguration in 1993 and her unwavering support for Al Gore in 2000. But Angelou is singing a slightly different tune these days. She actually likes W. "I liked him a lot while he was down there at ground zero, when he said, 'We hear you. The world hears you,' " Angelou told us while in New York promoting her new line of Hallmark cards and trinkets. "That is what America needed at that moment. We needed to know that we had some protection. People who felt so suddenly vulnerable and fearful were strengthened by his ardor, by his fervor. He is not the president that I voted for … but he may be a man for his time." Despite her newfound admiration, Angelou isn't expecting to be spending time with the president anytime soon: "I've been welcome in a few White Houses, but I don't know about this one."
Board Stiff: First Bob Dole used his stately persona to give Viagra a lift, then he ogled Britney Spears in a Pepsi commercial. Now he's moved on to board games. The former GOP senator has signed a deal to partner with Saturday Night Live player Darrell Hammond to be the spokesmen for the twentieth-anniversary edition of Trivial Pursuit. A rep for the game insists it's only a one-shot deal in which the two will appear at the upcoming American International Toy Fair to announce a Trivial Pursuit contest.
With Catherine Townsend and Aric Chen.