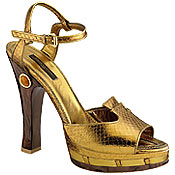 Five-inch heels can be difficult to negotiate, but Louis Vuitton's new disco-inspired platform sandals are having no problem finding takers. Thanks to saturation coverage in Vogue, Elle, Bazaar, and W, the shoe has become the gotta-have-it accessory. Naturally, you can't have it. Yet.
Available exclusively at Vuitton's 57th Street flagship, the $910 snakeskin version sold out in less than three days. The best you can do, a salesman advises, is get on the waiting list at the Soho branch, where a shipment should arrive any day.
Carmen Borgonovo, accessories director for W, hasn't seen such heel lust in years. "I just went nuts for them," she admits. "They're kind of like jewelry." They also provide a welcome shot of va-va-voom glamour in a season of demure, fifties-influenced styles.
The sandal comes from Vuitton's Pompeii collection, but the vibe is more ancient Egypt (by way of Studio 54) than Roman Empire. The heel is faux tortoise shell, and a hole has been drilled in the top so you can see through it. Imitations are popping up around town for as little as $75, but nothing approaches the original. "Anyone who wants the real deal is going to have to pay for it," says Michael Atmore, editorial director of Footwear News. First you'll have to find it.