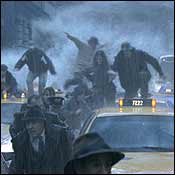 On May 28, New York City will be obliterated onscreen for the first time since September 11. Trailers for Roland Emmerich's $100 million–plus environmental-disaster flick, The Day After Tomorrow, are already hyping the carnage: "What you see is happening now," a news announcer warns, as locals panic, and waves of water crash through city streets. "Lower Manhattan is virtually inaccessible!" Emmerich's film has nothing to do with terrorism—the apocalyptic gimmick here is global warming—but its marketing nod to September 11 is unmistakable. A time line of cultural responses to terror in the post-9/11 era.
September 12, 2001
Advertised with the tagline "The War Hits Home," Schwarzenegger's Collateral Damage has its October 5 release date postponed. "Nerves are really raw right now," says the producer.
September 2001
Sony pulls a Spider-Man trailer in which Spidey traps robbers in a web between the Twin Towers; the studio also says it will re-edit the end of Men in Black II, featuring a downtown alien battle. Reruns of Friends and Law & Order: SVU are airbrushed to remove images of the towers. But Fox pushes ahead with its terrorist-themed pilot 24.
September 13, 2001
The November 1 Broadway debut of Stephen Sondheim's Assassins, about presidential attackers, is delayed indefinitely.
September 19, 2001
Microsoft deletes the Trade Center from Microsoft Flight Simulator 2002.
October 2001
The band Anthrax makes a formal statement: "Suddenly our name is not so cool." Ryan Adams's video for "New York, New York," shot in front of the Twin Towers on September 7, gets an unusual amount of TV play. The track becomes the singer's breakout hit.
September 2002
HBO removes the towers from The Sopranos' opening sequence.
September 11, 2002
Eric Fischl's bronze statue Tumbling Woman, a 9/11 tribute, is unveiled at Rockefeller Center—then removed eight days later, after public outcry.
January 2003
Spike Lee's 25th Hour begins with an evocative shot of ground zero's "Tribute in Light," but all anyone can talk about is Ed Norton's rant about why he hates everyone from "Gordon Gekko wannabe" types to "cave-dwelling" fundamentalists.
March 30, 2003
James Woods rallies the crews at ground zero as the star of the saccharine made-for-TV film Rudy: The Rudy Giuliani Story.
May 21, 2003
The Barbarian Invasions debuts at Cannes; it includes footage of the plane crashing into the second tower as a TV announcer talks about the fall of the Roman empire. The film goes on to win the foreign-language-film Oscar.
November 7, 2003
September 11 becomes a prelude to a romantic comedy. "When the planes hit the Twin Towers, as far as I know," reflects Hugh Grant in Love Actually, "none of the phone calls from the people on board were messages of hate or revenge; they were all messages of love."
December 2003
For Angels in America, HBO digitally adds images of the towers.
April 22, 2004
The delayed Assassins opens on Broadway and is quickly Tony-nominated. "At last," Frank Rich says, "9/11 has its own musical."
May 2004
The Day After Tomorrow's trailer ends on a snow-covered New York, a faint echo of when downtown was covered in ash.