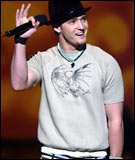 In case you hadn't been keeping up, the dance war between Justin Timberlake and Usher rages on. It all started with a friendly dance-off at Sean "P. Diddy" Combs's post–MTV Video Music Awards party. Now Timberlake's new girlfriend, Alyssa Milano, has been telling friends on the set of her hit TV show, Charmed, that the competition reached ridiculous, high-school-like proportions not too long ago. Timberlake and Milano were on the dance floor at L.A. hot spot Deluxe when four burly bodyguards cleared much of the floor so Usher could dance. Timberlake tried chatting Usher up, but the R&B crooner apparently didn't feel like talking. Timberlake and Milano were about to take off when Usher approached their table and started dancing and motioning for Timberlake to join him. Buzz has it that Usher's not thrilled about Timberlake being called the next Michael Jackson, a comparison Usher has enjoyed for himself ever since his self-titled debut CD was released eight years ago. Timberlake's rep insists he and Usher are friends and that no rivalry exists. Usher's rep declined to comment.
GQ publisher Ron Galotti insisted on introducing himself to David Eigenberg, who plays Steve Brady on Sex and the City, at Kenneth Cole's show, boasting, "I'm the real Mr. Big." Then Galotti gave up his front-row seat when he saw that Eigenberg's wife of just one week, Chrystie, was in the second row. "You're newlyweds," Galotti said. "You have to sit together." … Janice Dickinson wants to take over the world. After Diane von Furstenberg's show, the onetime supermodel told us she's developing a movie version of her bestselling memoir, No Lifeguard on Duty: The Accidental Life of the World's First Supermodel, and launching a perfume line called Sexy Bitch, and earlier that day she signed a deal to star in her own reality show à la The Anna Nicole Show. "It's much better than her show," she said. "Are you kidding me? I'm thinner and always boning." … You'll also be seeing more of Paris Hilton. Not only has she shot an episode of Just Shoot Me, wrapped two movies – The Hills and Nine Lives – but after Fashion Week, she was off to Los Angeles to shoot an episode of the upcoming WB show The O'Keefes… . At the Heatherette show, we learned that singer Mya asked the Solstice store on Fifth Avenue to close for three hours the day before so she could shop by herself. It did, and she walked away with 21 pairs of shades for $2,800 (20 for her and one for her bodyguard).
Literary superagent Ed Victor is branching out into movies. Victor, whose clients include Tina Brown, Mel Brooks, and Erica Jong, tells us he'll be producing his first feature film, an adaptation of his client Gyles Brandreth's Who Is Nick Saint?, a novel about a man who discovers he's Santa Claus. "It's a Christmas love story – think Brad Pitt in a Santa suit," Victor told us at the party for his diet book, The Obvious Diet, at Harry Winston. He's not only producing the flick but also co-writing the screenplay with Random House editor Peter Gethers.
Ty Pennington, the hunky carpenter from the hit interior-design show Trading Spaces, is looking for a book deal. According to a tipster, Pennington and his literary agent, Michael Broussard, are meeting this week with several editors – including Nancy Hancock at McGraw-Hill, Jonathan Burnham at Miramax, and Maureen O'Neal at Ballantine – about his book proposal. Tentatively titled How Many Mr. Wrongs Before You Get It Right, the book is a how-to on finding the right professionals to do renovation and repairs in your home. And yes, he has already said he's happy to pose shirtless in the book.
Caroline Rhea's talk show has only been on the air since September 2, but it's already going through some major growing pains. We hear that Rhea parted ways with her executive producer, Bridget Potter, on September 13. "Bridget was here on that Friday," a source tells us, "but by Monday, she completely disappeared." A rep for the show insists it was an amicable departure: "It's a start-up show, and productions evolve and change. We have all the same people in place." Ed Glavin, who most recently was executive producer of the Change of Heart dating show, will replace Potter.
Yes, that was Barbara Walters on all fours after a recent performance of Hairspray. One of her diamond earrings was missing and she stayed to scour the floor. "There were three rows of people on the floor helping me look," she told us last week. Walters called the theater manager an hour later to apologize when she realized she had left it at home after taking it off to answer a phone call.
With Catherine Townsend.