With Deborah Schoeneman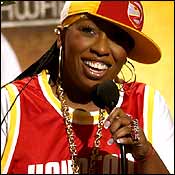 Dept. of Catty Behavior: If Madonna Calls …
Is there anyone in this world who wouldn't jump at the chance to hang out with Madonna at her house? Missy Elliott is apparently one of those people. We hear that rehearsals for Madonna and Missy's Gap commercials didn't get off to a good start. Sources tell us that both were on time to the stu- dio, but Missy had some business to take care of and remained in her car chatting on a cell phone. After waiting for 45 minutes, Madonna apparently walked out to Missy's car, tapped on the window, and motioned for the hip-hop impresario to speed things up. Missy shooed Madonna away with a flick of her hand. When rehearsals finally got under way, Madonna figured that it would help the ad campaign if the two spent some bonding time together away from the cameras. So she invited Missy to her house. Much to Madonna's surprise, Missy said she was busy. Eventually, Missy's handlers convinced her that it was in her best interest to spend some quality time with the Material Mom.
Fight Night
If you want to see John Leguizamo channeling his inner Rocky, you'd better catch his directorial debut, Undefeated, on HBO. "I will never do another boxing movie again for as long as I live," Leguizamo told us at the film's premiere party at the New York International Latino Film Festival last Tuesday. "I got clocked in the head, the chin, the abs, the ribs. Oh, man, your head rings and there's nothing you can do, so you just let it ring." He's looking forward to his next role, in Cronicas, where his power comes from his pen—not his punch. "I'm playing a reporter," he said. "It's a little easier."
Realty Bites: Bruce Parks It
Bruce Willis is the latest celeb to buy in the ultra-luxe AOL Time Warner Center on Columbus Circle. We hear Willis recently purchased two four-bedroom condos for almost $30 million. According to insiders, Willis has inked a deal for 4,000-square-foot condos in each of the building's two towers: one for him and one for his guests. He cut the deal after losing a bid for the building's 12,000-square-foot penthouse, which was sold to a British financier last week for a record-breaking $45 million. Meanwhile, Demi Moore just spent a relatively paltry $3.5 million on a Beverly Hills mansion, though she and Willis still own homes in Idaho, where they're raising their three daughters.
The Worst Of Times: Trauma Case
Fresh from the Jayson Blair scandal, the Gray Lady has been hit with another headache. Earlier this month, the newspaper was named in no fewer than nine lawsuits filed in New Jersey, including a class-action suit that involves thousands of plaintiffs. Each of the plaintiffs was filmed two years ago by the New York Times' television subsidiary (the brainchild of Arthur "Pinch" Sulzberger Jr.) and sold to the Learning Channel for a reality show, Trauma: Life in the ER. The plaintiffs' lawyer, Gerald Clark of Lynch Martin, says his clients were tricked into signing releases when they were either too sick or too injured to understand that their treatment would be aired on national television. "People who go to the emergency room are vulnerable," says Clark, whose plaintiffs are suing for an undisclosed sum. "The New Jersey patients' bill of rights act guarantees privacy and dignity, which we believe were violated." He added that some plaintiffs didn't even sign releases and others were told they would get better treatment if they agreed to be filmed. The camera crew was also dressed in scrubs, like doctors, which misled patients. "We believe that the show did fall within the bounds of journalism and we did them right," insists Times lawyer David McCraw.
The Jazz Singer: Cold, Cold Heart
As we reported in June, Grammy winner Norah Jones wasn't too pleased when her former friend Peter Malick, a blues guitarist and singer, announced he would be releasing a CD featuring music he and Jones recorded before she made it to the big time. Despite threats from Jones's lawyers, Koch Entertainment released the CD in early July, and has hired people around the country to hand out flyers and CD samplers to Jones's fans when they're leaving her gigs. We're told that Jones has personally called Malick several times to ask him to stop promoting the CD at her concerts, to no avail. Koch claims that a man identifying himself as Jones's tour manager has scared several of its street marketers away from concerts in Memphis, St. Louis, and Nashville by asking police officers to threaten them with arrest if they don't leave. Even so, Koch plans to fly banners advertising the CD over Jones's outdoor venues.
"Like all Italians, I've known since I was a baby that mozzarella is good for you. We opened Otto to improve the general health of the children in the Village. "
-Mario Batali, on hearing the news that eating pizza helps prevent cancer
The First Family: Back In Fashion
First daughter Barbara Bush may be spending some of her summer break from Yale at Proenza Schouler, the hot Chinatown-based design team headed up by Jack McCollough and Lazaro Hernandez. A Proenza rep denied it, but we hear that Bush has been offered internships with Oscar de la Renta and Tommy Hilfiger, but wants to go with a trendier fashion house because, as we first reported, she interned last summer for the conservative Lela Rose, a longtime friend of the Bush clan. Barbara's twin sister, Jenna, is keeping busy interning at publicity firm Harrison & Schriftman.
Club Kid: Philip Johnson breaks into the nightlife business.
Philip Johnson, the famed 97-year-old architect of The Four Seasons restaurant, has just signed on to co-design Noah Tepperberg, Jason Strauss, and Chris Barish's as-yet-unnamed nightclub on Tenth Avenue and 26th Street, slated to open in the fall. "We've never done anything quite like this before," says Johnson's partner Alan Ritchie. Johnson's plans include a brass-trimmed 50-foot-wide curved-glass wall to separate two rooms in the 6,500-square-foot former garage.


What: 10th Annual Robert Wilson-Louis Vuitton Watermill Center Benefit. Featuring cocktails, silent and live auctions (conducted by Phillips, de pury &Luxembourg) and dinner and dancing at the Watermill Center, the East End'sfamed art foundation.Who: Miranda Richardson and Kimora Lee Simmons haveconfirmed they'll be there, but expect others from the art world like RossBleckner, Julian Schnabel, Larry Gagosian, among others.When: Saturday, August 2. Cocktails and silent auction at 6pm;dinner, live auction and dancing at 8pm.Tix: Call (212) 253-7484