WITH ELIZABETH SPIERS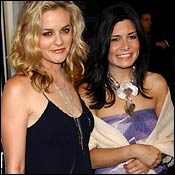 Three On a Match
There's no love lost between Manhattan's A-list matchmakers. Samantha Daniels, who runs Samantha's Table, had the enviable good fortune to sell her life story to Sex and the City creator Darren Star. Enviable and unjust, according to rival matchmaker Janis Spindel, who is livid about next week's debut of Miss Match, a new NBC sitcom starring Alicia Silverstone as a matchmaker and divorce attorney. "That was my story!" she says, insisting that she was in talks with William Morris before Daniels. "My lawyer advised me not to sign anything until I talked to other people. So I called Tribeca Productions, and they had me meet with people from CAA, but Samantha and William Morris put the deal together first. When I heard about Daniels's deal, I went ballistic. The response from Tribeca was, 'That's like saying if I set you up with someone and you wore a different dress, you'd be married.' Great, that makes me real happy.'' Spindel and Daniels aren't the only ones in play. Denise Winston says CBS has approached her, and that she is currently looking at a 24-hour reality show; Lisa Ronis says she, too, has been approached ("They loved me on Dateline, and now I'm being pitched heavily.'') Meanwhile, Daniels insists all is fair in this game of love and war. "Was Janis a matrimonial lawyer turned matchmaker?'' she sniffs. "I don't think so. Darren bought the rights to my story. It's unfortunate that her situation didn't work out.'' — BETH LANDMAN KEIL
Homo Imbibicus?
We found actor Alec Baldwin parked in front of the bar at CNBC's joint party for Topic A With Tina Brown and news correspondent David Faber's new documentary about WorldCom. Noting the actor's liberal use of hair product, we raised the possibility that he might be a metrosexual. "What do they call men who are gay but like to have sex with women?" he wanted to know. "Because I'm finding I want to work on my softer side. I'm getting into decorating, and I want to become more sensitive." It sounded suspiciously like he wanted to be a metrosexual. "Well, those guys are high-maintenance," he explained. "I want to be low-maintenance. Basically, I'm gay, except for the sex-with-men part." Who knows what he meant, but we note, again, his proximity to the bar.
Sleep Talkers
Quite a few guests at last Tuesday's premiere party for Sofia Coppola's new movie, Lost in Translation, could relate to Bill Murray's character, a sleepless actor who wanders through a sprawling Tokyo hotel with fellow insomniac Scarlett Johansson. "I've been in that hotel when I can't sleep," said Josh Hartnett. "It's exactly what happens—but I'm not as cool as Bill Murray." Gina Gershon didn't understand why the characters didn't reach for a pharmeceutical solution. "No sleeping pills!" she observed. "I was so surprised!" Of course, Ambien would no doubt have tranquilized the plot, which includes the unspooling of Johansson's character's marriage: Any parallels to Coppola's recent split from director Spike Jonze?
Star Treatment
Bonnie Fuller may have ended The Star's practice of paying for tips, but vestiges of checkbook journalism remain. Fake names and P.O. boxes—used to disguise payments to sources—are turning up on the return address of freelancer paychecks. One such address was a post-office box in Delray Beach, Florida, maintained by one "Antoinette Villanova." "John Smith" might not have raised any eyebrows, but "Antoinette Villanova"? "We don't have anyone here by that name," an hr rep at American Media told us. We didn't think so.
Very Off Broadway
Actress Jane Krakowski, who won a Tony Award in June for her role as Carla in Nine, has just bought a loft to go along with her increased fame. The former Ally McBeal star spent $1.32 million for a penthouse on King Street, near Sixth Avenue. The condo features a terrace and a fireplace in the master bedroom. The actress's rep says she plans to decorate after her run in Nine ends next month. But she's not slowing down. She'll play Liza Minnelli in the upcoming biopic Simply Halston, and one of Jude Law's love interests in a new remake of Alfie. Broker Brian Rice of the Corcoran Group declined to comment.