WITH BENJAMIN NUGENT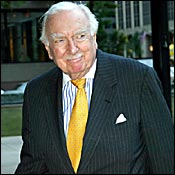 The Way It Is
Walter Cronkite, the Most Trusted Man in America, had his first encounter with Jayson Blair—okay, the least trusted man in America—during a recent breakfast with Texas Monthly editor Evan Smith at the Regency Hotel, where Smith was interviewing Cronkite for a Q&A that will appear in the magazine's November issue. They were approached by Michael Viner, who identified himself as a publisher, mentioned that he was meeting with Blair, and asked if Blair could "come over and say hello." Shortly after, Blair ambled up to the table. "Oh, Mr. Cronkite," he said fawningly, extending his hand, "I'm an amazing admirer of your work." Cronkite smiled graciously and shook hands. Blair then nodded at Smith and remarked, "It must be awkward to have me here when you're interviewing Walter Cronkite." Quite the contrary, Smith told us later. "I felt like I'd won the lottery." After the pint-size prevaricator left, Cronkite turned to Smith and said, "What am I supposed to say to that guy? 'Nice job'? 'Tell me about your journalism career'?"
The Venerable Metropolitan
Club was ghetto-fabulous last week for a party celebrating the rerelease of Scarface. The great hall was recast as the mansion of the film's drug-dealing antihero. Ice figurines carried brassy globes emblazoned with the words the world is yours, projectors cast the Scarface logo upon the walls, and gangsta rap reverberated through the building. "This is unusual for the Metropolitan," said James Lipton, host of Bravo's Inside the Actors Studio. "But it's good for them. Some of the old codgers may learn something." "This reminds me of the night the film opened," said Steven Bauer, who played the sidekick, Manolo. "Martin Scorsese said, 'Be prepared, they're going to hate this film in Hollywood.' I said, 'Why?' He said, 'Because it's about them.' "
Wesley Goes To Hollywood
Well before he announced his candidacy last week, Wesley Clark launched a preemptive strike on Hollywood pocketbooks. We hear that his victories included lunch with Steven Spielberg, Jeffrey Katzenberg, and their spokesman, Andy Spahn, on September 8. "He was a very bright, articulate guy," says Spahn. "We talked about Iraq, North Korea, foreign policy, tax cuts." That same week, Peter Morton, owner of the Hard Rock Hotel and Casino, threw a dinner party for Clark; guests included West Wing creator Aaron Sorkin and movie producers Jordan Kerner, Steve Tisch, and Marc Abraham. Kerner and pal Norman Lear followed suit with yet another meet-and-greet for the general. "I haven't been that moved by a politician since I had lunch with Bill Clinton prior to his becoming president," Morton says. "He's the Democrats' best chance." Of course, Clark should know L.A. is a famously fickle town: "Jeffrey has not had the opportunity to meet Howard Dean yet," Spahn told us. "I think we'll do that at the end of the month." Luckily for Clark, Spielberg will probably be too busy shooting his new movie, Terminal, to sit in.
Scary Story
Stop reading right now if you don't want a potential plotline of Sex and the City spoiled. Rumor has it that Kim Cattrall's character, Samantha, will have something significantly more serious to worry about than Brazilian bikini waxes in the series' final season debuting in January. An insider tells us Samantha gets diagnosed with breast cancer and her hunky boyfriend, Smith Jerrod (Jason Lewis), helps nurse her back to health. HBO refused to comment.
Tyson Fight
Model Tyson Beckford showed up for Wyclef Jean's listening party at the Millennium Hotel in Times Square last week astride a new $100,000 motorcycle wearing lots of leather and trailed by an eight-person entourage. (We hear this used to work for Mickey Rourke.) Beckford and his biker buddies were promptly turned away from the door. Our spy reports that Beckford then confronted Jean's bodyguard, beast. Apparently, Beckford ended up throwing some punches at Beast, who reacted the way the rest of us would to a mosquito. Beckford finally left poor Beast alone, ditched his posse, and proceeded to chat up the paparazzi. Meanwhile, inside, Denzel Washington, P. Diddy, Tyra Banks, Kevin Bacon, and others celebrated Jean's new release, The Preacher's Son.
Faint Praise
Fight Club author Chuck Palahniuk's latest fictional foray is so good it's sickening. So far, 27 fans have passed out during readings of Palahniuk's gruesome "masturbation-gone-wrong story," which he says he originally heard from a crippled sexaholic. Two fans hit the floor at the Union Square Barnes & Noble on September 12 and two others were stricken at a reading at Columbia University the following Sunday. "Columbia was a nightmare," the writer tells us. "After the first four pages, Someone starting shouting, 'Stop! My friend isn't okay!' The friend fainted and was hauled away. Two pages later, a young man pitched forward, hitting the seat in front of him, where my editor's wife was sitting. He fell to the floor and vomited." Projectile-vomited, according to the writer's publicist. "It kind of soured my view toward the event," says one of Columbia's organizers, Roxanne MacNeil. "But the crowd loved it." The story will be released by Doubleday next year in a collection of Palahniuk's work.
Spencer Tracy Slept Here
The late, great Katharine Hepburn's townhouse in Turtle Bay Gardens is on the market for $4.95 million. Hepburn, who died in June at age 96, began renting the four-story, four-bedroom home at 244 East 49th Street in 1931, bought it in 1937, and spent much of her life there. It features a large backyard, where she would often garden—as well as an extensive communal garden. "The house is a lot like she was: sensible, with touches of glamour," says broker Eileen Robert of Halstead Property.