AND BENJAMIN NUGENT
February 2, 2004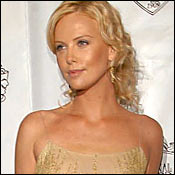 Upon Review
The National Board of Review Awards (or "the Board of National Review," as Diane Keaton called it) ceremony at Tavern on the Green on January 13 was the first truly star-studded event of the new year. Honorees included Clint Eastwood, Sean Penn, Patricia Clarkson, and Liv Tyler. Charlize Theron won a Breakthrough Performance award for her role in Monster and gave a serious shout-out to Frances McDormand for "showing all of us women it's okay to have balls!" Salma Hayek presented screenwriter Jim Sheridan with an award and recalled helping him with research: "He kept asking me all kinds of weird stuff: 'Are you legally in the country? Is your green card real?' " Morgan Freeman, meanwhile, commented on overzealous fans, like George Harrison's doctor. "A guy once followed me into the men's room for an autograph," he said. "I asked him if he wanted to hold this while I signed. He gave me a dirty look."
Stupid Thirsty Men: Moore Water!
Dude, where's my French bottled water? It appears that man of the people Michael Moore has gone completely J.Lo on event organizers with pre-event demands. Before he'd agree to present an award for the best 30-second anti-Bush ad at a Manhattan MoveOn.org benefit earlier this month, Moore's handlers insisted that he have a supply of Evian backstage. "Even Poland Spring wasn't good enough," says our inside source. "They called up to make sure he would have Evian." If he starts demanding orange-blossom- scented candles next, we're going to call for an intervention. (You're a leftist, Michael. A leftist. Not a consumer.) Presenters without designer-water specifications included Julia Stiles, Moby, Janeane Garofalo, and Margaret Cho.
Calvin's Co-Op
The Richard Meier–designed towers on Perry Street will apparently be presided over by a celebrity co-op board. An insider tells us that Calvin Klein has been elected president and the board members include Martha Stewart, tech mogul Bill Joy, real-estate developer Scott Resnick, and hotelier Ian Schrager, who bought an apartment there for his ex-wife, Rita, though he won't be moving in. Klein also chartered a helicopter to check out all the views before he bought a $14 million penthouse (as any practical fashion mogul would do). No word yet on whether there's a meeting dress code, but we'd suggest white on white on white.
"As everyone knows, I've been working 24/7 to bring Martha down for years, and now, ironically, she's done it to herself."
Al Franken, on the start of the Martha Stewart trial.
Mogul Mischief: Tommy's Tell-All
Casablanca Records chief Tommy Mottola's former mentor, Walter Yetnikoff (president of CBS Records from 1975 until Mottola ousted him in 1990), is publishing a book, due out in March, with plenty of juicy tidbits about his ex-protégé. In Howling at the Moon: Confessions of a Music Mogul in an Age of Excess (Random House), co-written by David Ritz, Yetnikoff calls Mottola "a connoisseur of guns, boats and wild women," "Iago," and "Tweedledee" to Allen Grubman's "Tweedledum." The book also claims that Mottola had a "secret love affair with a Japanese superstar singer"— Sony founder Akio Morita's goddaughter. And he "was also carrying on with his own superstar signing, Mariah Carey, while divorcing his wife." We doubt Mottola is looking forward to the book, but his people claim otherwise. "It's humorous and laughable, but mazel tov! I wish him well!" says Mottola, via spokesman Howard Rubenstein.
NYT Star-Crossed
The New York Times may have stumbled upon a lucrative new source of revenue: selling ads to people who feel the corrections page isn't sufficiently apologetic—like Bread Tribeca co-owner (and erstwhile Pat Benatar video director) Bob Giraldi. Last week, the Times printed a review of Giraldi's restaurant by Marian Burros, interim successor for William Grimes, with just one star instead of the two Burros had assigned it. The usual note in the corrections section was accompanied by a notice in Wednesday's "Dining In, Dining Out" that Giraldi thought was unclear about whether the review carried one star too few or too many. He approached the Times and requested a discount for an ad that would clarify matters. "It's like me saying, 'Oh, shit, I forgot the sauce in the pasta,' " says Giraldi. "It seems that the advertising [department] is going to work with us. The headline is THE MISSING STAR IS FOUND." Speaking of corrections, we're hoping to see an ad placed by Israeli architect Michael Arad, who designed the WTC memorial and who, according to the Times, performed his military service on "the Left Bank" as opposed to that similar-sounding spot where one is more likely to find Israeli soldiers. The flub got one measly correction, and we'd spent two days deeply concerned that Israel was facing a dire security threat from mimes, American tourists, and French labor unions.
The Sarah Show: Jest Pilot
We know what TV producers will be watching next year. Sarah Silverman is working with her ex-boyfriend Sam Seder on an insider-friendly TV mini-series for Trio called Pilot Season, a sequel to their Hollywood-satire film Who's the Caboose? In Caboose, a New York comedienne (Silverman) heads for L.A. in hopes of landing a part in a TV pilot, and her boyfriend (Seder) follows. During filming, Seder and Silverman had their own stormy romance. In the new mini-series, Seder's character is a big-time manager who remains obsessed with Silverman's character (in real life, Silverman has long since moved on to Jimmy Kimmel). "It's about the myopia that can happen in a one-industry town," he adds. "Sarah's character says, 'I get up in the morning and I read the papers, and it is so depressing.' She means the trades."
Last Dance
Ross Bleckner sells his Tribeca loft building, once home to the infamous Mudd Club.
Artist Ross Bleckner has finally unloaded his six-story loft building at 77 White Street—former site of the Mudd Club—for $5 million. He bought it for $450,000 in 1983. Broker Jan Hashey of Douglas Elliman says the buyer is a young real-estate developer, Mark Ravner, who plans to convert it into six condos. Bleckner has yet to find a new home, though he came this close to buying Annie Leibovitz's London Terrace penthouse. For now, the "homeless" artist will have to make do with his Sagaponack spread—when he gets back from vacationing in Mexico, that is.