For our second competition, we decided to expand outside of New York—all the way to New Jersey. The challenge: to design a new Hudson River bridge. Entries ranged from the environmentally sound—a crossing made of garbage recycled from the Hudson—to the economically savvy: a bridge with built-in advertising space, and one that would incorporate a car wash. Richard Meier (the architect behind L.A.'s Getty Center and the glass-walled Perry Street towers that overlook the Hudson) chose the top three designs. The next challenge is to create a new gym, with David Barton as the judge.
The Winner
Gateway Bridge
Submitted by: Mick Walsdorf and Jon Kully, principal designers, FLAnk Architecture.
The idea: This structure includes office space and entertainment venues as well as crossings for pedestrians, trains, and vehicles. The bridge seeks to be more than just a passage between Jersey and the city by becoming part of the cityscape itself.
Meier says: "This proposal separates vehicular and pedestrian traffic and is visually innovative. The result has potential to be a lively addition to the Manhattan skyline and is a design with high artistic and symbolic values. It is original and memorable."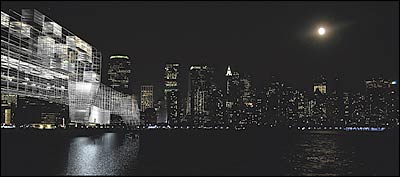 Second Place
Hudson River Bridge
Submitted by: Larry Daniels, principal, DanielsDesign, a branding and communications firm.
The idea: The design centers on a three-tiered support structure. Lighting set within the structure will provide nighttime illumination, and each side of the span identifies state boundaries by utilizing a cabling system made up of NY and NJ configurations.
Meier says: "This entry is visually well-balanced. With a cabling system spelling NY/NJ, symbolically changing at mid-bridge, and not immediately discernible, it is clever, yet abstract enough not to be cloying."
Third Place
Commercial Tower Bridge
Submitted by: Abid Ghayyoor, student of architecture technology at Humber College, Toronto.
The idea: The bridge is designed to sit on the river like the "sail of a boat" with a glass mast. The high-rise support structure is actually a building comprising condominiums, offices, restaurants, a shopping center, and a hotel.
Meier says: "The idea of a high-rise condominium tower as the support for a bridge was seen in a few entries, but this cantilevered suspended bridge has good sculptural qualities. Whether tenants would want to live with traffic all around remains to be seen, but the views would certainly have real-estate brokers vying for sales."
Next: Come up with an original gym concept.
Judge: David Barton.
Send submissions to: The Competition, c/o New York Magazine, 444 Madison Avenue, New York, NY 10022, or competition@nymag.com. Entries must be received no later than Friday, January 14. Entries can be described or sketched (sketches must be no bigger than eleven-by-seventeen inches). All entries become the property of New York Magazine and cannot be returned.