Bill Weld strides into the Knickerbocker Club with the self-confidence of a man completely at home in this pretentious, old-world gentleman's enclave. And well he should: The former Republican governor of Massachusetts grew up on a vast Long Island estate with a full Social Register pedigree. But he has always relished the role of patrician rebel, and so for tonight's dinner speech, he's wearing a pin-striped charcoal suit with his usual brown lace-up shoes. His amused explanation of this defiant sartorial mismatch: "It's the Yankee in me!"
Six foot four, with aristocratic good looks and ashock of red hair, Weld banters easily with a group of Dartmouth business grad students and wealthy CEO alumni in one of the club's grand rooms overlooking Fifth Avenue. It's a vintage Weld performance: self-deprecating ("Everyone in this room knows more than I do"), glibly well connected ("Rumsfeld's a tough old bird, really good"), and spiked with non sequiturs ("That's all I know about penguins"). As a newly minted New York venture capitalist, he insists he doesn't miss politics: "I'm thrilled not to be managing anything larger than ten people." There's a breezy, devil-may-care quality to his remarks, as if he has no need to impress anyone. When the subject of his third novel, Stillwater, published this week, comes up during cocktails, he downplays the achievement, joking, "It's my thirteenth or fourteenth career."
New York City should invent a new Zip Code for all the out-of-work politicians who have recently immigrated to our small, ego-intense island. Just in the past year we've seen Bob Kerrey and Ann Richards and, of course, Bill Clinton relocate here. But at 56, William Floyd Weld's return to the Empire State, after a three-decade absence, has been most memorable for his startling embrace of a completely new life. Elusively charming, headstrong, and erudite, Big Red, as he was known in Boston, has rewritten his entire existence in a mere four years: He's getting divorced from his wife, with whom he has five children, to live with another woman on the Upper East Side; he quit politics and then the law for investment banking; and though he's already written two novels as a weekend hobby, with this new one he's striving for serious literary respect. He's even tried acting, with a bit part in Traffic. As he says, with his trademark mischievous grin, "My greatest motivation in life is fear of boredom."
As his older brother Francis "Tim" Weld, a Manhattan cardiologist, affectionately says, "This isn't his midlife crisis, it's Willie's old-life crisis." Which would all be a private matter, except Weld keeps loudly hinting that he might want to run for governor of New York some day, after his good friend George Pataki decides to leave the stage. "I'd never run against George Pataki," Weld says. "You couldn't get a piece of paper between me and Pataki, we agree on so much." Is Weld really serious about running for office here? "I have to believe Bill's still interested in elective or appointed office. It's what he's done for 30 years," says Mort Zuckerman, Daily News chairman and an admiring pal since the early seventies. "Bill's iconoclastic, he's not someone who fits the constraints of the Wasp world. He's voracious in terms of learning, doing, experimenting. The guy is dazzlingly brilliant." And oh, so restless.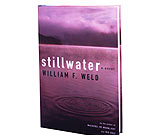 Weld has always been an intellectual show-off; as Harvard classmate Scott Asen, now a New York financier, recalls, "Bill was one of the golden boys. He was famous for playing three games of chess at a time – while blindfolded." His various incarnations include: Rhodes scholar, white-shoe Boston lawyer, House Judiciary Committee attorney during the Watergate hearings, marriage into a famous political family (Susan Roosevelt, great-granddaughter of Teddy), U.S. Attorney, Justice Department legal eagle under Reagan, and wildly popular two-time Republican governor of the nation's most liberal state. For years, Weld had national ambitions, and now he says he's sorry he didn't run for the 1996 GOP presidential nomination instead of trying to unseat Massachusetts senator John Kerry.
That losing battle was an emotional turning point. In 1997, he quit the governorship a year early to pursue a stubborn and quixotic effort to get Jesse Helms to confirm him as Bill Clinton's ambassador to Mexico. Even his admirers were baffled as to why Weld wanted the job, not to mention why this pro-choice Republican chose to taunt Helms rather than charm him. "I'm crazy about Bill Weld, but he wasn't thinking straight about how he handled the Jesse thing," says Haley Barbour, the former Republican National Committee chairman. Washington lawyer Greg Craig, a Harvard classmate of Weld's who was at the State Department during the confirmation battle, says, "Bill has good political instincts, but he's totally independent and unpredictable. He didn't sufficiently understand Washington ways."
Following this double career debacle – the loss to Kerry followed by the loss to Helms – Weld began commuting to New York to run the New York office of a Boston law firm. His wife, a China scholar and Harvard lecturer, remained in Boston so their children could finish high school. Passion lurked in lonely-guy Manhattan: The pol embarked on a light-up-the-room romance with Leslie Marshall, a divorced magazine writer and longtime family friend. "Bill has never been a womanizer," says friend Scott Asen. "He took a step from one to the other. You can't call it a frivolous act."
Weld officially separated from his wife of 26 years in mid-2000, and they filed for divorce this fall. She now works in Manhattan as an executive recruiter. The divorce has, by all accounts, been wrenching for his family. "I love his wife. It's heartbreaking for her," says Tim Weld. "She's an extraordinary person – and so is his current choice." (Weld can wryly joke about these "two strong women and the wretch who binds them together.") He now lives with Marshall and her children, twin 12-year-old girls and a 9-year-old boy, in two upstairs-downstairs apartments in the East Nineties. Another irreverent redhead who can match Weld's entertaining banter, she shares his outdoorsy passions at her own country retreat (in the upstate fishing paradise of the Beaverkill) and his large spread (a robber-baron-style hunting camp in the Adirondacks right by the Ausable Club), and she appreciates his desire to write fiction on weekends; she has just completed a first novel. "Leslie's beautiful and very clever," says Sally Quinn, the Washington reporter married to former Washington Post editor Ben Bradlee, "and Bill's been fabulous with Leslie's children." (Marshall used to be married to Quinn's stepson Dino Bradlee, a Trump executive.)
Weld did not contest much in the divorce. "I didn't take anything out of the house in Cambridge except my underpants," he said, sitting in his office on a high floor in an office building next to Barneys, a sunny room with no mementos of his past, just a large wood desk, club chairs, and a dying plant. He's enjoying his life on the town with Marshall; they're out for dinner almost every night, often at such table-hopping spots as La Goulue. But Weld's brash façade fades when the conversation turns to the effect of the breakup on his own children (Stanford Ph.D. candidate David, 25; University of Chicago med-school student Ethel, 24; Yale graduate Mary, 22; NYU student Quentin, 21; and Franny, 18, an MIT freshman). "It's got to hurt. They're more than civil with me, nobody ever threw any china at me in connection with this matter at either parental or kid level," says Weld. "But their first allegiance is to Sue-Sue, as it should be."
While it's impossible to say what role family history plays in the unraveling of a marriage, Weld has three older siblings, and as his sister, Anne Weld Collins, points out, "three out of four of us have left our spouses." Any theories? "Maybe we've rebelled because we grew up in such a square, Waspy family," says the divorced and remarried Collins, a real-estate salesperson with Stribling & Associates. "Our parents were not totally in love with each other, they put up with each other. Most people are not going to do that these days." Mention this idea to Weld, the beloved postwar baby of the family, and he looks startled, saying, "I would have said our parents had a storybook marriage."
Weld used large chunks of his adult autobiography in dashing off two earlier political thrillers, Mackerel by Moonlight and Big Ugly. He dictated the books ("ten pages an hour," transcribed by a secretary) as a lark, starting in 1997, and they received lukewarm reviews. Both feature the exploits of alter ego Terry Mullally, a smart-ass prosecutor turned politician who loves Latin and grammar, takes on the Establishment, excels at snappy patter, and has no qualms about ruthlessly cutting corners to get ahead. (Yes, there were sex scenes, but Jackie Collins has nothing to fear from the discreet Weld.)
For Stillwater, he laboriously took pen to legal pad and spent months crafting the language and images, and the extra effort shows. The result is a haunting coming-of-age story, set in 1938, about a real-life Western Massachusetts land grab in which neighboring villages were flooded to create a reservoir. Told from the naïve and mournful perspective of a teenage boy, the book is lyrical in its description of love and loss and the rustic joys of nature. "He's turned his attention to a very different kind of writing in this book," says Alice Mayhew, Weld's editor at Simon & Schuster. "He's enormously talented." Early reviews have been quite positive: Publishers Weekly called Stillwater a "splendid read," and Kirkus Reviews described it as a "quite entertaining tale." But Weld wants respect. "Did you think those reviews were good?" he asked me, in a rare moment of doubt. "I thought they were B, maybe B plus."
This book is far more autobiographical than the others, inspired by Weld's childhood loss of two magical pieces of property: his parents'$2 600-acre working farm in Smithtown, Long Island, and his grandparents' equally enormous spread in Mastic. The first was taken by Suffolk County through eminent domain for park land; the villain was none other than Robert Moses. "Moses was not a political ally of my father," says Weld, whose father, David Weld, was a local Republican leader as well as an investment banker in the family's blue-chip firm, White, Weld & Co. "Moses had his eye on that piece of property for a long time. My father fought him off for a dozen years." Weld says that when he was 15, the age of his fictional hero, and deeply attached to the land, his parents informed him that the idyllic home was imperiled. In 1965, his parents finally lost the battle, and the land became Blydenburgh Park. His father died of a heart attack at 61 while playing golf in 1972; his mother, Mary, died in 1986.
(Tim Weld has a contrary view of the family's land history, insisting, "Father was in cahoots with Robert Moses to preserve the land, at a time when matchbox houses were being built all over Long Island. Bill was a little guy, he didn't know what was going on. But it was painful for all of us.")
The Weld family has a rich New York heritage: Bill was named after a descendant on his mother's side of the family, William Floyd, a Revolutionary War general whose family manse in Mastic was occupied by the British. "I heard he was the dumbest signer of the Declaration of Independence," jokes Weld, downplaying his pedigree. Yet in Stillwater, Weld has created a memorable character named Hannah, an abandoned girl who believes she has lived in other centuries and remembers her past lives dating back to the Revolutionary War. Sounding surprisingly Shirley MacLaine-esque, he says, "When people look so much like their parents and grandparents, that's DNA. I don't see why memory cells can't come down from generation to generation."
Weld and his siblings grew up hearing their father rail about how much he hated working for the family's investment bank, a Wall Street firm founded at the turn of the century (since sold to Merrill Lynch). He wanted something nobler for his trust-fund children. "Our father said, 'Don't even think about working on Wall Street – I'll blackball you at every firm,' " recalls David Weld, a science teacher turned executive director of the American Lyme Disease Foundation and, at 63, the oldest of the Weld clan.
So it's ironic that last year Weld rebelliously took up the very profession of his father, grandfather, and great-grandfather, signing on as a principal in the firm of the irrepressible Jeffrey T. Leeds, a former Lazard Frères investment banker and early backer of Christopher Whittle's Edison Schools. Now Leeds Weld & Co. has raised more than $250 million to invest in for-profit educational ventures, from vocational schools to foreign medical programs.
"I don't feel disloyal to my father," says Weld, as we take an early-morning walk in Central Park from his East Side home to his office. "I've had a lot of other careers." He also admits that he needs to earn a sizable living – his inheritance was depleted by his years in public service, and then there's the expense of educating his children, not to mention the divorce. But as a dealmaker, Weld insists he's no Gordon Gekko, but rather an old-fashioned gentleman banker. "Jeffrey is the financial genius, and he comes in like the Gyro Gearloose character out of Donald Duck," says Weld. "I'm the one who gets you to 'yes' on a deal. I'm not the one who fights over the last nickel." In fact, Weld is so comically, resolutely old-school that even though he's hustling educational investments, he has truculently refused to learn how to operate a computer. "I was a Latin major. I'm an antiquarian," he says. "I have a Nero Wolf-ian distrust of all machines." (Yes, he carries a cell phone, but insists his trusty leather address book is far superior to a Palm handheld.) Leeds, who clearly enjoys Weld's high-Wasp shtick, says the former governor brings to the business an ample Rolodex – "He knows a ton of people" – as well as a quirky analytical mind and a useful poker face. "Bill's style is, 'Don't let them see you sweat,' " says Leeds, adding, "I'm a big sweater."
Yet even as Weld professes that he loves "the steep learning curve" of his new job, not to mention his fiction-writing weekends (he's already started a new book), he keeps hinting that he still might want to be Governor Weld again, this time from his home state. Not that he's doing anything to set himself up for the job, mind you, but he keeps talking about it, to the New York Times, the Boston Globe, and to me, to keep the idea afloat. "The contrarian in me thinks it would be fun to follow in Sam Houston's footsteps," says Weld, referring to Houston's neat trick of governing two states, first Tennessee and then Texas. "It has to be five years away or I don't satisfy the residency requirement. Perhaps that's why I've chosen that as my pipe dream."
He'd have a better claim as a local son than fellow Watergate lawyer and friend Hillary Clinton. And an eventual Weld race would be fun to watch. As Massachusetts governor, Weld was known as a Jack Daniels-drinking, Grateful Dead-loving pol with a wild streak, once diving fully clothed into the Charles River after signing an environmental bill. Another politician who moved to New York recently – Bob Kerrey, the former Nebraska senator – says of his new pal, "I'm looking forward to seeing Bill jump into the Hudson."
But Weld's fantasy doesn't go over well with people who have a more long-term investment in New York politics. "He's an arrogant blowhard," sniffs one politically connected Wall Streeter. "The guy doesn't have a lot of judgment or sense." Haley Barbour thinks that Weld's socially liberal and fiscally conservative credentials could play well in New York – this is, after all, the home of Rockefeller Republicanism.
His siblings and friends guess he'll just keep moving on, constantly trying new things to stave off boredom. "Bill will do anything as long as he's challenged," says Tim Weld. "He can't stand repetition. He's been this way since he was 9." One pal who has known him through all his incarnations framed the question this way: "What'll be interesting is where the guy will be in fifteen years. Will he be a pathetic shell of a dreamer who had enormous potential? Or will he keep leading a roller-coaster life and land on his feet?"