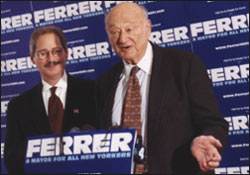 The moment of truth for Freddy Ferrer arrived uninvited at 10:15 P.M. on September 26, the first day of the runoff for mayor. That's when the surprise first-place finisher from the day before found himself alone in a room with Mayor Giuliani, who was making an offer he thought Ferrer couldn't refuse.
The meeting took place in the mayor's office at his command center at 54th Street and Twelfth Avenue. It was a surreal scene, with police armed with automatic weapons standing guard outside the room. Ferrer had barely slept an hour the night before as he celebrated the first victory of what his campaign chair, Roberto Ramirez, calls "the little campaign that could."
The mayor was offering a carrot – and a stick. He wanted Ferrer to agree to a three-month extension of Giuliani's term as mayor. Mike Bloomberg had already agreed, and Mark Green was about to capitulate. The partially concealed stick was that Giuliani – who has since rejected the idea – would seek a full four-year term by repealing term limits and running on the Conservative Party line in November if he didn't get his three extra months in City Hall.
"I will have to convince the people who want me to stay for four more years to let me settle for just three months," Ferrer recalls the mayor telling him.
"If I accept this deal," Ferrer replied, "I would have to convince my supporters who want you out now."
"Bill Lynch is the senior muse. We know he's walked this road before. Bill is the only person in history who has elected a mayor of color in this city."
At the end of the meeting, he promised to give the mayor's proposition "thoughtful consideration." But by the time he walked past the guns into the night, the Bronx shoe-shine boy was already "95 percent" decided against the deal.
The next morning, Ferrer was deluged with phone calls urging him to accept. Some of these came from the city's elite, like Richard Grasso, the chairman of the New York Stock Exchange. But most of them came from Ferrer's own contributors and supporters. All they could see was how popular Giuliani was, how in the runoff Ferrer would need the votes of "Giuliani Democrats" who had voted for Alan Hevesi or Peter Vallone in the first round. "It's over. You're blowing the election today," one close friend told Ferrer. "You're throwing away City Hall," a big contributor told him.
While Ferrer was deliberating about this monumental decision, Green called him and said he'd accepted the mayor's offer of an extended term. This left Ferrer standing alone against Giuliani, Green, Bloomberg, and many of his own supporters.
A runoff for mayor is a little like the final round of a heavyweight-championship fight. Years of preparation, ambition, dreaming, and personal relationships are all on the line. It is an opera of emotion. And at the zenith of Giuliani's "mayor of America" glorification, Ferrer refused his deal. It was a genuine moment of truth. For a lot of skeptics who saw him as a lightweight graduate of a tainted Bronx political machine, it completely redefined Fernando Ferrer.
It also recalled a much earlier test of principle, back in 1986, when Ferrer was a junior member of the City Council, a pup out of Stanley Friedman's corrupt Bronx. Against expectations, he cast a critical vote to ensure passage of a gay-rights bill.
Nonetheless, everyone seemed to be dismissing him as a weak leader with neither gravitas nor vision. This assessment seemed confirmed in 1997 by Ferrer's dreadful, amateurish campaign for mayor. He switched his position to favor the death penalty. He raised very little money, fought with his campaign consultants, received almost no union support – and dropped out long before the primary. The word quitter was added to the litany of loser and lightweight, and this year, none of the pollsters gave him a chance. In the early polling, Mark Green was far ahead with 31 percent, confidently predicting he was going to get 40 percent and avoid a runoff.
But here is Ferrer, finishing first on September 25, then going face-to-face with Giuliani and not blinking. And here is Ferrer with endorsements from most of the important labor unions – the potent hospital workers, the municipal employees of District Council 37, the transit workers, Tommy Van Arsdale's blue-collar Local 3, Larry Hanley's bus-drivers' local on Staten Island, the corrections officers, and some big Teamsters locals.
And, most surprising and significant of all, here is Ferrer accepting the unsolicited endorsement of the very moderate, very Jewish Ed Koch. "I know Freddy," Koch says. "I think he has leadership skills and I think he knows how to run a city." And there is Koch artfully delivering the needed inoculation against the Sharpton-baiting by Green's campaign. "The next police commissioner will be selected solely on the merits, without the involvement of Al Sharpton," Koch reassures the city with theatrical flair.
How did Ferrer manage this astonishing rise from almost jokelike status?
Part of the answer is Bill Lynch, once campaign manager and deputy mayor to David Dinkins and now the architect of Ferrer's GOTV – Get Out the Vote. Over the years, Lynch has also worked on Election Day operations for Ted Kennedy, Bill and Hillary Clinton, and Jesse Jackson. Through these campaigns, Lynch has met and mentored a cadre of young organizers. This is Lynch's craft. He knows where the votes are and how to target them. He refers to himself as "a simple country boy" to make sure he is underestimated by his competitors.
But Lynch can hear what Ralph Ellison once called "the lower frequencies." What people are saying in the churches, barbershops, and union halls. He understood the city's new demographics before the other pollsters, columnists, and GOTV mechanics. He always believed that half the primary vote would be cast by blacks, Latinos, and Asians. He had faith that the Latin vote would expand to more than 20 percent of the total – a tripling of voting passion in twelve years. He was confident Ferrer would finish first in black, high-voting southeast Queens, even though all the local politicians had endorsed Hevesi.
But Bill Lynch could be killing himself trying to elect his candidate. In 1999, the Times' obit on Lynch was prepared and written in advance. That winter, he had almost died, twice. First after open-heart surgery and then when he had a kidney transplant from his son, Billy. He still suffers from diabetes, poor vision, and shortness of breath. Lynch's friend Kevin McCabe recalls telling the obit writer, "Bill Lynch doesn't have a mean bone in his body. That's his essence."
McCabe, Vallone's former chief of staff, who is now working with Mayor Giuliani on the relief effort, remembers staying at the hospital several nights when it seemed like Lynch might not make it to dawn.
Lynch and Ferrer were not even friends until two years ago. Ferrer and David Dinkins always had a prickly relationship, and this kept Lynch at a wary distance. "I didn't really know Freddy until he visited me in the hospital two years ago," Lynch says. "But he was the only politician who came to see me who didn't talk about politics. He seemed concerned about me and my wife as people. That's when I started to warm up to Freddy."
About eighteen months ago, Lynch became a senior adviser to Ferrer's struggling campaign. He came to meetings but was taking it easy because of his fragile health. But slowly, the combination of personal kinship with the candidate and the possibility of making history, of Lynch's electing his second mayor, got his juices flowing. And last spring, despite his wife's concerns about the toll on his donated kidney, repaired heart, and overweight frame, Lynch invested his whole soul into the campaign.
It hurt when his former boss Dinkins endorsed Green, but he just intensified his efforts. When Green made his compact with Giuliani for extending his term, Lynch had to restrain himself from calling Dinkins and tweaking him. He's still close to the former mayor and knows how deeply Dinkins dislikes Giuliani and anyone who makes common cause with him.
"Bill is the glue without being the boss," says Ken Knuckles, Ferrer's confidant and former deputy borough president. "He's the senior muse. He doesn't impose himself, or his views, on anyone. But we all seek his opinion. We know he's walked this road before. Bill is the only person in history who has elected a mayor of color in this city."
Lynch has also delivered two of Ferrer's most crucial endorsements, those of Representative Charlie Rangel and Roger Toussaint, president of the transit-workers' union. Their decision had a substantial impact in turn on Dennis Rivera, pulling him back from the brink of a Green endorsement and into the Ferrer campaign just after Labor Day. Rivera's hospital-workers' union has the best GOTV operation in the city. It put 5,000 union members in the street on September 25 and hopes to better that number on Thursday. It will be the tenth Election Day that Lynch and Rivera are collaborating on turnout for the same candidate.
Ferrer's fate will probably be determined by two issues, one overt, the other covert. The issue being debated openly is Ferrer's refusal to yield on repealing term limits and his not joining Green and Bloomberg in granting Giuliani a three-month extension on his constitutional term in office.
With the Times calling Giuliani's proposal "dangerous," Ferrer's decision may turn out to be both courageous and advantageous. Since he took his solitary stand, Ferrer's position has been supported by Assembly Speaker Sheldon Silver and by good-government groups like Common Cause and the League of Women Voters. The State Assembly is against the 90-day extension. And Ferrer's thunderous refusal seems to have fatally weakened the mayor's resolve to find a way to run for a third term.
The covert issue is racism. Nobody talks about it openly, but it's there, in the lower frequencies. The race card now takes the form of two assertions, two rumors: "Al Sharpton will run the city if Ferrer is elected." "Ferrer won't be able to beat Bloomberg in the general election."
Sharpton is still loathed by the majority of white voters. They will never forgive him for the Tawana Brawley rape hoax or for calling a Harlem merchant a "white interloper" before his shop was burned to the ground. On September 29, Sharpton damaged Ferrer severely when he unleashed a clueless personal attack disparaging Giuliani, claiming even Bozo the Clown could have rallied and unified the city. By contrast, Ferrer has lavishly praised the mayor's performance.
Sharpton's folly probably cost Ferrer votes among wavering whites. So, two nights later, Sharpton went on NY1 and tried to clean up the mess he had created with his own undisciplined emotions. He complimented the mayor's performance during the crisis and made the case that he didn't want any influence with Ferrer over appointments or jobs, saying he'd endorsed Chuck Schumer, Hillary Clinton, and Eliot Spitzer and never asked them for jobs.
"They're playing a spook game, trying to polarize the city," Sharpton said, acknowledging he was the bogeyman. He also pointed out, "Mark Green tried harder than Ferrer to get my endorsement. He took me and my wife to the theater. He even came to the church when my wife and I renewed our wedding vows, the night before I endorsed Ferrer."
Al Sharpton is the two-edged razor blade in New York politics. He has proved he can move thousands of younger black voters with his endorsements. He clearly helped propel Ferrer ahead of Green in the black community. Six months ago, Green led Ferrer almost two to one among blacks in every poll. After Sharpton, Rangel, and the heavily black Local 1199/SEIU endorsed Ferrer, he captured the black vote on primary day, 52-35. But Sharpton also scares away white voters in large numbers. His endorsement creates as many critics as converts. This is the nature of the politics of polarization. But even Ed Koch, while endorsing Ferrer, said, "If I were running, I would seek Sharpton's support. He is a bona fide leader in the black community."
Lynch's private formula for winning is to get 30 percent of the white vote, 65 percent of the black vote, and 80 percent of a huge Hispanic turnout. This would be a neat trick in a city that has been racially polarized for decades. But whether Ferrer wins or loses, Bill Lynch has already won. He is still alive. He had the pleasure of shocking the experts two weeks ago. He has given the city a civics lesson in its new demographics, and has proven that blacks and Latinos will vote in record numbers if they think they have someone to vote for.
Bill Lynch, "the simple country boy" from rural Suffolk County whose obit was already written, may end up drafting the obit for the conventional wisdom in New York politics. And if Ferrer wins, two men will have risen from the dead to change history.