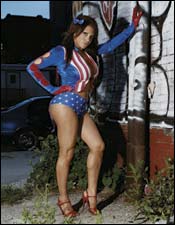 Mistress Natasha, 29, a striking black-haired dominatrix in a midtown dungeon, had just finished flogging one of her clients when they began chatting, as they often do at the end of a session. "I mentioned that I had seen Fahrenheit 9/11 the other night. He asked me what I thought of it, and then he said he was voting for Bush again. It always surprises me how many of my clients are not just Republicans but Bush supporters. I think, You wanted me to force you down to your knees when you're in a pink tutu, but you support Bush? Maybe that should be part of my punishment: 'You're going to vote for Bush? Now you're really going to get it!' "
Like many sex workers in Manhattan, Mistress Natasha is anticipating a dramatic upswing in business late this month as 5,000 delegates—and an entourage of 45,000 others—arrive for four days of work and play. "August is usually slow, but I think I'll be rather busy," she says, planning to increase her hours. "I've already gotten several e-mails from men who say they're coming into town that week."
Transsexual escort and adult-film star Allanah Starr, 26, is even more confident: "I'm sure business will pick up for strip bars and escorts."
Indeed, Manhattan escort agencies have been placing ads looking for new girls. According to a male operator at Playpen Escorts, "It's the best time you can work. We'll have 60 girls out a night instead of the usual 30." The operator at Temple of Goddesses, an escort agency that offers naked housekeeping and body rubs, says, "The girls all want to work that week. It'll be three times as busy as usual." An adult-classified-ad rep at one New York publication says he's certain that his sales will increase 20 percent by the convention, adding, "And I'm trying to bring it up 50 percent."
To try to gauge demand, many New York sex workers have been looking to their Boston counterparts. A special Boston Phoenix Democratic National Convention issue included an adult section with ads like "Boston Welcomes You! Truth Escorts is offering the most beautiful bodies and faces of Boston's finest ladies." Reports were favorable on many escort review sites—consumer message boards that are the Epinions of hookerdom. One Boston escort posted that her $150 DNC GFE ("girlfriend experience") special had filled so quickly that she was extending it. "After talking with people who own agencies up in Boston," a New York escort-agency owner e-mailed me, "we are in the process of hiring two to three times the number of girls, as we have been told that business in Boston tripled during that time frame."
If visiting Republicans choose to similarly let loose here, the sex workers who stand the best chance of getting business may be those who have their own rooms (or dungeons), as security at delegate-heavy hotels will be tight. With a strong police presence and the risk of political scandal great, a good portion of business may come not from delegates but from the thousands of other attendees. A Boston escort at Billionaire-Babes.com hadn't gotten any delegates from her ad in the Phoenix supplement—but she did have two sessions with a cameraman who calls when he's in town. "He works for one of the stations, though I won't say which," she says. "He fed me twice and paid me."
To try to lure the politicians proper, though, some New York sex professionals are offering limited-time discounts. Veronica Vera, owner of Miss Vera's Finishing School for Boys Who Want to Be Girls, is promoting a special deal at her cross-dressing academy during the convention. For $395, her "Delegate's Delight" is a one-and-a-half-hour private class with a Polaroid portrait (imagine how much a tabloid would pay for that photo). "Have you dreamed of clicking your high heels through the corridors of power?" reads the pitch she posted on missvera.com. "The Delegate's Delight is a new class designed for tourists on tight schedules or any visiting Republicans who long to be in ruffles. Miss Vera invites you to take advantage of this fast and fun way to bring out your femme-self. This quick but total transformation offers long-term benefits, reviving and rejuvenating your spirits. Come share our platforms. Vote Yes to Cross-Dress for Success."
Vera, a gentle middle-aged brunette, points out that there is a long tradition of cross-dressing politicians. The J. Edgar Hoover rumors have become legends, and 64-year-old Texas Republican Sam Walls recently lost his bid for the State Legislature after photos of him in women's clothing were found in a trailer registered in his name. "Republicans are in positions of power but have had to give up a lot to get there," says Vera. "Along with that power, they're in an emotional straitjacket. They want to be pampered and protected and be desirable sex objects."
Another sex professional, 25-year-old Eve, says, "I don't want to single out the Republicans, but they are majority male and a fairly wealthy group of people." The on-again-off-again prostitute with streaked pixieish hair looks less like a hooker than a bartender at Galapagos—which made her ideal for one politically charged client last year. He'd asked her to show up at his apartment wearing a black hoodie with patches and no perfume or deodorant. "I said, 'Do you want me to dress like a protester?,' and he said, 'Yeah.' He tied me down, spanked me, and wanted to yell at me a lot. He said, 'You bad girl! You smashed the Starbucks!' He was a very conservative Wall Street banker, and he basically wanted to fuck the movement."
New York is an extremely different stage for a national convention than it was in 1992, when there was visible street prostitution in midtown, and small sleazy strip joints like Billy's Topless reigned supreme. Today the short-skirted women in stilettos are most likely just single gals in a weird Patricia Field phase. Billy's has morphed into a bagel joint.
Still, for delegates seeking legal entertainment, there's no shortage of options near Madison Square Garden. There are the peep shows and video stores along Eighth Avenue, plenty of pay-per-view in hotel rooms, and strip clubs by the West Side Highway. The establishments that survived Giuliani are the massive, corporate, high-end ones, like Penthouse Executive Club, Hustler Club, and Scores West Side. "Compared to the same time last year," says Lonnie Hanover, spokesman for Scores, "we're way ahead on reservations, at least 50 percent higher." The private rooms—called, appropriately, the President's Club—at both Scores West Side and the original branch across town are reserved every night from August 28 to September 5, and ringside seating is already full. "The girls are calling to make sure they're booked for that week," says Hanover. Penthouse CEO Mark Yackow says his club has 20 percent more reservations in its restaurant, Robert's Steakhouse, "than if a convention weren't in town."
On a raucous weeknight at Penthouse Executive Club, Yackow eyes me warily as I interview his dancers. But then a towering, tan blonde comes up behind him and massages his chest. "Are you looking forward to the Republican convention?" he asks her, playing journalist.
"Yes, and I hear you're a Democrat!" she says, slapping him lightly.
When I ask Syra, a petite dancer with creamy brown skin, about her hopes for the convention, she says she doubts it will bring an uptick in business. "Why are they going to come in?" she asks. "They're pro-family."
Mary, a stripper who works farther south, at Ten's Cabaret on East 21st Street, disagrees. She's convinced that visiting pols will have their eyes on the shiny poles. It's early, around eight, and I have just purchased a $20 dance from her—a slender, small-breasted 28-year-old who resembles Parker Posey. As she writhes down my chest, I ask what she thought of Fahrenheit 9/11. "If I had to marry a rich man," she says, "I would marry Michael Moore."
When she finishes her dance, she slithers back into her lavender gown and tells me she has been attending anti-RNC meetings at St. Mark's Church-in-the-Bowery and plans to protest the convention. But at night she'll be working, since she danced in Philly during the 2000 RNC and made good money. "Everyone here expects it to be really crowded," she says. "The girls have been talking about it literally since June." Though she has strong political opinions, she tries not to bring them into work. Political talk at a strip club is reverse Viagra. "This whole occupation is based on the idea that you're a blank slate," she says. "One of the rules is that we're selling a fantasy."
The transsexual escort Starr also says she steers clients away from political conversations. "We might be watching TV or talking about the current headlines, and if someone's ultraconservative, I know we're not going to change each other's minds." However, on her Website, shemaleexotica.com, she frequently writes elaborate tirades against the Bush administration and Halliburton. A recent one read, "I would offer sexual favors if you don't vote for Bush, but that might be illegal! So the next best thing I can do is ask you to register to vote NOW."
"I get all this hate mail," she says, "and I always think, What are you doing on my Website if you feel this way? They're on the site looking at pornography, which is something the Bush administration clearly doesn't like. But they're there to jerk off, so they don't think of me as a real person."
L, a man-to-man masseur for the past seven years, says he's lost clients as a result of political disagreements and has learned his lesson. Asked if the convention will bring him business from gay Republicans (closeted or out), he's skeptical. "I don't expect any Log Cabin Republicans to come to me, and if they do, I don't expect them to tell me. If they show up at all, they'll be closeted as Republicans but not as gay men."
With an overarching perspective on people's underground behavior, sex workers may be the ones best able to answer that age-old question: Which party is the kinkiest? Both Democrats and Republicans have had their share of scandals. New Jersey governor Jim McGreevey's is just the most recent. Clinton aside, his adviser Dick Morris's love of prostitutes (and their toes) was revealed during the 1996 DNC; former Republican senator Bob Packwood was forced to resign after more than twenty women, former staffers and lobbyists, accused him of sexual harassment; Representative Wayne Hays, an Ohio Democrat, famously employed a secretary, Elizabeth Ray, who couldn't type; and Republican congressman Robert Bauman's career was ruined in 1980 when he was charged with soliciting sex from a 16-year-old boy.
As the sex workers tell it, the consensus is that Republicans demand more outrageous acts. Mistress Natasha estimates that her clients are half Democrat, half Republican, but says, "Republicans are way freakier, probably because they're way more repressed. They can't be kinky with their wives." She thinks it's the submissive tendencies that create the conservative political identity, not the other way around: "In their everyday professional life, they are so scared that anybody would ever think they were submissive that they overcompensate and come across as this demanding, hard person. I believe that well before they knew whether they were going to be a Democrat or a Republican, they knew they wanted to be tied up and beaten."
Eve, the sometime escort, says conservatives "are really interested in receiving anal sex or being spanked, or fetish or role play. I've often found that people who lead a more liberal life have already done all that or it's not something they're so fascinated with."
One Republican speculated recently on an escort review site: "I'll bet the providers [escorts] do a lot better at the RNC than the DNC event. Look at the difference in the average delegate, R (rich or comfortable male away from home looking to have fun) versus D (elderly or female looking to hold hands, bitch about Bush, applaud reverend Al, maybe a few verses of Kumbaya). We're a fun bunch, Republicans, and we like women a lot. I bet we prove it."
But posts on Craigslist during the DNC indicate that Democrats know how to have fun, too. One "m4m" (man for man) message said, "I'm a political organizer … Spent the last several months with no sex, no sleep, and want to unplug now that it is over. I just want to sit back and have a hot man satisfy me."
Still, certain sexual tendencies seem to defy party lines. Starr says that if she had to guess which party most favored transsexuals, it wouldn't be Republicans or Democrats. "The guys that are interested in transsexuals are probably independents." She lets out a mischievous laugh. "We're the third-party candidate."