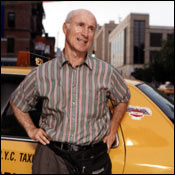 The Taxi & Limousine Commission is assuring New Yorkers that the convention won't make it more difficult to get a cab in midtown. "We are confident our drivers will adapt, transporting passengers as efficiently as possible," says TLC chair Matthew Daus. But what do the drivers think? Mike Acerno, a cabbie since 1966, tells Jed Heyman how to "play the streets."
So will there be enough cabs on the street during the convention?
A lot of cabdrivers are gonna try and link up their vacation days for that time. I am going to check it out the first day and see if it's plausible. If not, I might take a little vacation, too. That's the beauty of being a cabdriver—you can vacation whenever you want.
How do you get around the Garden?
Use your noodle. Twenty-ninth used to be great going crosstown. Twenty-sixth if you catch the lights can be good the other way. Certain streets, you can make it without stopping for any lights. It's called "playing the streets."
What about side streets above 34th?
You gotta figure the next streets up from 34th are gonna be heavier traffic, so don't take 36th. Take 38th going across, or 40th. For me, the customer's always right, but if a street is backed up, I'll tell them.
Eighth Avenue's going to be blocked from 23rd to 34th.
I'd scoot over to Madison or Park on the east, or Ninth or Tenth on the west.
Are you worried about protest disruptions?
When I see protesters, I'm going to be wary, I'm going to be vigilant. I may even wear one of my I LOVE NEW YORK shirts, 'cause even if they're protesting our president, at least they'll see I'm a cabdriver who loves New York and leave me alone.