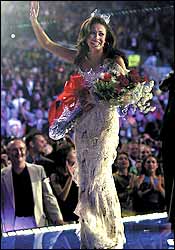 Talk about a big-tent Republican. Erika Harold, the 24-year-old Urbana, Illinois, native crowned Miss America in 2003, is African-American, Cherokee Indian, Greek, German, and English. She's also outspokenly pro-life, defiantly abstinent, and one of the most popular girls in the party. Having relinquished her crown, Harold went on a tour of swing states with Don King in May to attract African-Americans to the GOP fold. She starts Harvard Law School next week, but first, there's this little talk to give at the Garden…
Jada Yuan: What's it like hanging with Don King?
Erika Harold: He's fascinating. He has a wealth of knowledge that rivals anyone's. Whenever he said something clever, I took notes. We were in line in McDonald's ordering, and Mr. King started chanting, "Four more years / George W. Bush." People were surprised. They just happened to be there and had the good fortune of standing next to Don King.
Are you going to many parties this week?
There's not going to be time for much fun. I'm emceeing a prayer breakfast and hosting a life event.
You must get hit on all the time. How do you bring up your abstinence?
It comes up pretty naturally for me because I've spoken about abstinence for the past six years. It's something people usually know about me.
Even with guys you meet on the street?
I don't share that information with just anyone. Discretion is important when you're Miss America.
What's scarier? Starting law school or addressing a convention?
I'd have to say law school. I've spoken in front of large audiences before. With a speech, you know what you're going to say in advance. With law school, you don't know what's going to happen.
Have you met the president?
I met him in the Oval Office. We had a nice discussion. He remembered where I was going to school. And he didn't even have a piece of paper!