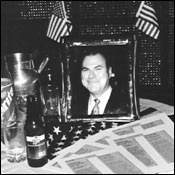 Monday night, we're going out, and I'll show you what you've been missing, ex-FBI agent John P. O'Neill told his friend Jerry Hauer. On O'Neill's overloaded social calendar, Mondays were reserved for Elaine's, where he was a charter member of the famously clubby crime-fighting crowd that included such legends as Bill Bratton and the late Jack Maple. His street cred carried a lot of weight, even with that group: For most of the past decade, O'Neill had been the FBI's foremost expert on Osama bin Laden. He'd been the public face of the New York field office since 1997, leading the investigation into the African embassy bombings and last year's USS Cole attack in Yemen. But his bluff, aggressive style had apparently alienated some of his superiors, and his career had stalled.
Jerry Hauer, the city's first terrorism czar under Rudy Giuliani, had just helped guide O'Neill to a soft landing in the private sector – chief of security for the World Trade Center. The job, which could reach $300,000 with bonus, had cushioned the blow considerably. So for O'Neill, Monday, September 10, was a night to celebrate.
A typical night out with O'Neill had three or four stages. This one started with drinks at Windows on the World with his friend Robert Tucker, a former Queens assistant D.A., talking about whom he might hire at the World Trade Center. They moved on to a front table at Elaine's, where, as usual, he was noticed. "I knew he had left the FBI, so I grabbed him and said, 'John, are you okay?' " says Wallace Millard, a cop turned security expert who spotted him from a neighboring table. "He said, 'Wally, I'm the best. I've got a job that pays me three times what I got.' "
Hauer joined the party at 9:30, and they chatted about what they knew – terrorism, security, the '93 attack on the Trade towers, the years when Hauer and O'Neill had worked closely together on bio-terror-defense strategies, the likelihood of another assault on the city. Weeks earlier, O'Neill had told one friend, "They'll never stop trying to take down those two buildings."
And as he led the charge out of Elaine's to Stage 3 at the China Club, his friends remember John O'Neill looking over and saying, "At least on my watch, I can say that there was never a terrorist attack in New York City."
'We were laughing that morning," remembers Valerie James, his girlfriend of eleven years. For once, John was in his own eleven-year-old Buick LeSabre, not a Bureau car, so he was permitted to drop her off at her job as sales director for the fashion line Sunny Choi.
He'd made it home from China Club at 2:30 – typical – but he was up now, and happy, and ready to take her to an 8:15 meeting she had for Fashion Week before heading to his office on the thirty-fourth floor of the north tower. "He was in a really good mood that day," James says.
James heard about the attack on the radio; it wasn't until 9:17 that a call finally came from John.
"There are body parts everywhere," he shouted. "Do you know what hit it?"James said the radio said it was a 747.
"I'll call you in a little bit," he said.
O'Neill also spoke to his 29-year-old son, J.P., who had taken the train in to visit his father at his new job but had made it only as far as Saint Vincent's Hospital. "As soon as you make it down here," he told him, "call me and I'll come and get you."
One FBI agent remembers talking with O'Neill in the lobby of Tower One, helping the Bureau and the Fire Department set up a command center. O'Neill asked him if they really got the Pentagon. He was last seen walking in the general direction of Tower Two minutes before it collapsed. His body was found a week later; it isn't clear where exactly he died. But what's not in question, at least among those who knew him, is that even before the second plane hit, O'Neill must have understood who had done it.
"I'm sure he knew who was responsible," says Teddy Leb, a friend and fan of O'Neill's who heads a foundation for law-enforcement officers. "I know that he must have been mad as hell. He must have been thinking, How in the world could we have allowed this to happen?"
In death, John O'Neill has become something bigger than he was in life – a human embodiment of unheeded warnings. Here was a man who had studied and understood bin Laden, the cycles of his attacks, the escalation of the deaths, but whose arguments weren't followed up by government action. This had much to do with bureaucratic inertia, but it also, undoubtedly, had something to do with O'Neill – his aggressiveness, his charisma, the fact that he didn't fit the mold of the standard-issue FBI agent.
For him, the real job started after five; his friends were his contacts, his contacts his friends. He was the only agent who could be found smoking Dominican cigars with De Niro on Tommy Mottola's yacht one night and introducing Scotland Yard spooks to the China Club's VIP level the next. He'd invariably be dressed in dark-blue pin-striped Burberry suits with white shirts and ties, his jet-black hair slicked back, his feet in size 91/2 Bruno Magli shoes, his ear to his cell phone, his hands fiddling with a BlackBerry with intelligence contacts organized by country – Saudi Arabia, Yemen, England, Spain, France – many of whom he'd escort to Elaine's when they came to town.
Those friends brought him intelligence that no one else in the Bureau could nail down. "You could see that come home to roost in the investigations," says U.S. Attorney Mary Jo White, whose summary arguments in the embassy-bombings case against bin Laden and others are packed with evidence that O'Neill unearthed. "John went at it comprehensively, yielding things from people in London or people in Yemen we never otherwise would have gotten."
His expertise on bin Laden was unquestioned. He took that expertise personally, and had no trouble correcting anyone, above or below him. "He was the paramount, most knowledgeable agent we had in the FBI, probably in the government, with respect to counterintelligence matters," says Louis Freeh.
"The answer would often be 'Check with John O'Neill,' " says Janet Reno. "When I walked into the room and saw John O'Neill there, I was always pleased, because I always knew I would get a reasoned analysis. He had a powerful command."
It was a life he'd chosen. As a kid, growing up in a fourth-floor walk-up in Atlantic City, O'Neill fixed in on Efrem Zimbalist Jr. in The F.B.I.
He worked part-time at FBI headquarters while at a community college in Virginia, then at American University, then at George Washington University, where he went for a forensic-science master's, all while working as a fingerprinting clerk and tour guide.
He joined the Bureau in the seventies, tracking governmental fraud, white-collar crime, and organized crime in Baltimore and as the field-office chief in Chicago. In 1995, he was reborn again when the Bureau brought him back to Washington as the section chief for counterterrorism. It was there that he became an expert in Islamic-fundamentalist extremism. And when he came to New York in 1997, it was the realization of plans he and James had made years earlier in Chicago. O'Neill, ever the striver, wasted no time recasting himself as a New York operator, buddying up with people like Jerry Hauer and Howard Safir, local law-enforcement leaders who weren't natural allies with the FBI until O'Neill came along.
Last year, ABC reporter John Miller, the Joey Bishop of the crime-fighting Rat Pack, was sitting alone in a Middle East cantina when he heard O'Neill's swaggery voice boom from behind him, "So is this the Elaine's of Yemen?"
Of course, not every late-night phone call was Bureau business. He had a wife in Linwood, New Jersey, Christine O'Neill, whom he'd married in 1971, though the two had been living apart since he moved to Chicago in 1991. There was the girlfriend, Valerie James, he'd lived with in Chicago and now here, and the children from both relationships who all looked to him as a father. The liaisons didn't stop there. "He was living with Valerie, he had another girlfriend in Washington, and he was dating someone else here in New York," says one close friend. "Before his death, they didn't know about each other."
Among his New York friends, some jaws dropped in astonishment that the widow at O'Neill's New Jersey funeral was not Valerie James. (Christine O'Neill would not comment for this story.) "There are people here who knew him for six years but never knew he had a wife and kids in Atlantic City," James tells me. "I was talking with my friend about it, and he said, 'Let's not forget, John was a spy.' I mean, in the FBI he reinvented himself into this other person – which is why I think he compartmentalized his life."
James says that O'Neill kept other secrets: the overwhelming debts he'd racked up living a James Bond life on a Bureau salary; a plan, complete with legal papers, to divorce his wife. But is her John O'Neill the real one? Given what James has learned about him since his death, she isn't quite sure.
"I honestly believe the main mistress in John's life was the Bureau," says Pat D'Amuro, a longtime deputy in New York. "There are times when we talked, and he wondered if that was the right decision."
As early as 1995, long before the embassy bombings and the Cole attack made Osama bin Laden a household name, O'Neill made the case up the FBI food chain and in Congress that the nation's greatest threat came from the Islamic-fundamentalist groups that were emerging from the Taliban's takeover of Afghanistan. "John had this scenario that's going on now figured out eight years ago," says an old FBI colleague, John Blaha. "That this is the way it is, and this is the way it's gonna have to be resolved."
In the 20-20 hindsight of September 11, O'Neill's confidential briefings in the mid-nineties "were right on, in terms of these kinds of people and what they could potentially do to us," says Robert Blitzer, a former deputy of O'Neill's. "Just the scope of their infrastructure in the U.S. – and inherent to that is the fact that they could go operational at any time."
Unlike his colleagues, he went public with his opinions. In 1996, he told a conference of private-security managers about new groups that had beaten the Soviets in Afghanistan and who "can assemble quickly and can quickly disperse and are extraordinarily hard to track." The following year, he called the Islamic-fundamentalist victory in Afghanistan a watershed moment: "They beat one of the largest standing armies in the world at that time, which gave them a buoyed sense of success – that they could take on other countries like the U.S." O'Neill's deafening clarity, however, often translated better outside the office than in the FBI. He wanted to command, direct, control, and manage everything he was responsible for, and inevitably he pissed off many of the wrong people.
"There was occasionally controversy that swirled around John," says Barry Mawn, his superior in New York. "I mean, John for the most part didn't suffer fools. And either by his direct words or maybe expressions, I think he made some people feel uncomfortable, like he was challenging them."
"He had elbows – he'd press his point very hard," says Mary Jo White. "Others might have been more diplomatic – but less effective when it matters."
On July 4, 1998, Jerry Hauer was riding in his car up First Avenue near 20th Street, not far from O'Neill's apartment in Peter Cooper Village, when he spotted his friend walking down the street in short pants. Hauer told his driver to slow down; he thought he'd give John some grief about showing off his knees. "How's it going?" Hauer said.
O'Neill wasn't in the mood. He leaned into the car window. "My friend's causing trouble again," he said.
"Who?"
"OBL," O'Neill said softly. "This guy's a problem."
One month later, simultaneous bombs near the U.S. embassies in Nairobi, Kenya, and Dar es Salaam, Tanzania, killed 224 people. As soon as the bombings took place, O'Neill was on the phone with colleagues, calling bin Laden the prime suspect. "John was really the first to say that maybe Al Qaeda was responsible for that," confirms the New York field-office director at the time, Lew Schiliro. "The coordination it took to hit both embassies four minutes apart, the idea of a cell operating in Kenya, their ability to strike at relatively unprotected embassies, the nature of the explosives that they used – pretty much at the outset he had a strong belief that they were behind it."
And when it came time for Mary Jo White to expand her World Trade Center indictments to include the embassy-bombing suspects, Schiliro says, O'Neill was there to connect the dots. "The evolution from the World Trade Center to Ramzi Yousef, who was arrested in Pakistan, and the plot in the Pacific to plant explosives in twelve U.S. airliners – and his connecting to bin Laden. When the bombings happened, John was a student of this, and he brought a lot of information to bear on it."
Last year, when Schiliro left the New York field office to be replaced by Barry Mawn, O'Neill was furious about being passed over. In his mind, he clearly outclassed most of his counterparts in Washington. He would travel with Louis Freeh to Saudi Arabia; they'd stay home. He'd be in Yemen within hours of the Cole bombing; they'd work the phones. Inside the Bureau, his impact never registered the way it had with others.
In this wildly altered political landscape, all sides are trying to lay claim to John O'Neill's legacy; he's a Rorschach test. If you lean toward the right, like some of his New York friends, you believe O'Neill quit in a fury when the diplomats neutered him. David Cornstein, who ran Finlay jewelers and now is chairman of the New York Olympic Games commission, used to tailgate with O'Neill at Giants and Jets games. "We concurred," he says, "that the country after the Cold War had really fallen a bit asleep, and there was a liberal movement toward more and more civil rights, and the country wasn't observant enough to realize that the world had changed and our view of the way security should be should change, too."
But if you lean to the left, like the French authors Guillaume Dasquié and Jean-Charles Brisard, who feature a July interview with O'Neill in their new book, Ben Laden, La Vérité Interdite, you've outed O'Neill as a sort of smoking gun – a man who they say all but confirmed in his final months that George W. Bush's oil-industry-bred administration was so worried about alienating Saudi Arabia that it decided to negotiate with the Taliban rather than go after it. Before September 11, they argue, the United States' primary goal was to build a pipeline in Central Asia – tapping oilfields in Turkmenistan, Uzbekistan, and Kazakhstan, through Afghanistan and Pakistan to the Indian Ocean.
In July, over drinks at Elaine's, O'Neill began to open up to Brisard about his frustrations, which, it turned out, stretched back to the 1996 investigation of the Riyadh army-base bombing. O'Neill made several trips to Saudi Arabia, one with Freeh, but witnesses were executed before the FBI could question them. (Brisard was also impressed by O'Neill's social clout. Elaine Kaufman herself and James Woods came by and said hello. "I had the feeling he knew everyone in the city," he says.)
O'Neill complained about the inability of U.S. diplomacy to obtain anything from King Fahd. He told the Frenchman that "every answer, every key to dismantling the Osama bin Laden organizations are in Saudi Arabia."
He ran into another diplomatic barrier last year in Yemen, after the Cole bombing. Within days of arriving, he'd knocked heads with the ambassador, Barbara Bodine. While the FBI was interrogating witnesses, the State Department was trying to coax Yemeni diplomats into pledging not to support terror. The conflicting agendas, combined with O'Neill's determination, were explosive. He wanted his agents to carry automatic weapons, like their Yemeni counterparts; she insisted they carry smaller arms, like diplomats. By the time Barry Mawn arrived, Bodine was calling O'Neill an outright liar. O'Neill's comments about the ambassador, friends say, weren't printable.
"He always had a singular focus on the people he sent into harm's way," says Freeh, who wouldn't comment directly about Bodine. "I'm sure he ruffled a couple of feathers doing that. In Yemen, he would call me literally in the middle of the night and say, 'Boss, I'm not comfortable with our situation here.' "
When O'Neill came back for Thanksgiving, James was shocked to see him exhausted and twenty pounds lighter. He never returned: Bodine told Freeh that O'Neill wasn't allowed to. One more irony came after September 11. The FBI returned after Bodine left her job, and according to Mawn, Yemeni authorities were so moved by O'Neill's death that they began cooperating with the investigation again.
The scuffle with the ambassador made the papers. And before long, O'Neill's press coverage got worse. On August 19, the Times printed that he was under investigation. A year earlier, he'd attended a retirement seminar in Tampa, left a conference room to make a call, and come back to find his briefcase had been stolen. It turned up in a nearby hotel without his lighter and cigar cutter, but still with some classified documents that he shouldn't have taken from his office. O'Neill had reported it to the police and the Bureau right away. Under normal circumstances, this never would have been made public. But O'Neill thought he knew why it had.
"He thought the leak might have come from Washington," says Mawn. That same month, O'Neill told Mawn and others that Dick Clarke, the president's terrorism czar at the National Security Council, had asked O'Neill whether he wanted his name put forward to succeed him.
"It would be a powerful position," Mawn says. "That person would have direct contact with the FBI and turn around and influence top Cabinet people, and possibly even the president. So if I was somebody who didn't like him, it would be because he is getting into a position of power that could possibly get back to the Bureau to do things his way."
But it didn't matter. After Yemen, O'Neill had started seriously thinking about getting out. Part of that was financial pressure. "He was frustrated and angry," James says. "And he needed to make money."
The other part was the bed he'd made himself. Louis Freeh's No. 2, Tom Pickard, had told him point-blank that after the briefcase incident, there'd be little chance of his getting Mawn's job in New York – the only Bureau post he really wanted.
"I told him he had a tough row to hoe to get it," says Pickard, who retired at the end of November, and whom Jerry Hauer believes was the biggest roadblock in O'Neill's career. When it came to field-office-chief candidates, he said, "Janet Reno particularly insisted that there were no blemishes on that person's career. I think John shone best when there was a crisis. He'd put in phenomenal hours, he was completely dedicated, he wasn't distracted by anyone else. I don't know if he would have thrived on the day-to-day, 'What are we gonna do about the budget?' business. John was more of a take-charge, action guy."
On Saturday, September 8, Valerie and John attended a wedding at the Plaza – a class reunion of old FBI men and cops. John was beaming the whole evening, and he and Valerie danced nearly every song. Valerie says that people turned to them and said, "God, if this is what retirement does … "
Three weeks later, there was another reunion – O'Neill's funeral. The service in Atlantic City – could it have been otherwise? – was brimming with ironies. The service demanded four-star security for Louis Freeh, Mary Jo White, and a host of FBI brass – an official place of honor given to a man who had just left the Bureau in frustration. It also featured Christine O'Neill as the widow. O'Neill's son and daughter rarely saw their father in his final years, while James's children, Jay and Stacy, were left wondering more about the man they called their father. Jay even called O'Neill "Dad" in a speech at the Elaine's wake a few days later, to the surprise of some people there.
His biological family got his memorial flags from the Bureau. Resentful about being overlooked, Stacy pinched two that the Bureau had sent to Elaine's. She's been asked to return them. She hasn't.
"I'm the one who has to reinvent myself now," Valerie James told me one afternoon recently, poking at a salad near her office in the fashion district. "My psychiatrist says I can't go on with my life if I keep talking about him, but I feel like I have to honor his memory."
She'd wanted to leave him in the fall of '99. He wasn't as much fun as he was in Chicago. The strain of the job, the embassy-bombing investigation, was getting to him. Her kids adored him, but it was not working for her, she told him. The late nights without her also had something to do with it. "He promised that when he left the FBI, he'd clean up his life," she said.
When I asked what that meant, she smiled. "Being a little straighter of a guy," she said.
The secret girlfriends aren't so secret anymore. James doesn't speak directly about them. Still, she doesn't have any illusions about the man she just lost. "John was all about his job," she said. "I don't know if John was a genius, but you look at smart people like Jack Kennedy, they don't necessarily lead Ward and June Cleaver lives. It doesn't necessarily mean they're bad people. I'll say this, though: Knowing everything I've learned since he died, I would do the last eleven years over again exactly as I did. And so would my kids. I know because I asked them."
Her John was different from everyone else's. "You see, to me, he wasn't the FBI," she said. "He was my lover and my friend." It's just that the end he met brought the many different lives he led crashing down, finally, together.
"It was a complicated death," she said, "for a complicated man."