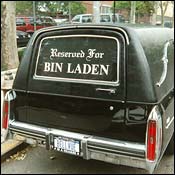 Duff's Brooklyn
Things just weren't the same when co-owner Jimmy Duff abruptly left storied rocker outpost Bellevue Bar late last year. For one: Metal man Duff's tricked-out Hearse with a coffin "reserved for Bin Laden" was ominously absent from Hell's Kitchen's Ninth Avenue. And with the avalanche of metal memorabilia gone, the walls of the alcohol-drenched asylum were reduced to—could it be?—yuppie-ready exposed brick. But the city's dark minions need not fear: Duff is at the helm of Duff's Brooklyn, slated to open early this month. The "higher octane, more extreme version" has a large deck to accommodate smokers and summer BBQs, popular Bellevue bartenders Laurieann and Christina, and a tribute to the late Pantera and Damageplan guitarist "Dimebag" Darrell Abbott, who was known to drop by the old place for a Black Tooth Grin (Crown Royal with a splash of Coke). "I even imported some homeless people from Port Authority to hang around outside too," jokes Duff. "Just for old times' sake."—Carla Spartos
N. 3rd St. and Kent Ave., Williamsburg, Brooklyn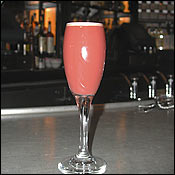 Blood Orange Mimosa
After a night of debauchery, downtowners revive at Schiller's Liquor Bar with a plate of huevos rancheros and one of Josh Goodman's Blood Orange Mimosas ($9). Perky blood orange puree is a pleasantly sweet alternative to OJ; a blood-red infusion of bitter Campari provides you with that much needed kick in the pants.—E. J. Samson


The Recipe
2 oz. Blood Orange Puree
Splash of Campari
Splash of Simple Syrup
4 oz. of Chilled Champagne or Sparkling Wine
Garnish: 1 Blood Orange Half WheelPour all ingredients into a 16 oz. mixing glass and stir gently. Pour unstrained into a 6 oz. champagne flute. Garnish with blood orange half wheel and serve.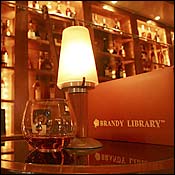 Brandy Library
Like some hallowed centers of higher learning, Brandy Library is a labor of love. The room's warm amber lighting and buttery tobacco leather chairs perfectly coordinate the cognac-colored dresses of the cocktail waitresses, who neatly climb ladders to fetch the namesake bottles that line the space's vertical shelves. You can sink into a chair, Alistair Cooke–style, or cozy up with a date on the long banquette that divides the lounge area from the bar, occupied by both fashionable locals and fellows with loosened ties. The book everyone is here to check out is the fat bound menu showcasing refined Cognacs (as well as a 1914 brandy that runs $230 for a snifter), rustic Calvados, and just about anything else you could think of, including more than 100 classic cocktails. Although they arrive in splendid Nick and Nora–worthy glassware (think small martini or wide-mouth champagne glasses), the cocktails still need tinkering. A Manhattan ($11) made with Van Winkle rye could have stood a dash of bitters and the original Tribeca Treat (Calvados, orange and raspberry crème, lime juice; $13) tasted faintly of baby aspirin. Still, like any great, but flawed novel, there is much to love here.—Carla Spartos
25 North Moore St., at Varick St.; 212-226-5545; brandylibrary.com; daily, 4 p.m.-4 a.m.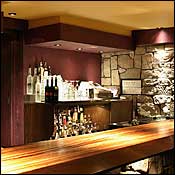 Dark Room
Its name portends a high school photo lab or a basement make-out kegger, but the Dark Room, popular with rocker-types, is a bright spot on the LES. Despite the ultralow ceiling and bunker-like brick walls, a new floor plan and some redecorating have made this basement bar far less claustrophobic than its predecessor. A horseshoe bar bisects the cavernous box into two large rooms offering plenty of drinking space, and the low black-leather banquettes are a welcome relief from the shoddy barstools and filthy sofas of many a neighborhood joint. Maybe it's the way a Knob Creek and soda ($7) catches the red light that lends Dark Room its charm. Or maybe this feeling of warmth stems from a truly happy hour: well drinks and a wider-than-average selection of tap beers are $3 from 6 p.m. to 9 p.m. Three months from now, neighborhood hipsters will bemoan the invasion by uptowners (and even sooner than that, the influx of NYU kids); until that develops, they can enjoy many happy hours, some DJ-led late, late nights, and, at the right angle, a light-saturated Red Stripe ($5) that lives up to its name.—Kristal Hawkins
165 Ludlow St., between Stanton and Houston Sts.; 212-353-0536; daily, 6 p.m.-4 a.m.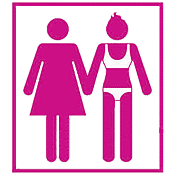 Girlsroom
Once upon a time, the Lower East Side was home to a legendary lesbian bar, now closed. But, against all odds (namely skyrocketing LES rents and the gay diaspora's Brooklyn trajectory), a new club is hoping to fill the void. So far the girls have the now-mourned Meow Mix's bare, beer-distressed atmosphere down pat, except the clientele is slightly younger and considerably sparser. The scattering of drinkers isn't thick enough to block out the ardent red walls left over from the bar's days as the Infrared Lounge, and hearty tipplers making the trek to the far eastern end of Rivington Street won't have to fight for a seat on the thrift-store furniture. Still, super-generous drink specials should help the place score a following: Drinks are two-for-one until 9 p.m. on weekdays, while beer and call drinks flow free 10 to 11:30 p.m. on Tuesdays, 9 to 10 p.m. on Thursdays, and 10 to 11 p.m. on Fridays. Will Girlsroom follow in the successful steps of its Sapphic foremother, or even its slightly older gay brother, Boysroom? Free booze, low or no cover, Tuesday karaoke, and an assortment of DJ nights bode well.—Kristal Hawkins
210 Rivington St., between Ridge and Pitt Sts.; 212-995-8684; girlsroomnyc.com; Mon-Thu, 7 p.m.-3 a.m., Fri, 7 p.m.-4 a.m., Sat-Sun, 9 p.m.-4 a.m.
The Interview
You only think all the champagne you guzzled at your holiday office party went unnoticed. Nick Roy, La Bottega's 23-year-old bar man, was the one person sober enough to remember all the transgressions.—Jessica Cavagnero

What kind of parties did you work this year?
I worked about five, but I'm not allowed to say what companies. I can tell you that they were mostly film studios and magazines. No celebrities though, just a lot of producers and editors.
How were the tips?
The magazine and film people were definitely the best tippers, probably because they've worked as bartenders themselves. The fashion people aren't bad. But photographers are the worst. I don't know why, maybe some industries just attract elitist people.
Edited by Carla Spartos.