L.I.C. Bar
Begin your crawl here. Also known as the "far bar", it's the neighborhood's northernmost watering hole—not counting the strip club up the block. Previous proprietors, who closed shop in the early '60s, left behind the original tin ceiling, fixtures, bar, and tables, giving the space a tasteful, saloon-like vibe that feels more Long Island City at the turn of the 20th century rather than the 21st. When the weeping willows are in bloom, the patio out back makes pints ($4-5) even more pleasant; a back-back room for parties on the opposite side of the patio is scheduled to open this summer. L.I.C. is strictly a beer and bar-drink establishment—no specialty cocktails here—with an impressive selection of single-malt scotch ($8-10). A partial kitchen dishes up a selection of sandwiches, such as goat cheese, red pepper and olive paste ($6), through the early hours of the morning.
•45-58 Vernon Blvd., at 46th Ave.,718-786-5400; Mon-Wed, 4 p.m.-2 a.m.; Thu-Fri, 4 p.m.-4 a.m.; Sat-Sun, 1 p.m.-4 a.m.; licbar.com.
Dominie's Hoek
While L.I.C.'s patio is an escape from the area's industrial feel, the deck at Dominie's Hoek screams "low-rent, artist neighborhood." Surrounded by white-painted cinderblock, it's the perfect inspiration for prison poets and painters alike; musicians and songwriters, though, will find their muse every third Thursday, when jazz legend Della Griffin takes the mic. (Better call before making the pilgrimage, though; Ms. Griffin isn't on contract.) Pints are the standard $5, a glass of sangria runs $4.50, and a sangria martini costs $7. The bar serves a continental menu—a cheese plate with olives ($8), veggie burger and fries ($8)—until 11 p.m. Long and narrow with a high, tin ceiling, Dominie's Hoek fits the bill of "LIC cool".
•48-17 Vernon Blvd., between 48th and 49th Aves., 718-706-6531;Mon-Sat, 5 p.m.-4 a.m.; Sun, 12 p.m.-4 a.m.
Lounge 47
About the name: It's on Vernon Boulevard, between 47th Avenue and 47th Road (only in Queens, as they say). Dim lighting, low couches, and piped in jazz make for serious lounging. Out back is one of those large patios—typical for the borough, but nearly impossible to find in the city. An extensive, and reasonably priced, menu mixes tapas and bar food. Try an appetizer of spiced olives or wasabi deviled eggs (both $3); sandwiches and meals range from $7-10. Stand-out cocktails include the "LIC" Iced Tea (a Long Island with a peach "twist", $8) and the Kiss-Me-Tini (Absolut, Crème de Cacao and a chocolate kiss, $8). Happy hour is Monday through Friday, from 3-7 p.m.
•47-10 Vernon Blvd., between 47th Ave. and 47th Rd., 718-937-2044;Mon-Thu, 12 p.m.-1 a.m.; Fri, 12 p.m.-2 a.m.; Sat, 4 p.m.-2 a.m.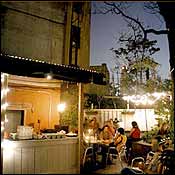 The Creek and the Cave
Only a hop, skip, and a stumble from Vernon Boulevard is a bar where everything converges (not just the L.I.E., Jackson Avenue, and the Pulaski Bridge). The Creek and the Cave is a cross between an artist hangout, frat-boy playground, and hipster lounge. Open-mic and indie movie nights occur in the makeshift theater upstairs. (The Korean revenge fantasy flick Oldboy was recently screened here.) Downstairs are brewskis and fusbol, as well as fluffy couches for the conversationally inclined. When it gets too hot inside, retire to the outdoor patio. Just ignore the enormous pit next door—courtesy of the Long Island Railroad. Fridays and Saturdays have all-night DJs and live music; happy hour happens every weekday from 4-7 p.m. (two-for-one margaritas, $7); and a full Mexican grill serves lunch and dinner daily.
•10-93 Jackson Ave., between 48th and 49th Aves., 718-706-8783; Sun-Wed, 11 a.m.-2 a.m.; Thu-Sat, 11 a.m.-4 a.m.; thecreekandthecave.com.