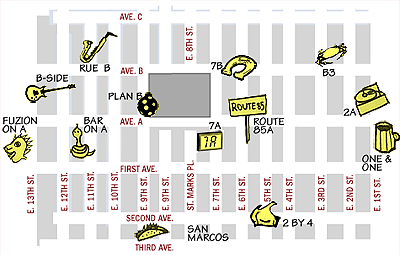 San Marcos
This low-brow Mexican restaurant is the only bar to pun on St. Marks— in Spanish, no less. Start here not just because it's the first restaurant out of the Astor Pl. gate, but because you're going to need one of those gargantuan burritos to hold you over. Not2b4gotten: Prime spot for St. Marks Pl. freakwatching.
2A
Yes, this is a narrow, bi-level bar/lounge on the corner with large picture windows, but no, it's not Sin Sin, its gussied-up doppelganger a few blocks up. Show up early to take advantage of the 2-for-1 happy hour til 8pm. Not2b4gotten: The bartender actually plays (as opposed to spins) records. i.e. 2A = LPs.
2 by 4
If you think "2 by 4" is a generic name, remember that this used to be a gay bar called simply The Bar. Now it's a Coyote Ugly wannabe that looks like the kind of biker bar where you'd get smacked by a plank of wood if you violate the "no touching the bartenders" rule. Not2b4gotten: 2 by 4 may have stripper poles, but easy boy: the "2-for-1" special refers only to happy hour drinks.
One and One
"One and one" is both Irish slang for fish-n-chips and the term McSorley's happens to use for its dark and light beer combo. As empty as this generic pub often is, it may well be the anti-McSorley's, but order in pairs just for the hell of it. Not2b4gotten: The picture windows and outdoor seats offer a great view across the Hudson, er Houston St.
B3
Time to make a B-line to alphabet city. If it's Monday night, B3's all-you-can-eat crab special will soak up some booze. Not2b4gotten: Be warned, B3 stands for the Beta Beta Beta frat brother who's about to spill his pitcher on you.
7B
Also known as Vazac's after the catering hall that was here in the '30s or Horseshoe Bar after its long U-shaped bar, this rock saloon has appeared in Crocodile Dundee, Serpico, The Color of Money, and every NYU freshman's scrap book. Not2b4gotten: This is a rock bar but the stairway next to the old-time photo booth doesn't go to heaven. Instead it mysteriously leads to the ceiling.
Rue B
Stepping into this cushy, narrow bar is like climbing onto Hugh Hefner's lear jet. Live jazz and fresh-fruit cocktails worthy of a midtown hotel bar get you feeling a mile high. Not2b4gotten: The "upright" piano and martinis that'll leave you anything but.
B-Side
This bare-bones rock bar used to be a laundromat— and some of the kids who come here are still in need of a wash. Bring a fistful of quarters for the jukebox, which may not be an mp3 player like Hi-Fi's but still spins punk and indie faves including yes, a couple of b-sides. Not2b4gotten: A PBR and a shot of Jack ("The worst idea wins.")
The C-Note
This is a small box of a bar where you'll be at the mercy of the mic when the hit-or-miss live folk or jazz act steps up. Luckily the key lime martini makes for a quick sip before stabbing westward to Avenue A. Not2b4gotten: The only pun-happy bar on Avenue C, although we won't be surprised when a Star Wars theme bar opens on 3rd St. and Avenue C and calls itself 3CPO.
Fuzion on A
Pardon this corner nook's appearance as it tries to be a mini Spice Market. The drink menu is divided into "yin" and "yang" and the Last Emperor (which includes vodka, tequila, gin, and rum) is sure to make your stomach swirl. Not2b4gotten: You thought the moose head at 2 by 4 was badass? Check out the large wooden dragon head over the bar at this joint.
Bar on A
This low-key lounge also known as Barona and BOA is not to be confused with nearby noodle restaurants Bao, Bao 111, or Bua. Although it boasts an Asian-inspired bar food menu that includes sautéed string beans, the name isn't an attempt at fusion cuteness: owner Bob actually has a boa constrictor collection. Not2b4gotten: The snakeskin light shades.
Plan B
By now it's probably late and you're ready to get your dance on. You could head down to Route 85A— it's address is 85 Avenue A and it's decorated with old license plates— but if you're not up for bands in the basement, enact Plan B: take a detour to the former Drinkland where a dancefloor awaits. Not2b4gotten: The place is decorated like a mini El Morocco nightclub— if it were in Williamsburg, they'd call it L Morocco.
7A
After clearing out the dance floor at Plan B you realize it's time to sober up. A7 may be how steak is done, but 7A is how it's done at 5am. Not2b4gotten: There's not much to remember about this classic 24-hour spot, but whatever: you've just hit 11 bars and will have no memory of any of this in the morning. Now go home to Avenue ZZZZZZZ.