Tea Lounge
837 Union St. between Sixth and Seventh Aves., Park Slope, Brooklyn; 718-789-2762
An expansive catchall for mismatched sofas, live music, and laptops, this Park Slope cafe prides itself on organic coffees and teas but its hot chocolate deserves mention as well. This mix of milk, cream, powder, and chocolate sauce is a full-bodied blend that can be spiked—Baileys, Frangelico, and Jameson—for an extra $4. A buttery black-and-white iced cupcake nods to old-fashioned treats.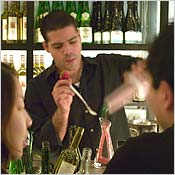 Bar Carrera
175 Second Ave., between 11th and 12th Sts.; 212-375-1555
Tumblers of riojas top off olives, chorizo, and garrotxa cheese at this Basque tapas boite, which glamorizes a poured-concrete bar with colorful Moroccan tiles and Catalonian pop. For a rich finish, three broken slabs of Belgian chocolate—white, milk, and dark—can be nibbled with a glass of the silky madeira. More intense is a plate of nearly black chocolate melted over sharp, blue-streaked Cabrales cheese—no longer on the menu, but available by request.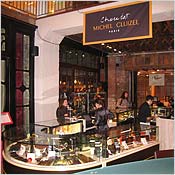 Chocolat Michel Cluizel
888 Broadway, at 19th St.; 212-477-7335
ABC Carpet & Home's just-opened bonbon shop and bar, in which leaf-colored banquettes face the truffle display counters, heightens expectations of cocoa geeks everywhere. Chocolate sommelier Sage Friedman leads personal guided tastings to enhance appreciation for the sheen, snap, and melt of bars ranging from 50 to 99 percent cocoa—sometimes mingled with brandy, sherry, or tequila. The foamy White Chocolate Champagne Cocktail and the Chocolate Russian use real chocolate, not liqueur; Frangelico, framboise and kirsch poured into small chocolate cups also make a sensational cordial. The lights get lowered after dark but Michel Cluizel stays open until midnight on weekends, with an entrance through the adjoining restaurant Lucy.
Cocoa Bar
228 Seventh Ave. between 3rd and 4th Sts., Park Slope, Brooklyn; 718-499-4080
Chocolate, coffee, and wine are the starring trio at this quaint café. These leading players recombine in the house's hot ChocoLatte, the wine-infused bonbons, and chocolate-covered figs saturated with port, as well as in dessert and wine pairings. Among the complements are a bittersweet Valrhona mousse-topped cake with a subtle amber vin santo, and a sparkling shiraz at play with the I Like It Spicy chocolate bar, which tweaks the expected chile with pasilla and cayenne peppers.
Double Seven
418 W. 14th St., between Ninth and Tenth Aves.; 212-981-9099
Banquettes covered in a snakeskinned leather whet the appetite for something richer than usual, and Lotus's sister lounge delivers by pairing Sasha Petrarske's cocktails with the day's shipment of Debauve & Gallais chocolates (at the tables, and at the bar by request, until 11 P.M.). While the matching is less nuanced than the drink mixing, the stunning bartenders sometimes brighten standards like a Mexican coffee with a coated lemon peel. Now and then a connoisseur will order chilled vodka with coins of 85 percent cocoa—a favorite repast of the czars.
Swizz Restaurant & Wine Bar
310 W. 53rd St., between Eighth and Ninth Aves.; 212-810-4444
Below the main dining room, this narrow wine bar, warmed by amber pendant lights and terra-cotta tiles, not only serves cabernets, pinots, and muscats but also the kitchen's full Swiss menu. On a winter night, dunking marshmallows, pears, and strawberries in a pot of the lush Jacques Torres or Toblerone fondue gratifies the primal longings for chocolate and fire. Guests can reserve tables inside the adjoining orange "wine cave," or share dessert side by side at the bar.