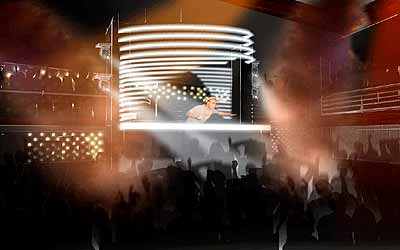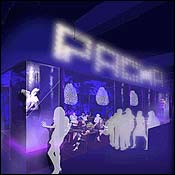 1. Pacha NYC
618 W. 46th St. bet. Eleventh Ave. and West Side Hwy.; 212-209-7500
You no longer need a passport to hit one of Ibiza-based Pacha's couple dozen clubs worldwide, just a MetroCard to SoundFactory's old midtown location, once the hallowed neon cherry arrives come Thanksgiving. Promoter Rob Fernandez promises "Ibiza-meets-NYC" with bikinied women showering in translucent support pillars and atmospheric nooks in the balconies while the main floor DJ booth will move to the ground, encircled with LED lights. VIPs get a separate rear entry to a third floor lounge with vaulted ceilings and a modish décor, albeit one without the Jacuzzi originally planned. When not helping partner Eddie Dean of Discotheque book top talent, resident Erick Morillo will spin, backed by one of just three Alpha Dynacord sound systems nationwide. Expect a roofdeck with dancefloor by 2006.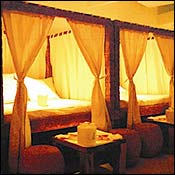 2. Nikki Beach Midtown
151 E. 50th St. bet. Lexington and Third Aves., 212-753-1144, nikkimidtown.comIf you weren't invited to September's inaugural White Party at this twelfth outpost of the South Beach empire, you're probably not one of the immaculately coiffed international playboys who travel from St. Barths to St. Tropez with $5,000 membership cards in hand. No worries. The staff and beds at the bi-level space that was formerly Vue are now ready to receive you—provided your pockets (and your tan) are deep enough. Tiki torches, teepees, and a lobster-and-caviar brunch stick to the company's tried-and-true formula but with no beach in sight, will previous Nikki visitors like Beyoncé, Bono, and Michael Jordan join models and businessmen for luxurious lounging and dirty dancing.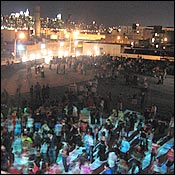 3. Brooklyn Sugar
289 Kent Ave. at S. 2nd St., Williamsburg; www.shedstudio.com, BKsugar@shedstudio.com
It'll be six months before this former garage for the Domino Sugar refinery is fully reborn as a club. (They're putting the finishing touches on the modernistic downstairs—a steel, glass, and concrete study in floating mezzanine.) In the meantime, the raw second-floor and the roofdeck, with its postcard views of Manhattan, are being put to good use. Designer SHED Studio is working with local tech-house guru Dave Hollands to book an eclectic mix: This Sunday, DJ Boris headlines; on Friday, October 21, the "mutant salsa" band Zemog and sax prodigy Colin Stetson help raise money for New Orleans musicians; and on November 21, electro house outfit The Saccharin Slags (Mr. C and Francis Harris) joins Hollands himself.
4. Shelter and Speed
20 W. 39th St. bet. Fifth and Sixth Aves.; 212-719-4479
The space formerly known as Club Shelter hasn't really had a name for the past two months. The speedo-wearing barkeeps and thong-clad go-go boys and masseuses call it Opaline since that's where they're all from. By the end of the year, Shelter and Speed will be an all-gay megaclub; for now, there are lesbian parties on Tuesdays and Saturdays and a tranny fete on Thursdays. The real blockbuster, and perhaps the wildest time in the city since Disco 2000, is Michael "Mistress" Formika-Jones's Area 10018, which delivers an open bar til midnight, a cover band fronted by legendary drag queens in the glittery basement and three spacious floors of serious butt-shaking above. Go even higher for the Juicy Lucy stand and the hot dog grill on the mind-blowing roofdeck.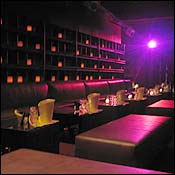 5. Guest House
542 W. 27th St. bet. Tenth and Eleventh Aves.; 212-273-3700
Just a month after opening, Home is already luring celebs away from Bungalow 8. This Thursday, the nightlife luminaries behind that club open Guest House next door in an attempt to lure away Cielo's trendy househeads. While the layout and décor will be similar to Home's, with couches and booths lining an L-shaped dancefloor, the red-light ambience will be warmed by cream wallpaper and the amber glow of recessed candles. Same strict door policy, but house music rather than rock, hip hop, and r&b.
6. Happy Valley
14 E. 27th St. bet. Madison and Fifth Aves.; 212-481-2628
This newcomer opened during Fashion Week with a party for Jeremy Scott, the designer who revamped the 5,000-sq. ft. space (f.k.a. Social Club) with a disco ball cum DJ booth and a light-box floor. Since then, Nas and Kelis have passed through, and Kenny Kenny and Amanda Lepore are hosting the season's most promising Monday night as underground sleazoid sensation MisShapes DJs the electro-inspired Synthetic Pleasures party with regular appearances by Felix Da Housecat, burlesque acts, and random exhibitionism galore. Wednesdays, DJs Goldfinger and Juske spin pre-90s rock and hip hop with celeb spinners like Juliette Lewis. Says the club: "Be fabulous or stand outside."
7. Sol
609 W. 29th St. bet. Eleventh and Twelfth Aves., 212-643-6464, sol-nyc.com
Last weekend, the hip hop club formerly known as Ruby Falls was rechristened Sol with sets by Carl Kennedy, Mark Farina, and Pete Moss. Not many changes have been made to the brick-walled erstwhile warehouse—the new owners have installed a Joe Lodi sound system and a second DJ booth for dual spinning, plus a rainbow-like light system in the 40-foot skylight that can supposedly be seen ten blocks away. On Tuesdays, Johnny Dynell of Mother spins with hosts from Motherfucker, making for some thoroughly Oedipal debauchery.
8. The Winter Garden at B.E.D.
530 W. 27th St. bet. Tenth and Eleventh Aves.; 212-594-4109
In the next two or three weeks, B.E.D.'s rooftop, Groovedeck, will be topped by a heated bubble dome so that jet-setters and fashionistas can enjoy the views of the surrounding water towers—hail, sleet or snow. The Miami-in-winter overhaul will consist of cool blue and green fabrics, ice sculptures, a landscaped yard, and overflowing tropical plants and flowers. A new menu (with additions like quail saltimbocca and Chilean sea bass) will be served from 7pm to 11pm, after which turntablists like Todd Malace (Wednesdays) and Baby Blu (Thursdays) will get everyone dancing on the reservation-only beds. Libations incorporating maple syrup, homemade ginger-honey, and apple cider will cater to those who, in their dressing and drinking alike, are all about the latest season.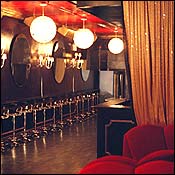 9. Speak
28 E. 23rd St. bet. Park Ave. S. and Broadway; 212-673-0100
Without any celeb owners, doorpeople, or promoters in the mix, this two-week-old Flatiron club might be the Plain Jane of the bunch, although the look is anything but. 26-year-old owner Stacey Leeds has given a 1930s-Hollywood makeover to the space formerly occupied by Chetty Red; hot-pink velvet clamshell banquettes and two-seater swings upstairs and a VIP basement that fairly glitters. The throbbing music lends itself more to dancing than to talking while the banquettes are built to withstand the heels of girls gone wild.
10. Stereo
512 W. 29th St. bet. 10th & 11th Aves.; 212-244-1965
By October 12, the Coral Room's 9,000-gallon fish tank will be a thing of the past, replaced by a 3-D mural of boom box and stereo parts. Co-owner Barry Milaneux is hoping to lure downtowners by layering an early, homegrown rap esthetic on the rock lounges of 1980s Hollywood. Seth Gerszberg, co-founder of Mark Ecko, has tagged one wall; in the raised VIP room, black-and-white lightboxes of Wild Style-era scenes glow amidst bamboo trees. But the bottle service on the main floor with DJs Mark Ronson and Juske proves antithetically high-rent.