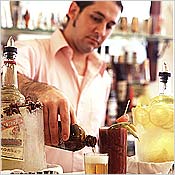 Prune
54 E. 1st St., bet. First and Second Aves.;212-677-6221
The food is almost too cute to consume at this culinary cubbyhole, and this season's drinks come with a precious twist. The quince cocktail masks the hidden rum behind the demure sweet-and-sour zing of a spring sorbet, while screwdriving turns exotic when homemade hibiscus syrup is mixed with orange vodka. Prune's ten different takes on the Bloody Mary turn health tricks too: You'll knock out your daily recommended allowance of fruits and veggies in one glass of the Chicago Matchbox Mary, which adds pickled brussels sprouts, baby white turnips, caperberries, green beans, and radishes to the lemon-infused vodka classic.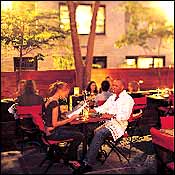 Pure Food & Wine
54 Irving Pl., bet. 17th and 18th Sts.; 212-477-1010
While it may be easier to get wasted on "refreshers" paired with raw foods, the hangover won't be as bad: These sake and organic-wine cocktails contain no sugars or preservatives and use only fresh-pressed juice and agave—a natural low-glycemic sweetener. The Purple Haze, offered until mid-winter when organic concord grape juice is no longer at the farmer's market, is a hippy-like blend of lime juice and ginger with a dash of prosecco for fizz. (The artificial carbonation of club soda and tonic is banned.) The Spiced Pear Tini layers its rich fruity nectar with sake, vanilla, cinnamon and nutmeg for a warming effect that turns even the S.A.D.-est of frowns upside down. For a more adventurous elixir, the Pink Lady retains sake's natural composure while daring to invite beet juice to a staunch bouquet of green apples and lime.
King Cole Bar
2 E. 55th St., bet. Fifth and Madison Aves.; 212-753-4500
Excess riches can sidetrack you from your quest for well-being, but high tea at the St. Regis Hotel's bar includes an unexpected nod to Dr. Atkins as the St. Regis Tea Punch pairs the house tea blend with 3 Vodka, a no-carb liquor made from soy isolates. If your health plan subscribes more to the "apple a day keeps the doctor away" maxim, the Big Green Apple introduces a nearly smoothie-like puree of freshly juiced Granny Smiths and ginger juice to the naughty world of white tequila.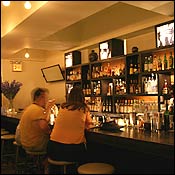 Do Hwa
55 Carmine St., between Bedford St. and Seventh Ave. So.; 212-414-1224
At this Korean homecooking haven, a glass of sweet potato vodka soju will put a decent dent in any ailment, especially when accompanied by one of the spicy cabbage soups. The nausea-, indigestion-, and migraine-fighting properties of its namesake ingredient make the Ginger Kamikaze a sensible choice since the rooty simple syrup brings a virus-zapping burn-and-soothe quality to Absolut Citron. If mental awareness and physical stamina are priority, follow your meal with a glass of baek sae-ju, a ginseng digestif.
Spring Street Natural
62 Spring St., at Lafayette St.; 212-966-0290
Brunch specials at this 32-year-old macrobiotic-to-pescatarian standby offer SoHo hypochondriacs a good way to make morning drinking compatible with their ashtanga regiment. The best drink is an intensely refreshing mojito, where celery juice and fresh mint overpower the potency of gold rum. For a more classic quencher, Ray's Hard Lemonade—a pulpy, lemonade-infused screwdriver—incorporates a different fresh fruit puree each day, but is especially exciting when offered with acai, the ultra-antioxidant Brazilian rainforest berry. Gluten-phobes can ask for Rain, a nurturing white-corn organic vodka, as their poison of choice.
OKEANOS
211 E. 51st St. bet. Second and Third Aves.; 212-223-6773
Russian baths have long understood that while cleansing often means removing elements from the body, it doesn't hurt to put a few back. A session of banya and platza at this new midtown spa—which entails being beaten with burning hot birch leaves then doused with ice cold water—is supposed to reinvigorate and strengthen the immune system. You can top it off with a glass of ZYR in the lounge; the crystal-pure vodka has no added sugars or lactic acid, plus the key ingredient—water—is distilled five times with winter wheat and rye. In Cyrillic, vodka and H20 go by the same name—as if you needed yet another reason to overdo your intake of fluids.