When Jessica first met Nick at a friend's party, it felt like the perfect fit. She was a divorced former model, now working for a white-shoe law firm, and though he was vague about what he did for a living, the chemistry was there. She thought he was around 30, and he made the same assumption about her. It wasn't until three months later that they discovered each other's actual ages. He was 24 and she was 37.
"When I found out how old he really was, I wasn't sure I even wanted to be friends," Jessica says now. As it turned out, though, the thirteen-year age barrier wasn't as daunting as she thought: Today they are married and raising a 3-year-old in their Upper West Side apartment. Still, Nick can't forget her first reaction when she learned how young he was. It was like a brick wall going up, he says.
Now, nearly a decade after they first met, the gap seems, if not normal, at least far more acceptable than it once was. (Although Jessica still avoids discussing her age with her mother-in-law.) And judging from what's been going on in yoga classes, Soho lounges, and the celebrity-gossip pages this summer (not to mention movie screens), the long-standing taboo against older women dating younger men is finally losing much of its primal power. New York women in particular are openly dipping into lower age brackets in numbers that would have been unimaginable in the past.
Thanks to their increasing financial independence, women are freer to consider romantic options once filed under INAPPROPRIATE. And thanks to the ruling gym and fitness craze (not to mention Botox and plastic surgery), they hardly look their age anyway. "Women have to stop thinking guys under 35 are not an option," says Jessica, "or that it will make them look foolish."
Take Justine, a makeup artist in her mid-forties who first started dating younger men last year, after a twelve-year relationship with a man twenty years her senior. She had previously dated only older guys, but now the ones she met were either attached, too involved in their work, or just plain unappealing. Luckily, she noticed a strange thing happening: Many of the men who approached her were half her age. Her Chanel boots and leather pants might have had something to do with it. And her devotion to Pilates. When a friend had a costume party, she says, "the theme was 'Bond girl,' but I just showed up in my usual Friday-night outfit, and everyone said I had the best costume in the room."
At another friend's birthday party, a restaurateur named Paul, who was only 34, kept wanting to dance with her. "Every time I turned around, he was there," she says. They danced, they drank champagne, and she kissed him good night, but the next morning she congratulated herself for not giving him her phone number. Then the phone rang at work.
Justine tried to get rid of him by insisting she was too busy to talk. "Can I call you at your other numbers?" he asked.
"Which numbers did I give you?" she shot back.
"All of them," he said. And with that, Justine gave in – at least for a drink. "I wondered if my subconscious wasn't trying to tell me something," she says.
Then came the orchids. And the caviar. Paul talked about their future together. "I found myself getting involved in the dreams I thought I had passed," she says now. "He re-instilled in me the sense that it's not over yet."
In the past, when people thought of older women with younger men, they usually pictured a widow of a certain age with a mother-obsessed gigolo, or a past-her-prime movie star with a muscle-bound stud of ambiguous sexuality and unambiguous greed. But the new dispensation isn't about Leona Helmsley or Mae West. It's about Madonna, 43, marrying Guy Ritchie, 33; or Sandra Bullock, 38, who's seeing Ryan Gosling, seventeen years younger. Daryl Hannah, 42, has been spotted around Paris and London with David Blaine, 29. And Janet Jackson, 36, made "Page Six" two weeks ago by canoodling with Justin Timberlake, 21.
Message boards on MSN and iVillage, and sites like Agelesslove.com, are alive with gossip and advice on the subject. And Hollywood and Broadway have taken note of the cultural shift. For the past four months, Kathleen Turner, 48, has been sleeping with 24-year-old Jason Biggs eight times a week at the Plymouth Theatre in The Graduate. Meanwhile, at the multiplex this summer, there's been a mini-epidemic of older-woman-younger-man couplings: from Diane Lane's dangerous liaison with a younger Olivier Martinez in Unfaithful to Bebe Neuwirth's surprise fling with her best friend's 15-year-old stepson in this month's Tadpole. (Not to mention Senator Amidala, whose older-woman-younger-man affair with Anakin Skywalker is at the heart of Attack of the Clones!)
In August, 33-year-old Jennifer Aniston will hook up with 21-year-old Jake Gyllenhaal in The Good Girl, making Gyllenhaal the new poster boy for OWYM relationships, since he's also the object of 39-year-old Catherine Keener's affections in this month's Lovely and Amazing.
For New Yorkers, though, the summer's most compelling cultural signifier isn't a film or a play. It's Candace Bushnell's surprise July 4 marriage to New York City Ballet dancer Charles Askegard. The Nantucket affair merited a front-page "Sunday Styles" story in the Times, but what had everyone talking was not that the author of Sex and the City had finally ended her famously enviable single life after only eight weeks of courtship, or that her most recent ex-boyfriend flew in from London for the occasion. The surprise was the age difference between the 43-year-old bride and the 33-year-old groom.
"When I started writing 'Sex and the City,' " says Bushnell, "I interviewed guys over 35 who were saying the most horrendous things, like maybe they'd sleep with a women over 35 but there'd never be that immediate sexual attraction. In the last five years, that's been turned on its ear – plenty of young guys are finding older women sexy, and women are the ones who don't want to be with a man older than they are."
Bushnell's last boyfriend was six years younger. "For me, it's not an issue," says Askegard, who has dated women of all ages. "Candace seems like my age."
Susan Winter, 47, is a co-author of Older Women/Younger Men: New Options for Love and Romance. She's a statuesque blonde who moonlights as an artist's model for the comic book Lady Death, and when it comes to younger men, she knows what she's talking about. Winter has never slept with a man over 35, and she is an expert on the persistence of the double standard – i.e., the belief that men who date people half their age are normal but women who do the same are perverts. Men are usually the least tolerant. "They don't want an older woman," she says, "but they don't like someone else having them, either." Recently, when Winter and her boyfriend were at a wedding, a wealthy older gentleman stopped by to say hello.
"Is that your stud for the weekend?" he asked. "When are you going to grow up?"
Winter was furious. "I just looked at him," she recalls. "He's 70. His wife is 35. And he didn't see any connection!"
Less than a year ago, Winter moved from New Jersey to Manhattan, and the change in atmosphere has been a tremendous relief. "New York is a place where just about everything is accepted," she says, "though an older woman with a younger man still retains a bit of the taboo, which just adds a little spice to the whole act."
The spice was right when Ben, 25, found himself on the steps of Bryant Park making out with his boss Suzanne, 38, after an office Christmas party. He was a low-level editor at the publishing company where they worked, and she was the flirty, bubbly blonde at the social epicenter. He was impressed when she came up to him at the party and said, "I look for you in the office." "Suddenly I was Tom Cruise," he says, "and she was Rebecca DeMornay." When Suzanne asked if she could make him dinner, Ben gamely showed up at her Upper West Side one-bedroom with a bottle of wine. "She made shepherd's pie," he says. "We slept together that night."
Their thirteen-year age difference, plus their need to hide the office romance from gossipy colleagues, gave the relationship an added dimension of illicitness. During the day, Suzanne would leave him hidden Post-it notes like YOU MAKE ME HAPPY. They would go out on Suzanne's expense account for $150 dinners at the Oyster Bar. "A 25-year-old can be less sophisticated and cosmopolitan," says Ben. "But she'd wear Armani suits, shop at Barneys."
Ben never knew exactly how old Suzanne was until one night at Un Deux Trois when he sneaked a peek at her driver's license while she was in the ladies' room. He was pleasantly surprised. She was younger than he thought.
Bebe Neuwirth is not your typical 43-year-old. After shimmying and high-kicking on Broadway for 22 years, the actress still has the lithe and limber body of a Lotte Berk instructor. In the new film Tadpole, she seduces a 15-year-old (something she doesn't approve of), while in her real life she's been going out with a guy who's almost ten years younger than she is (something she does).
"This isn't new," she says. "It's common! When I first started going out with my boyfriend, who is exactly nine and a half years younger than me, I would say to people, 'You know, he's a lot younger than I am,' and they would say, 'So?' I realized, Oh, that's right. Of course."
Yes and no. Women have always been intrigued by the possibilities of younger men. The bronzed UPS guy in his cropped shorts and the studly cable repairman are staples of female fantasies and Lifetime movies-of-the-week. But now it's easier to realize those possibilities. Sheenah Hankin, a psychologist on the Upper East Side, remembers when patients wouldn't admit, even to their shrinks, that they were seeing younger men. "They were so ashamed," she says. "Now everything's becoming more open. These are legitimate relationships."
Changing cultural mores – and an increasing sense of power and control have given women more opportunities to try their fantasies on for size. Samantha Daniels, the owner of Samantha's Table, a Manhattan matchmaking service, hears the request more and more from her older clients: "Find me a younger man!"
"It's not my normal thing," says Michelle, 32, who began dating Christopher, 25, three months ago, after he followed her through the aisles of a Hell's Kitchen bodega. "It just kind of happened. He came up and said some charming things. I ended up laughing and moving on. Then, ten minutes later, he was right next to me again. The age thing may or may not have had something to do with it. But he's less inhibited than some older guys in New York. He was willing to be passionate – even on day one. I kind of really like that."
"You know what happens to women with younger guys?" says Stephanie, 49, a stylist who dated a 24-year-old after her twenty-year marriage ended. "They are like drugs. When they're over, you have to go through withdrawal."
Most people assume it's just about sex, the classic theory being that when an older woman hooks up with a younger man, their sexual peaks are perfectly aligned, which leads to incendiary lovemaking. There may not be a solid scientific basis for the "sexual peak" concept, but there's some truth to the essential dynamic.
"I've always been sexual – I've been peaking for years! – and there's no denying that it's better with a younger man," says Laura Banks, 46, a documentary filmmaker. "Their bodies are better, and they have more energy. I mean, it has to be the right guy. Women get to a certain age, they know themselves better and have more self-confidence. We can be more verbal about what we want in bed. We may be better in bed because we're not pretending or faking."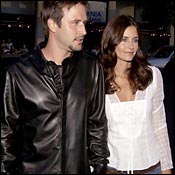 "You can teach them tricks," says a 36-year-old public-relations executive who recently had a three-month-long affair with a friend's younger brother.
"It's like walking into battle with a veteran general," says Ben of his first night with Suzanne. "There's also some magic to that feeling of 'What will I find?' There's always that when it's a new relationship, but the age thing made me even more curious. You kind of unwrap the package with your eyes half open."
He wasn't disappointed. "Older women spend more time working on those things," Ben says, choosing his words carefully to avoid getting too clinical. "Let's just say she would wax."
Jane Pratt, 39, the editor-in-chief of Jane magazine and a close observer of trends in women's lives, is expecting her first baby in December. She is engaged to the father, Andrew Shaifer, 36. Younger men run in Pratt's family. "My mom's been married three times," she says, "and always to younger guys. Her current husband is seven years younger. My grandma was married to a younger man for 70 years. It's funny: As soon as I told my family and friends I was really serious about Andrew, they asked, 'How old is he?' They were afraid I was going to go for 25, so when I said 36, there was a huge sigh of relief."
For Pratt, who has always dated younger, the appeal has everything to do with work and career. "When I started Sassy magazine, I was 23. I had a boyfriend at the time – Bryan – and I broke up with him. I said, 'I'm just not going to have time.' " She didn't have another serious boyfriend for years.
"I really do think it's a New York phenomenon," she says. "No one bats an eye if a woman is dating a guy ten years younger. If anything, they kind of give you the thumbs-up. I try to move around a lot so people can't see my wrinkles."
Younger men are often less threatened by a powerful career woman; in fact, all that female power can be something of a turn-on. "I like strong women who are driven," says Shaifer, a successful actor-screenwriter in his own right, who proposed to Pratt at a dinner in L.A. attended by friends Courteney Cox and David Arquette, another OWYM couple. "When we check into L'Hermitage when she's out in L.A. on business, they call me Mr. Pratt. But I'm not intimidated by it. She's the total package. My main attraction to her is because she's smarter than me."
Many career women aren't looking to fit into a man's schedule; they are looking for a man to fit into theirs. (An extreme example is Suzy Wetlaufer, the Harvard Business Review editor who installed a 22-year-old male editorial assistant in her basement, presumably for easier availability.) "Women can pick and choose," says Pratt. "They are supporting themselves, so they can go for younger, they can go for older, they can go for whatever they want."
Oscar Blandi, the hairstylist who tends the locks of Natasha Richardson and Jennifer Connelly, has noticed that the women in his chair – even the 50-year-olds – are looking younger than ever, and younger men are an ever-more-frequent topic. "I grew up with the idea that men age better than women," says Candace Bushnell. "That's just not true anymore. The truth is, all the women in New York look 35!" Gyms are the churches of this youth movement, and the high priest is David Kirsch, who trains models like James King and Heidi Klum at Madison Square Club on Fifth Avenue, where the younger clients give his older clients the incentive to squeeze into their own Seven jeans. "They're very focused and disciplined," says Kirsch. "They point to the younger ones and say, 'Oh, my God, she looks great! I love her butt. How do we do that?' "
From Sela Ward to Meg Ryan to Madonna, fortysomething is the new thirtysomething, and if you don't look the part, you have only your personal trainer to blame. Madonna, as always, is a reliable Zeitgeist meter, and at 43, she is embracing the role of sexy older woman. First, there was her recent marriage to 33-year-old film director Guy Ritchie, and now Ritchie has directed her in this fall's remake of the seventies Italian classic Swept Away, in which she plays a wealthy hottie shipwrecked on a deserted island with a 31-year-old Italian working-class hunk.
"The fact that they're even making these movies is a breakthrough," says Bushnell. "A lot of Hollywood is run by men, and they want to see their fantasies. These are female fantasies – great sex with a younger guy. It really shows that things are changing."
In real life, OWYM relationships are subject to their own unique set of stresses, and Hollywood happy endings aren't guaranteed. There's the clash over income imbalances, as when an investment banker, 41, and her younger boyfriend started talking rings. For them, the dilemma wasn't princess-cut versus round. "You can't afford the ring I want," she told him, "and I don't want the ring you can buy."
There are the mismatched cultural references that pop up at awkward moments. "My girlfriend went back to this guy's house and was looking at his CDs," says Pratt. "The first CD he bought was Pearl Jam. She was like, 'That's just too much. That's too big of a gap.' " For the younger partner, there's the fact that everything he is just now feeling, she experienced long before. "I lived in the East Village," says Ben, "but Suzanne lived in the East Village for ten years – ten years ago. Everything I did, she'd already done."
Disapproving relatives are disastrous. "My parents are not too happy," says David, a 30-year-old physical therapist who has stood by his 38-year-old girlfriend even during her messy divorce. "My mom was like, 'This is just a phase, right?' She wants grandchildren," he says with a sigh. "I have a brother, but he's gay." (Ben had a different problem with Suzanne: His father was attracted to her.)
But the terminal crises are often about having children. Sometimes it's the younger man who wants the child, not the woman (especially if she already has children). More often, it's the woman who is pushing for it. "She wanted a kid desperately," says Ben, who wasn't yet ready for fatherhood. The issue is what ultimately broke them up. "She thought she was pregnant twice," he recalls. "You could see the sadness."
Despite the pitfalls, there is an upside to the downside. As Susan Winter attests, an older woman may be less likely to be dumped by her younger man as she ages. "With a guy who marries a young woman for her looks, you have a greater likelihood of being traded in, because that's what he bought you for," she says. "It's the Marla Maples story." Often, she says, if you're lucky you'll discover a deeper sense of commitment in a younger lover.
After she and Paul broke up, Justine, a year closer to 50, resolved to swear off younger men entirely. She decided it wasn't the right way to go for her. But it hasn't been so easy. Recently, she was out with a gay friend – at a gay bar – when Antonio, visiting from Italy, introduced himself. (Her friend's gaydar helped confirm he was straight.) He asked her to dance and then to dinner at BondSt the next night.
"When we sat down, he said he'd never had Japanese food before. So I said, 'Wait a minute.' I took the candle from the table and brought it up to his face. He didn't even have laugh lines! I said, 'Antonio, what do you do in Italy?' He said he's studying for the bar. He lives with his mother. He is 27!"
She had one more question. "How old do you think I am?"
"You are 35," he said.
"You are so good at this," Justine answered, smiling. "You could be a fortune teller."
Some names have been changed.
PLUS: Forever Younger
When it comes to making older-women- younger-men relationships seem like business as usual, celebrities lead the way.
Boys on Film
Recently, there's been an epidemic of older-women-younger-men films.
Older Statesman
With its timely tale of a young man and a not-so-young woman, Tadpole could make director Gary Winick an overnight sensation – after more than a decade in the movie business.