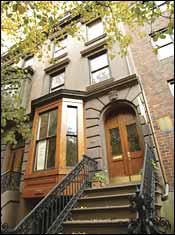 The dream of owning a townhouse is, for the huge majority of upper-middle-class Manhattanites, growing more remote every year. Downtown brownstones rarely dip below $3 million, and usually run about $4 million and up; on the Upper East Side, they start there and spiral upward into madness. (Harlem houses now regularly top the seven-figure mark; in Park Slope, $4 million deals aren't unheard-of.) The lone exception below 96th Street is Murray Hill, the neighborhood occupying most of the East Thirties, where houses are … well, not a bargain, as you can't use that word for anything approaching $2 million. But they're far cheaper than comparable turf twenty blocks up or down.
"Murray Hill is far and away the most bang for your buck," says Jed Garfield, whose family owns a townhouse firm. "Not only do you get a good deal there—you always have." Corcoran's current listings bear that out, with a pair of houses on East 35th Street at $1.7 million and $1.75 million. Even the higher-priced houses are relative deals: A 36th Street brownstone offered by Douglas Elliman at $4.15 million, for example, is a 5,000-square-foot megalith full of "undisturbed original detail." George van der Ploeg, the broker behind that listing, generally prices houses in the area at about $800 per square foot. A fabulous renovation might bump that figure to $1,200 per foot, which is still "25 percent less than Upper East Side prices," he says.
The catch is the neighborhood's shortage of sex appeal. The only green space is St. Vartan's Park, a modest swatch on Second Avenue. The swank private schools are way uptown. Though it's close to the Gramercy restaurant scene, it's not an area that has a strong identity. "And the traffic from the Queens-Midtown Tunnel forces prices down," adds Corcoran's Bill Martin. "I was in one recently and the windows were an inch and a half thick to keep out the noise and pollution."
One buyer who's made his peace with all that is Michael Heller, a 28-year-old lawyer and new owner of a $3.35 million, three-unit house on East 36th. He's keeping the office space on the first floor, renting out the triplex apartment above for about $7,500 a month, and living in the remaining duplex. "I can grow into it," he says, explaining that he may combine the apartments as he gets older. The restaurants nearby were a draw, he says, though his friends did needle him for moving into an area that's sometimes sarcastically called Murray Thrill. But Heller thinks he'll have the last laugh. "My father has the same setup on 71st Street and Lexington Avenue," he says. "And his house is valued at $9 million!"
Movers
The Campbell Apartment
Naomi Campbell might've refused to pay for a $3,000 dinner at Giuseppe Cipriani's London bistro, but real-estate sources say she's plunked down a bit over $3.9 million to buy his Park Avenue duplex. She'd been staying there gratis as his guest for two months, and when he put it on the market, she immediately put a stop to the showings by claiming the place—which includes a model-friendly silk-lined dressing room. (Her spokesperson denies she bought it, and the broker, Michael Shvo of the Shvo Group, was unavailable.) In other hanger-on news, will Adrian Grenier's Entourage follow him deeper into Brooklyn? The star of the HBO series is moving his real-life posse to a three-floor townhouse on Grand Avenue in Clinton Hill. It's in contract for about $1 million—to his mom, Karesse, who'll sublet it to his company, Reckless Productions (Corcoran's Jerry Minsky did the deal). "He loves Brooklyn because nobody bothers him," she says. He would've rather stayed in Williamsburg, but "there isn't anything there now."
—S. Jhoanna Robledoand Will Doig
Same Space, Different Place
The Pool-Room Boom
"There are only three buildings with a pool in all of the East Thirties," says broker Karen Cohen, whose two nearly identical rentals, one with swimming facilities and one without, are $505 apart. That's a 13 percent premium that still doesn't get you into the swim, mind you: New York Sports Clubs demands an additional $92 per month from residents to use the pool. But according to Cohen, the water is still a draw just by being there. Even though it's more expensive, "the apartment at 300 East 34th is easier to rent than the one at 120 East 34th," she says. "Some people just must have a pool."
300 East 34th Street, Apartment 17C
Two-bedroom, two-bathroom rental.
$4,300 per month ($4,392 with gym membership).
120 East 34th Street, Apartment 8L
Two-bedroom, two-bathroom rental.
$3,795 per month.