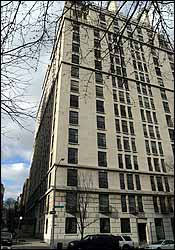 In the rarefied, mildly dysfunctional family that is the Upper East Side, Fifth Avenue is the overachieving firstborn, Park Avenue the charming youngest. East End Avenue is, well, the middle child. But real-estate agents say the area's getting attention from buyers who previously wouldn't have contemplated life east of 10021. "I'm seeing people who normally would only consider Park or Fifth Avenue seriously giving it a thought," says Sharon E. Baum, director of the exclusive-properties division of Corcoran. At a recent showing of a 5,700-square-foot co-op—originally fourteen rooms, it's now a spacious eleven, priced at $7.995 million—at 120 East End Avenue, broker Marcos G. Cohen of Douglas Elliman was surprised to find so many enthusiastic visitors from the prime avenues. "Before, they would come and look here, but then they'd end up buying on Park anyway," he says. Now, "I have an offer right now from a prominent doctor who lives and works on Park Avenue."
Brokers say that high-end buyers have tended to treat East End as an outer borough, griping about the walk to Central Park (never mind that Carl Schurz Park is right there) and how hard it is to find a cab (never mind that they prefer Town Cars). They also deem it too sleepy, almost suburban—four long blocks to the boutiques on Lex! "But if they talk to someone who lives there now and hear what it's like, then they feel more comfortable," explains Baum soothingly.
So why the change of heart? Low inventory. "In this most recent boom," says Kirk Henckels, director of Stribling Private Brokerage, "buyers have had to be more flexible." The compromises aren't much, mind you: The three grand co-ops at 1 East End, 120 East End, and 10 Gracie Square are very much like the best Park Avenue buildings, with high ceilings and great details, plus the perk of a river view. For the few clients wanting something completely different, there are condos, townhouses, and even a few contemporary loftlike spaces. For comparable space, prices are about 30 percent lower than on Park or Fifth. "It's a discount worth examining," Henckels says, even when money is almost no object. Cohen's listing, for example, would fetch $14 million if it had park views on Fifth Avenue. Proximity to schools like Brearley and Chapin is also a draw, as is Carl Schurz Park and its showplace, Gracie Mansion. And in the summer, residents can get to their Hamptons houses that much faster. "You're right on the drive," says Baum, "and can avoid 96th Street altogether."
Movers
Washington, N.Y.
Has Denzel Washington found his fancy pied-è-terre in the city or not? Rumor spread in November that the Academy Award winner and his wife, Pauletta, were having trouble finding a high-end rental they liked. Within weeks, his reps put out the word that the search was finally over, telling the Post's Cindy Adams that he'd bought a place. But it may have been just a ruse to keep away brokers who were foisting listings left and right on the actor. Real-estate sources insist he's still actively looking, and is willing to spend as much as $75,000 a month for the right place. No doubt he's hoping to move in before he begins his run as Brutus in Julius Caesar on Broadway this March.
Washington's not the only member of Hollywood royalty who's apparently in the market for an apartment. Anne Hathaway (of The Princess Diaries fame) and her mother recently spent some time checking out spaces to rent downtown. Her must-have: a doorman to fend off unruly subjects. Both Washington's and Hathaway's brokers refused to comment.
Same Space, Different Place
Battle of the Slopes
Park Slope fever shows no signs of abating, but it's definitely got its hot spots. Take these two brand-new condos. "They're similar in quality, finishes, square footage, and layout," says broker Roslyn Huebener. Yet the one due north at City View Gardens, on 2nd Street, cost its buyer nearly $100,000 more than a similar place on 15th Street, in the Park Pavilion—a 17 percent premium. One has a terrace; the other has an extra half-bath. So what gives? City View Gardens is near Fifth Avenue, which is cooler, these days, than the Seventh Avenue corridor. But there's one other giant factor in this kid-filled neighborhood: the school district. "P.S. 321 really makes the difference," says Huebener.
310 2nd Street, Apartment 5D
The facts: Two-bedroom, one-bath, 991-square-foot condo with a 370-square-foot terrace.
Selling price: $621,771.
Common charges: $262.04.
Broker: Roslyn Huebener, Aguayo & Huebener.
376 15th Street, Apartment 4C
The facts: 2-bedroom, 11⁄2-bath, 926-square-foot condo.
Selling price: $529,900.
Common charges: $239.40.
Broker: Roslyn Huebener,Aguayo & Huebener.