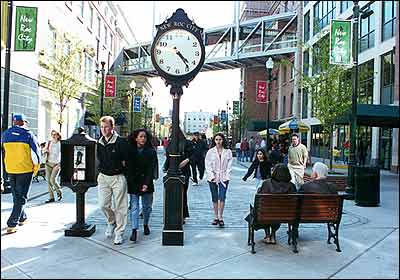 Like everyone else in town, April Chiu, a pathologist, discovered quickly that $500,000 wouldn't buy her dream New York apartment, or anything close. In Manhattan and even Brooklyn, Chiu, who was renting an Upper East Side one-bedroom, could afford only a walkup or a studio—"if I'm lucky," she says. Loath to face more disappointment, she literally changed course and headed for New Rochelle after seeing an ad promoting a project there.
Although it's hardly the sixth borough, this bedroom community in Westchester County—best known as home to Rob and Laura on The Dick Van Dyke Show—has become Plan C for folks priced out of Manhattan and Brooklyn. "This is a historic moment in New Rochelle," claims Craig King, the city's commissioner of development. "The growth in the New York market has fueled a building boom." Over the next five years, more than 1,300 apartments will hit the market, including a conversion called Davenport Lofts and a residential high-rise, tentatively called the Church/Division Project, by developer Joseph Simone. Even Donald Trump is coming in, teaming with local developer Lou Cappelli for a tower, which will, inevitably, be called Trump Plaza. "Thirty percent of people who have already purchased come from Manhattan," says Angi Kwok, sales director of 543 Main Street, where Chiu has bought one of the 90 apartments.
Prices are, of course, the lure, averaging $450 to $500 per square foot, says Peter Murray, whose company is developing a few projects in the area. (In Soho and Tribeca, condos average $1,080 per square foot, and peak around $2,000.) New Rochelle's downtown, where most of these buildings are clustered, is rather urban and far less car-dependent than most suburbs. "It's a three-minute walk to the train!" exclaims Karen Mansour of Prudential Douglas Elliman, which markets 543 Main. Should new émigrés miss Manhattan—or work there—the ride to Grand Central takes 30 minutes, a bit less than the time from Park Slope.
The downside? It's not New York. "Some people think I made a mistake. I can't run out and get milk from the corner store in the middle of the night," Chiu acknowledges. But from her one-bedroom with a study, balcony, and doorman, this doctor probably won't be feeling too much pain.
Movers
The Wolverine's at the Door
Before Hugh Jackman jetted off to L.A. for the Emmys (where he received a meta-award for hosting the 2004 Tony Awards), he toured a $10.6 million Mercer Street loft with an eye toward buying. It's in the same Soho conversion Harvey Weinstein called home until he sold his own place last winter. Sources who've seen the property describe it as sleek, with enormous windows, dark wood floors, and wide-open views of downtown and the Hudson. No word yet on whether Jackman—soon to star in X-Men 3—is making a bid for the place, though he may want to act quickly. Rumor has it hip-hop mogul Damon Dash has also checked out the space. A report also comes this week from the Upper East Side, where The View co-host Star Jones and her banker husband, Al Reynolds, continue their search to replace the East Nineties triplex they're vacating. The apartment, listed with Corcoran's Patricia Dugan, has its own party room, a sauna, and a serious terrace.
Triple Assessment
32 West 40th Street, Apartment 8D
725-square-foot, one-bedroom, one-bath co-op.
Asking Price: $679,000. Maintenance: $1,209 per month.
Brokers: Jehudith Cohen and Susan Rein, Bellmarc.
This prewar one-bedroom on Bryant Park has fetched three offers in the $600,000-to-$650,000 range—well below the asking price. The sellers, who use it only occasionally, say they're willing to wait for a smitten buyer; our panel suggests that that may take a little while.
Cindy Gise, Dwelling Quest: "For a lot of people who work in midtown and have long hours, this'll be perfect," says Gise. "Someone will walk in and see the potential right away."
Her assessment: $650,000.
Nancy Candib, Brown Harris Stevens: "It has lots of possibilities," deems Candib. "I love the corner exposure, the ceiling heights. The lobby's superb—with that exquisite staircase, you feel you could be in the Beresford." But the bedroom's a little dark, she says, and it has only a twin bed, which makes the room look puny.
Her assessment: $595,000.
Holly Parker, Prudential Douglas Elliman: "The maintenance is high," says Parker, adding that pied-à-terre buyers often balk at large carrying charges. Still, she says, it's a spectacular building that gets buyers emotional—it used to be the Engineer's Club, built for Andrew Carnegie—which may cause someone to write that check.
Her assessment: $620,000.