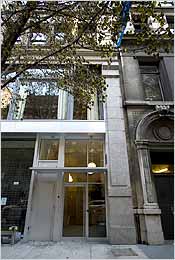 Plastic surgery is painful and expensive, so it's no wonder tenants of one Jane Street building are divided over the need for an extreme makeover. At a recent shareholders' meeting, a larger-than-usual crowd congregated in the lobby—which is a bit shabby but not a dump—to discuss if they should rip up the flooring, strip and repaint the walls, and install sleek furniture and light fixtures. The price? More than $100,000 to be shouldered by homeowners as a onetime assessment. (A scaled-down renovation would cost $35,000; residents could also opt to do nothing.) Annie Yanovsky, a resident who describes the building as "a mishmash of economics," where bankers and rock stars live next to artists and writers, suggested that some tenants might run into trouble there: "I said not everyone could afford it," she says. To which she says a neighbor offered this cutting response: "You need to get with the program."
It's a scene played out all over New York these days, as buildings feel the pressure to prettify so as not to lose affluent buyers to the fancy new construction next door. "For older buildings to compete, they have to get a face-lift," says Eddie Shapiro, CEO of boutique brokerage firm Nest Seekers International. Just as in many new condominiums, some are hiring name architects to redesign lobbies and hallways. "People don't want to live in an also-ran," agrees Richard Grossman, director of sales for Halstead's downtown offices. Never mind the epic fights over décor, or that the apartments themselves aren't changing a bit. This trend is all about curb appeal, and, says Grossman, it pays off: "You reap the rewards tenfold in a higher sales price. If a building is putting in $5,000 [per resident] in upgrades, you'll see a $50,000 increase in value [per apartment]."
That's precisely why Corcoran's Kenny Blumstein, who heads the board of his building on East 11th Street (pictured), championed gilding his lobby with high-end finishes, including yards of marble and terrazzo inlaid with mother-of-pearl. (Only two of the four board members, including Blumstein, pushed hard for the pricey renovations.) "Buyers apply new-construction standards to older buildings. You have to prove yourself worthy," he says. "We've had certain apartments turn over in resale, and they could've gone for more had the lobby been done." And in this buyers-love-me-love-me-not market, it may be the ticket to survival. "With all this bubble talk, it's even more important to make sure everything's top quality," says Shapiro.
Movers
Inside the Actors' Studio?
Considering that they already own a West Village townhouse, which they bought in 2003 and gut-renovated, it seems odd that Julianne Moore and Bart Freundlich have been real-estate shopping in the same area lately. And they aren't on the hunt for another townhouse, either; nor are they looking at lofts (like the one they owned before they moved to their current house, a Greek Revival off Greenwich Street). Locals are whispering that the actress and her writer-director husband (who are working together again, this time on the dramedy Trust the Man) appear to be in the market for a studio, most recently touring a sunny $379,000 apartment on Jane Street. It's prewar-pretty—hardwood floors, tiled bath—but much too tiny for their family of four. Is it for the nanny? For guests? An office for one or both of them? Citi Habitats agents Diane Nichols and Tim Taylor, who have the listing, wouldn't tell.
The Open-House Log
11 Sterling Place, Apt. 1B, Park Slope, Brooklyn
Two-bedroom, two-bath, 2,200-square-foot duplex condo loft.
Asking Price: $1.1 million.
Charges and Taxes: $865 per month.
Broker: Billy Stephen, the Corcoran Group.
Who: Robin Herstand, psychotherapist and photographer, and Zooey, dachshund.
What are you shopping for? I live upstairs—I'm just looking. Mine's only 1,050 square feet.
What do you think? Gorgeous color! I've always lived with white walls because I use my space as a gallery, but this is so lush. It's an artist's dream because of the walls. I have 650 framed pieces, and I just have them stacked in baker's racks right now. There's only this much room [gestures] for me and the dog.
Who: Carrie Peterson, co-owner of Beacon's Closet, a pair of vintage-clothing stores in Brooklyn.
What are you shopping for? This is our second trip to see this, but I'm not looking to move until March. I live in Arizona, and we're going to sell our house there.
What do you think? I would redo the bathrooms and reposition the kitchen. I'm pregnant, and the school district is important; we prefer something in P. S. 321, and this is not. That's my husband's and my biggest question.
Who: Julie Crocker, nonprofit executive.
What are you shopping for? I live on 12th Street in the Ansonia Clock Factory building. I'm thinking of getting a bigger place.
What do you think? They don't make apartments with lots of closets in Park Slope, so this is good. I probably would look to put more lighting here—it's dark because it's in the basement. But no one's going to be looking in, because it's in the back. And it's quiet.