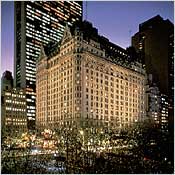 Real-estate obsessives were tickled when word spread recently that the remade Plaza hotel would be offering "hotel-condos"—apartments sold to buyers for up to four months out of the year. The arrangement effectively amounts to a time-share, a term that sounds a lot more Acapulco than it does Fifth Avenue. As one poster on Curbed.com joked, "I suppose there will be tee shirts that say, MY RICH PARENTS STAYED IN THEIR CONDO/TIMESHARE AT THE PLAZA IN NEW YORK AND ALL I GOT WAS THIS LOUSY TEE SHIRT."
But even aside from the Plaza, luxury time-shares do exist in Manhattan. Most serve as pied-à-terre alternatives that don't require buyers to part with the million bucks now required for an average Manhattan apartment and take on the hassles of ownership. "You don't pay full price, but you also don't have the headaches of finding tenants and keeping it up," says Corcoran's Pamela Parrish, who's often shown time-shares to clients. (The Plaza's apartments aren't technically time-shares, since the hotel does the renting when you're not there.)
At the Manhattan Club, a West 56th Street building that adheres more closely to the time-share model, a representative who asked not to be named confirmed that members paid between $40,000 and $55,000 last year for weeklong stays in its 24 new suites. The average price for a fractional condo at the high-end Phillips Club on West 66th Street, the only other time-share in the city, is quite a bit more: $350,000 for a 1,500-square-foot two-bedroom, says director Ed Schnatterly. Visitors there tend to stay longer, averaging 47 nights a year, and prices include use of the nearby Reebok Sports Club, plus other services, when residents are in town.
Oddly, Manhattan time-share owners—and they are indeed owners, since properties are deeded and can be bought and sold like any others—tend to live nearby. At the Phillips Club, roughly 20 percent of them come from within a 75-mile radius; at the Manhattan Club, "a majority of our owners live within 90 miles," says the Manhattan Club's spokeswoman, Melody Andres. Many are empty-nesters who head into the city for a little bit of fun and don't want to face the long drive home. "We're not as young as we used to be," says Tony Mangione, of East Northport, on Long Island, who with his wife, Teresa, stays at the Manhattan Club. "It feels like our apartment building, only we have it just two weeks a year."
Movers
Fekkai Snips $2.5 Million Off Price
The handsome haircutter Frédéric Fekkai, who has been linked to a number of high-society beauties (including J&J heiress Libbet Johnson) and who's now engaged to public-relations rep Shirin von Wulffen, has also apparently taken up with a somewhat older grande dame: a 3,500-square-foot nine-room prewar duplex on Fifth Avenue. Fekkai has reportedly gone into contract for the ornate space, featured last year in a huge Architectural Digest pictorial, for $7.95 million—substantially down from its initial asking price of $10.5 million. The property has three bedrooms, four baths, four gas fireplaces, a paneled library, two staircases (one of which could qualify as "sweeping"), and tree-line views of the park. Listing broker Carrie Chiang of the Corcoran Group did not return calls for comment.
The Open-House Log
760 West End Avenue, Apartment 10B
Two-bedroom, one-bath, 900-square-foot co-op.
Asking Price: $775,000.
Maintenance: $979 per month.
Broker: Greg Kammerer, the Corcoran Group.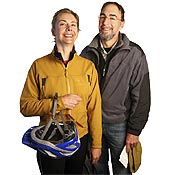 Who: Patricia Cericola, technology executive, and David Lansky, nonprofit executive (pictured).
What are you shopping for?
Patricia: A one- or two-bedroom under a million. Definitely prewar.
What do you think?
David: We like it! The high ceilings, the light.
P: The second bedroom is a little small and too close to the master bedroom.
D: We want to use it as a music room. I play the sax.
P: I play the violin.
Who: Adrianne Robins, retiree, and Harvey Robins, consultant.
What are you shopping for?
Adrianne: We're doing the reverse move.
Harvey: We've owned a townhouse in Park Slope since 1980.
A: We're baby-boomers trying to downsize. But instead of Florida, we're moving to the Upper West Side.
What do you think?
A: It's light and open, and that's really important to me, but it's a lot less space.
Who: Marc Miller, copy chief of BusinessWeek.
What are you shopping for?
I've been looking on and off for a year or two. We live across the street. We're under stabilization, and it's expiring.
What do you think?
It's beautifully kept. We would want to tear down the walls, maybe between the kitchen and the second bedroom. [But] I didn't fall in love with it. I fell in love with a co-op once and never had a happy day in it, so I'm not going to fall in love with another apartment."